NASHVILLE - Former U.S. Sen. Bill Brock of Tennessee, a Republican businessman from Lookout Mountain who also served in Congress and later as U.S. trade representative and U.S. labor secretary, died Thursday in Fort Lauderdale. He was 90.
Brock, who also served as Republican National Committee chairman and helped rebuild the party following the Watergate scandal, died of pneumonia, which a family spokesperson said was unrelated to COVID-19.
A Chattanooga native, Brock's family owned the Brock Candy Co., formed by his grandfather William Emerson Brock Sr., who also served as a U.S. senator, in his case as a Democrat.
The candy company founder's grandson, William Emerson Brock III, served as a Republican. Active in the Chattanooga Jaycees, he later launched a 1962 bid in Tennessee's 3rd Congressional District. He won. And it was seen as a major political breakthrough for Republicans who for decades had been penned up in two Northeast Tennessee congressional districts.
Photo Gallery
AAFL Tryouts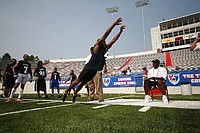 Four years later, Republican Congressman Howard Baker won his 1966 race for the U.S. Senate.
"[Brock] really changed the landscape of politics in Tennessee," said Tom Griscom, a Chattanooga reporter at the time who later went to work for Baker and years later as publisher of the Chattanooga Times Free Press.
In 1970, Brock himself launched a bid for U.S. Senate in the context of then-Republican President Richard Nixson's "Southern Strategy."
While not a great speaker, Brock was a good organizer and went on to defeat then-U.S. Sen. Albert Gore Sr. in a fierce contest in which Brock attacked Gore on issues including school busing, Gore's opposition to the Vietnam War, gun registration and Gore's votes against two Nixon-nominated federal judges.
Six years later in 1976, it was Brock's turn in the barrel as he was placed on the defensive as Democrat Jim Sasser hammered the Republican over Watergate and other issues with a major uproar as Democrats claimed that Brock paid less income taxes than most people did. Brock never released his tax returns.
"His voice is missed greatly in Washington," said state Sen. Todd Gardenhire, R-Chattanooga, who as a University of Tennessee at Chattanooga student volunteered for Brock's 1976 campaign.
Later, as RNC chairman from 1977 to 1981, Brock is credited with helping pull the party back together and modernizing politics with voter contact methods he'd developed running in Tennessee. Republican Ronald Reagan reaped the benefits, defeating then-Democratic President Jimmy Carter in 1980. Reagan rewarded Brock with appointments as U.S. trade representative and labor secretary.
Later, Brock moved to Maryland, ran for U.S. Senate again, and lost to Democrat Paul Sarbanes.
"I don't know how anyone could squeeze more contributions to the United States out of 90 years than Bill Brock squeezed. I mean, he served in five important national positions, U.S. congressman, U.S. senator, chairman of Republican National Committee - one of the three best that we've had," said former U.S. Rep. Zach Wamp, a Chattanooga Republican. "And as U.S. trade secretary and secretary of labor."
But even after his official public service, Brock continued to remain active in issues such as education, Wamp noted, co-chairing the National Commission on the Skills of the American Workforce and the Commission on Achieving Necessary Skills, which helped set a new course for elementary and secondary education. He was also involved in Issue One, which has been working in a cross-partisan fashion to bring about political reform. Wamp is a leader in the group.
After his first wife, Laura "Muffett" Brock died in 1985, Brock remarried. He is survived by his wife Sandra Schubert Brock, two brothers, Paul "Pat" Brock and Frank Brock, six children and stepchildren as well as 17 grandchildren and two great-grandchildren.
In a statement, former U.S. Sen. Lamar Alexander, a Tennessee Republican, called Brock a "true political pioneer who helped build the Tennessee Republican Party from scratch and then went on to become one of our nation's most distinguished public servants."
Alexander and his wife, Honey, offered their sympathies to Sandra Brock and the entire family as well as their "respect for his life."
Tennessee's two serving U.S. senators both put out statements about Brock's death as well.
"A Navy veteran, Bill was a Tennessean first and foremost who had a deep love for Chattanooga where he was born," Sen. Bill Hagerty said.
Sen Marsha Blackburn said, "Bill Brock was a dedicated public servant and patriot who will be dearly missed by many. He lived a life of service to Tennesseans and Americans, from serving in our military to representing the United States as our Trade Representative and Labor Secretary. It was a privilege to consider him a friend of mine."
In a Times Free Press interview in advance of last year's presidential debates between then-President Donald Trump and now-President Joe Biden, Brock - a one-time conservative firebrand - said he was waiting to see how the candidates perform in debates before deciding how he would vote.
Regarding Biden, Brock noted people were saying, "and rightly so, that he's a very decent human being.
"It's a tough call this year."
Contact Andy Sher at asher@timesfreepress.com or 615-255-0550. Follow him on Twitter @AndySher1.