CHICKAMAUGA, Ga. - If there is one thing Mike Dunfee has preached to his Gordon Lee High School baseball team regarding the postseason, it's to never dwell on the previous game.
The Georgia High School Association's best-of-three series format for the state playoffs helps ensure that one bad outcome doesn't suddenly end a team's season, so when the Trojans lost the opener of their Class A public school semifinal series to the ACE Gryphons 3-1 on Saturday, Dunfee and his top-ranked team - which has won the past two A public titles - were able to hit the reset button.
The resulting 10-0 Gordon Lee win in five innings, while not as dominant as the score suggests, extended the series to Monday, where a winner-take-all game three is set for 5 p.m., again at Claud Hendrix Field.
"I tell them all the time, win or lose, I don't care - and I've been saying this forever - you have to not let that first game beat you," Dunfee said after the Gryphons (33-5) scored three runs over the final two innings of the opener. "It's over. It's about the next game. It's a three-game series, so you have to go take care of business and win the next one, and we did that."
Photo Gallery
Gordon Lee vs. ACE baseball on May 15, 2021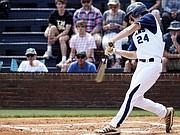 Troubling for the Trojans (34-3) in game one against the charter school from Macon was that after taking a 2-0 lead in the first inning on an error and Cade Peterson's RBI triple, Gordon Lee had a runner thrown out at the plate to end the second inning and left runners at second and third in the third. ACE (Academy for Classical Education) pitcher Fisher Timms took advantage of the reprieve, allowing only one runner over the final four innings.
Meanwhile, the Gryphons used a two-run double from Blake Smith in the sixth to tie the game against Gordon Lee ace Jake Poindexter. They then got a leadoff walk from No. 9 hitter Sam Whitley, who stole second and later scored on a two-out single from Gavin West.
"They're a young school, up and coming, and their kids play the right way and they are well coached," Dunfee said of the Gryphons. "We had a chance in game one to put them away. We had some dumb baserunning and didn't get the key hits, and they did. Their kid settled in and did a great job, and they played good defense."
Game two was all Gordon Lee as the Trojans took advantage of 12 walks to get the equalizing win. Nate Dunfee scored the game's first run on a wild pitch in the opening inning, and the Trojans led 4-0 after a third inning with an RBI single by Cody Thomas, a run-scoring walk from Kade Cowan and a sacrifice fly from Brody Cobb.
They broke it open in the fifth with six runs on three hits, including two-run singles from Dunfee and Blake Rodgers. Starting pitcher Bo Rhudy, who has been the team's closer most of the season, pitched all five innings and allowed four hits.
"They weren't around the zone in game two, and I'm glad we were patient," Coach Dunfee said. "I was worried we might be pressing, but we took what they gave us. Taking it pitch by pitch is what you have to do. You have to make the plays, and we did that defensively in that second game.
"Bo pitched outstanding baseball in that game. We knew we had him ready to go if we needed him, and he was great. Game three will be pieced together somewhat, but we've got Blake Rodgers and Riley King and others, so we should be fine on the mound."
Contact Lindsey Young at [email protected]. Follow him on Twitter @youngsports22.