Nothing could stop Cleveland senior Hannah Nall from achieving one of the biggest goals of her high school golf career. Not even the coronavirus, which had Nall anxiously waiting to get back on the course after a recent 10-day quarantine.
In Wednesday's City Prep tournament, there were no signs of rust as the Lee University signee dominated for the Lady Blue Raiders at the Bear Trace at Harrison Bay. Nall rebounded from a double bogey on No. 8, perfectly placing shots and making big putts down the stretch for birdies on 14-17 on her way to a three-stroke individual victory over the girls' field.
Her 3-under-par 69 was the lowest score of the day among all 85 players, boys and girls, battling for local bragging rights on the scenic course designed by Jack Nicklaus.
"Coming into this season, my dad and I had talked a lot about City Prep," Nall said. "This was certainly something I circled, and to win it my senior year means everything. I am so happy. I came into this program four years ago wanting to help leave a mark on the program. This season has been our best yet. I love playing for Cleveland and representing the Blue Raiders."
Baylor won the City Prep girls' team title by two stroke over Cleveland behind strong play from junior Paula Liano (72) and Kyndall Shamblin (75). Liano was a master with her irons, placing a shot that traveled more than 120 yards just inches away from a pin.
Lady Red Raiders' first-year coach Rheagan Hall was impressed with her team's performance, but also happy for her alma mater. Hall won the City Prep title as a Cleveland senior in 2016.
"This is a tournament every golfer in the area looks forward to," Hall said. "Our girls went out and played well and consistent. To compete down the stretch neck and neck with Cleveland was wild. I am proud of Hannah. She killed it today. We all look to build off this and really perform our best with the postseason soon to come."
Photo Gallery
City Prep golf tournament 2021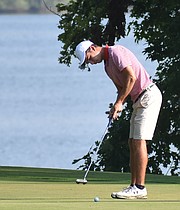 Baylor swept the City Prep team awards for the second straight season as the trio of David Schneider-Jerez, Viktor Stollinger and Haden Maxwell all finished under par for the Red Raiders.
Schneider-Jerez and Stollinger combined to miss only three fairways. Their pristine ball striking kept them in the fairway and avoiding hazards around the green as they shared the individual title at 70. Maxwell (71) was excellent with his putter.
"The key was to not try and do too much," said Schneider-Jerez, who was recently scouted by Rice University. "If you are sharp with finding the fairway and green, birdies will come. I am proud of my teammates, too. We have a great team and are very confident that we can accomplish something special again this season."
The Red Raiders' 2-under 286 was four strokes off their season best in a dominant victory during the Baylor Preview tournament at Council Fire. East Hamilton was the City Prep runner-up at 17-over 305.
"We have a really solid team," Red Raiders coach Gary Partrick said. "David has played extremely well in this tournament two years in a row. He's really playing well and is an excellent young man. He's added 30 yards since last year and has really worked hard to improve.
"Along with Viktor, Sheldon, Haden and Conner Sharp, we have a really tough group."
Signal Mountain's Peyton Ogle and East Hamilton's Tucker Wick each shot a 72. Ogle made one of the highlight putts of the day as he drained a 55-footer on No. 3.
East Hamilton also had a solid round from Griffin Law, who shot a 73, the same score produced by Boyd Buchanan's Gavin Greeson and McMinn Central's Kerrigan Klauber.
After watching Nall's dominant closing run, Cleveland coach Lamar Mills is excited to see how the City Prep can catapult his star leader into the final stretch of this season.
"Hannah has been under par all season and shot 4 under on the front nine at Chatta Valley," Mills said. "It was awesome to see her come out and accomplish something she has dreamed of for a long time. Our girls are playing great and ready to make a strong push into the postseason."
Contact Patrick MacCoon at [email protected]. Follow him on Twitter @PMacCoon.