Drive Time: North Chattanooga landmark Coolidge Park is about a four-minute drive from the Tennessee Aquarium downtown.
Locator maps: North Chattanooga consists of the area north of the Tennessee River to around where Fernway Avenue meets Hixson Pike to the north, east to the Tennessee River by the Chattanooga Golf and Country Club and west to the Stringers Ridge tunnel and White Oak Drive.
Curb appeal: Homes for sale last month in North Chattanooga had a median listing price of $409,500 according to Realtor.com.
Breakfast: Daily Ration has a great spicy chicken biscuit, breakfast burrito and avocado toast. Sit outside on the patio of this former gas station if you'd like to converse with your dining companions, as the acoustics indoors may make that difficult.
Lunch: River Street Deli is a genuine New York-style deli offering classics like Cuban sandwiches, Reubens and stromboli, along with unique signature sandwiches and made-from-scratch soups and salads.
Dinner: Tremont Tavern has the best burger in town, hands down. The Havarti Burger and the Gouda Burger are the best options, or try the hand-breaded chicken fingers. Wash whatever you choose down with a beer from the bar's massive selection.
New business: Opened in July in an old house near Riverview Park, Rosecomb bar and restaurant is owned by North Chattanooga residents Chloe Wright and Ryan Smith and specializes in updated versions of classic Southern dishes.
Photo Gallery
North Chattanooga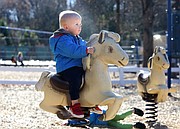 In the News:
- See Rock City Inc., which also owns local ice cream shop Clumpies, announced in July it had purchased and planned to reopen Good Dog, a longtime North Chattanooga hot dog restaurant that closed in January due to pandemic pressures.
- Chattanooga-based Fletcher Bright Co. announced in August plans to build 25 condominium units at the former Nikki's Restaurant site at the corner of Cherokee Boulevard and West Bell Avenue.
- A Chattanooga panel in August gave approval for a South Carolina development group to put up a pair of five-story apartment buildings on a tract off Manufacturers Road.
Happy Place: Coolidge Park is a popular riverfront gathering place for residents of North Chattanooga. Home to an antique carousel, interactive play fountain, walking paths, picnic tables and ample green space, Coolidge Park is a great spot to spend a sunny afternoon - especially when combined with a stroll across the Walnut Street Bridge.
Shop Talk: There's something for everyone on Frazier Avenue, which is filled with hip boutiques, gift shops and novelty stores popular with tourists and locals alike. Signal Mills features unique options like Japanese gift shop I Go Tokyo, and nearby 2 Northshore boasts a bike shop, a toy store, a shoe store and an outdoor gear and apparel store, among others.
Livability score sheet
Walkability: Although the neighborhood's many hills can make walking a real workout, most streets have sidewalks and some main roads feature bike lanes. There are numerous bus stops in the area as well, making it fairly easy to get around without a car.
Health care assets: The neighborhood has no health care facilities of its own, but is only about 3 miles away from Erlanger hospital, 4 miles from Parkridge Medical Center and 5 miles from Memorial Hospital in downtown Chattanooga.
Claim to fame: It features abundant outdoor recreation while still being easily accessible to downtown Chattanooga.
Parks and Rec
- Coolidge Park
- Frances B Wyatt Park
- North Chattanooga Youth and Family Development Center
- Renaissance Park
- Riverview Park
- Stringer's Ridge
Schools
Public
- Chattanooga High Center for Creative Arts: grades 6-12, 644 students
- Normal Park Museum Magnet: grades Pre-K-3 (lower school); grades 4-8 (upper school); 820 students (upper and lower schools)
Private
- Bright School: grades Pre-K-5, 340 students
- Girls Preparatory School: grades 6-12, 559 students