Hamilton County high schoolers can now explore careers in supply chain management and logistics through a new Future Ready Institute that's launching this fall.
The Supply Chain Program is a partnership between Hamilton County Schools and U.S. Xpress, a 37-year-old, Chattanooga-based logistics company and one of the largest truckload carriers in the nation.
The four-year program spans from ninth to 12th grade, with junior and senior years including work-based learning opportunities at U.S. Xpress headquarters and service centers.
(READ MORE: Five things to know about Hamilton County Schools' Future Ready Institutes)
Each year, U.S. Xpress will make a $50,000 donation of cash, in-kind gifts and billable hours to support students in the program. This also includes equipment donations and enrichment opportunities like field trips and job shadowing.
"Chattanooga is a community where we have tons of opportunities from a supply chain and logistics standpoint," Eric Fuller, president and CEO of U.S. Xpress, said at a contract-signing ceremony Tuesday. "There's a lot of companies that participate in this area, in this community, and we just think that it really sets up for a really good career path and really good opportunities for our high school students."
The ceremony took place outside U.S. Xpress headquarters and included a truck cab for attendees to explore. Superintendent Justin Robertson gave some opening remarks.
"What we try to do is provide pathways for kids that will lead to, not just a living wage, but a thriving wage," Robertson said. "Logistics is one of those fields that provides this."
The program will be housed at Ooltewah High School and Chattanooga Central High School beginning with roughly 25 freshmen. Additional student cohorts will be added each year as the current freshmen age.
(Read More: Chattanooga-based trucking giant U.S. Xpress narrows loss in second quarter)
"We're also helping with that content and curriculum creation -- what they will actually teach to the students in their classroom," Amanda Thompson, chief people officer for U.S. Xpress, said in a phone interview.
Nathaniel Darquea, a freshman at Ooltewah High School, said he was inspired by his father, who works in the supply chain industry.
Photo Gallery
Hamilton County Schools partners with U.S. Xpress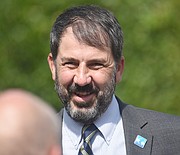 "I'm looking forward to business opportunities in order to progress and be advanced in being able to get into a job straight out of high school," Darquea said in an interview.
Cheyanne Parada, a freshman at Central High School, said her father is also in the field. Once she graduates from the program, she hopes to pursue a career in the medical supply chain industry.
The Supply Chain Program marks the 28th Future Ready Institute for Hamilton County Schools. Each program has a different focus area, ranging from health sciences to welding manufacturing, all with the goal of preparing students for careers after high school.
(READ MORE: Hamilton County Schools' free internet program increases parental involvement, research shows)
A Future Ready Institute differs from a Career and Technical Education program, said Olivia Bagby, Future Ready students director for Hamilton County Schools.
"(A) Future Ready Institute is the school inside the school model," Bagby said in an interview. "So, a cohort of students that are all taking classes together, both their academic and their CTE courses, and that's what differentiates a Future Ready Institute versus a current technical education program."
Contact Carmen Nesbitt at cnesbitt@timesfreepress.com or 423-757-6327. Follow her on Twitter @carmen_nesbitt.