Imagine the TV game show, "Cash Cab" mixed with James Corden's comedy segment, "Carpool Karaoke" and throw in a dash of the movie, "Magic Mike." Welcome to Beverly Salhany's unique business model -- Magic Karaoke Rides.
The concept is explained in the name: Passengers ride along, performing karaoke songs while she chauffeurs. And the experience is, well, magical.
"I don't know what it is," she said in an interview while in her 6-passenger decorated van. "But people love this car. It makes everybody happy."
Salhany, 61, grew up in Chattanooga and now lives in Ringgold, Georgia with her husband of 27 years. She has six grown children (three boys, three girls) who all love to sing.
For most of her life, Salhany worked as a stay-at-home mom. But once her children were grown, she decided it was time to get out and make some extra money. She took up work as a driver, but quickly became bored.
"I just thought, this is no fun at all," she said. "So one day, I brought in a disco ball. And people loved it.
"Then a little later, I added a children's karaoke machine -- and they loved that even more."
But while she and the customers were having a great time, the company didn't share that sense of joy. And soon enough, she left to start her own driving service.
In the beginning, she went to a Family Dollar store and bought a stack of karaoke CDs. She used photo albums to create flip books so passengers could peruse the playlist. And her vehicle, at the time, had CD players in the back of the headrests, so customers handled their own music selection.
A lot has changed since then.
Photo Gallery
Magic Karaoke Rides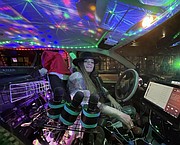 Salhany's vehicle is now decked out in party lights inside and out. The photo albums have been replaced with two computer monitors (one on the front dash, one in the backseat) where passengers select music from iTunes. Each passenger gets a microphone. Waterproof rooftop speakers broadcast the vocal performances. And it's all powered by an extra battery that sits in the front passenger footwell.
Ringgold resident Lora Carrell is a repeat customer of the Magic Karaoke Rides. In May, she booked a trip for her 18-year-old daughter Rebekah and herself to attend the Kane Brown concert in downtown Chattanooga.
"We didn't want to drive our car and park because it's sometimes scary to have to walk a long way to a parking garage, just being us two girls," Carrell said. "We had so much fun!"
"When people see her vehicle, everybody starts waving and cheering. She's becoming a humongous personality in Chattanooga!"
Also these days, Salhany's Facebook and Instagram pages are, as the saying goes -- "blowing up." Her personal page, "Beverly Miller Salhany," has reached nearly 7,000 followers; and "Magic Karaoke Rides LLC" is at about 2,000.
All that, she said, was enough for the platforms' parent company, Meta, to change her status to "digital creator." She now receives payment from the company based on viewer engagement.
That status also means fans can pay her in "stars." In the world of Facebook, $1 buys a pack of 75 stars, but each star equals one cent when given, as the company takes its cut.
Those checks haven't been huge, she said. They come in sporadically, ranging from anywhere between $30 to $100. But having social media pay her to post about her business is something she never imagined.
"This whole experience is so wild," she said. "I still can't believe it sometimes."
But while she loves her work, the truth is, the last couple of years have been a struggle. She had been in business less than a year when the pandemic hit. Because her business was so new, and because she works alone, she wasn't able to qualify for loan assistance through the Payroll Protection Program (PPP).
She's had many people ask about working for her. But before she can begin hiring, she's waiting until business surpasses her pre-pandemic numbers.
She said there have been times she's had to turn down business because the van isn't large enough for the party. So when bookings pick up again, she's already thinking about finding a vehicle that can seat 12 to 14 people.
And, she adds, Magic Karaoke Rides offer their own sort of therapy. There is something soothing to the soul about singing out loud, feeling the emotions of the music and letting loose for a while.
"I guess some party vans could be similar to this, but I have so many people who say they've never seen anything like it," said Salhany. "Honestly, nobody gets out of this car and hasn't had a good time."
How it works
• Customers book rides through Facebook.
• The Magic Karaoke Van will pick you up and return you home.
• The cost is $65 per hour for up to six passengers, plus tax and tips.
• Same-day trips to surrounding cities start at $390, plus tax and tips.
• Long distance, overnight trips to surrounding cities start at $650, plus tax and tips. Customers are responsible for booking their own hotel room. Salhany will chauffeur the group throughout the night.
• Passengers under 18 must have adult permission.
• All rides are recorded on video.
• Gift certificates are available.
Contact Jennifer McNally at jmcnally@timesfreepress.com.