Late in the third quarter Bradley Central point guard Sloan Carpenter threw a perfect pass from midcourt over a crowd of McMinn Central defenders to the outstretched arms of Hannah Jones. The 5-foot-11 star forward finished with authority making the layup through a foul.
Jones asserted her dominance often as she scored her 26th and final point with 34 seconds left in the third quarter to give the Bearettes a commanding lead on the way to a 74-39 road victory Tuesday.
The ball movement for Jason Reuter's team was pristine and a breath of fresh air after turning the ball over 26 times earlier this season in a 26-point home win over Johnny Morgan's 11-win Chargerettes.
Bradley Central (14-1) put on a passing clinic finishing with 20 assists compared to five turnovers. Constant movement on the offensive end created great looks for the Bearettes who received stellar offensive play from Karsee Weber who had 12 points to go with four assists.
Photo Gallery
Bradley Central girls vs. McMinn Central on Jan. 4, 2021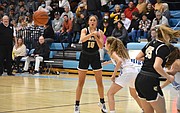 "Karsee has really turned it on lately. This girl shot 48.6 percent from three last year off the bench and I have never had a girl do that," Reuter said of Weber who made two of her four long-range attempts Tuesday. "She is not a secret anymore. People account for her. Early this season when she was struggling I told her to just keep shooting, keep shooting. She is a fantastic shooter and she also is a solid passer and defender."
Bradley Central senior guard Ashlan Crittenden dove into the bleachers in the first quarter to keep a possession alive which turned into a 3-point make from Avary Brewer. Kaitlyn Ledford also drained a left corner three and made a tough left-handed driving layup at the first-quarter buzzer for a 23-11 lead.
The Bearettes shot 7-of-13 from 3-point range in the victory while Shamiya Frances had a stellar game off the bench.
Molly Massingale's 3-pointer cut McMinn Central's deficit to 29-21 in the second quarter, but Bradley Central rolled from there taking a 15-0 run into the second half.
"I am very proud of our girls," Reuter said. "We had very few turnovers, shot the ball well and played very good defense. I want these girls to stay hungry and keep getting better. Tonight we were just a step quicker and a couple inches taller."
GIRLS' RESULTS
Boyd Buchanan 52, Walker Valley 45: The Lady Buccaneers outscored the Lady Mustangs 14-4 in the fourth quarter for a come from behind victory at home in a game with 15 3-point makes. Jalisa Sanders and Sarah Durham led Boyd Buchanan with 14 and 12 points, while Riley Robertson had 11 rebounds. Ashlya Pierce made four 3-pointers for Walker Valley.
Van Buren County 45, Sequatchie County 42: Sophomore Layla Bouldin scored 24 points to hold off a strong effort by the Lady Indians led by Dylan Belk and Addy Edgmon who combined for 24 points.
Lakeview-Fort Oglethorpe 65, Coahulla Creek 54: The Lady Warriors, fresh off a Best of Preps Tournament title, improved to 16-0 overall and 6-0 in Region 6-AAA as Angel Simmons had 27 points and Christen Collins had 19, 16 coming in the first half when LFO built a 42-23 lead. Christina Collins added 10 points for the winners, while Brinkley Reed had six 3-pointers en route to 26 points and Aubree Langley added 14 points.
Ringgold 47, Rockmart 36: Baileigh Pitts had a double-double with 12 points and 12 rebounds as the Lady Tigers (11-3, 4-2) won the Region 6-AAA road game. Taylor Layne, Hannah Scott and Leiah Henderson each added eight points for the winners.
East Hamilton 58, Soddy-Daisy 36: Morgan Bone dominated with 21 points and three 3-pointers, while Tristin Sutton, Christal Collins and McKenna Hayes combined for 29 points in the victory. Jada Trimiar led Soddy-Daisy with 12 points.
BOYS' RESULTS
Bradley Central 65, McMinn Central 61: Junior point guard Trevor Carpenter put on a show scoring 34 points on 15-of-22 shooting from the field. He made four 3-pointers while Brandon Shumbera added three more to go with 11 points and six assists in the road win. The Chargers were led by a solid trio of Gabe Massingale, Darius Carden and Jyrel Arnwine who scored 18, 16 and 12 respectively.
Walker Valley 49, Boyd Buchanan 43: Heath Davis made five 3-pointers while Herbert Brabson scored a game-high 20 points to lead the Mustangs to victory. Jacob Shockley and Ryan Lopez scored 14 and 10 for the Bucs.
Van Buren County 57, Sequatchie County 54: Ryan Wheeler made six 3-pointers and scored 20 points to lead the Eagles to victory. Sequatchie was led by Baron Cribbs and Carter Bradford who had 15 and 14, respectively.
East Hamilton 70, Soddy-Daisy 46: The Hurricanes drained 11 3-pointers and were led by Nick Long who had a game-high 14 points. Zach Harris added 13 for East Hamilton. Shaun Pangle led the Trojans scoring with 11.
Baylor 66, Red Bank 49: Cam Sparks scored 10 first-half points and finished with 14 along with teammate Zane Restelli to lead the Red Raiders to a road victory. Eli Sparkman also hit a trio of threes and had 11 in the win. Nick Smith led Red Bank with nine points.
Polk County 56, Tyner 49: Caleb Milen scored his 1,000th career point as he starred in the Wildcats' big district victory at home.
Northwest Whitfield 66, Cedartown 52: Hot-shooting Payton Baker had a game-high 26 points as the Bruins improved to 10-2 (2-2 in Region 7-AAAA), with Chandler Jackson adding 15 and Will Anderson 11. M.J. Holiday topped Cedartown with 23.
Calhoun 49, Chattooga 45: Peyton Law had 19 points and Dylan Faulkner, returning from injury, added nine for the Yellow Jackets in the nonregion win.
Lakeview-Fort Oglethorpe 76, Coahulla Creek 61: The Warriors withstood a hot start from the Colts to improve to 13-0 overall and 6-0 in Region 6-AAA. Will Locke topped Coahulla Creek (6-4, 2-3) with 16 points, followed by Lucas Mulkey with 14 (10 in the first quarter) and Mario Edwards with 12.