No one has to teach Cincinnati Bengals safety Vonn Bell what championship-caliber football teams look like, sound like, feel like.
As a five-star standout at Ridgeland High School in Rossville, Bell led the Panthers to Georgia's Class AAAA state title game in 2012. At Ohio State, he helped lead that program to the very first national championship produced by the College Football Playoff, with the Buckeyes knocking off Alabama in the semifinals and Oregon in the title game at the close of the 2014 season.
And now that the surprising Bengals are in Sunday's AFC title game at Kansas City, he believes he sees more than one similarity between his former teams and his current employer.
"For sure," Bell said by phone from the Bengals' headquarters Thursday evening. "You see the guys on the same page. They've bought into the coaching. The chemistry is great. Guys are hanging out in the locker room. Everybody's connected. Very similar to Ridgeland and Ohio State."
That doesn't mean the result will be the same as the last time these AFC finalists met, with the Bengals beating the Chiefs 34-31 on a last-second field goal on Jan. 2 in Cincinnati.
"That first game doesn't mean anything," Bell said. "It's so hard to beat a team twice. It's hard to beat a team once in the NFL, and that's any team. But against this team, which has such special talent across the board, any mistake you make is magnified."
Bell then mentioned the jersey numbers of three Kansas City players he said "are all at the top of their profession": quarterback Patrick Mahomes, tight end Travis Kelce and receiver Tyreek Hill.
"We just have to go out there and play it one play at a time, follow our game plan and believe in ourselves," Bell added.
That belief has already carried them where no Bengals team has gone since 1988. They defeated the Las Vegas Raiders in the wild-card round, then crushed the Super Bowl dreams of Tennessee Titans fans throughout the South with last weekend's 19-16 win inside the Music City's Nissan Stadium.
Photo Gallery
Former Ridgeland High School standout Vonn Bell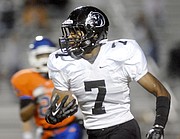 A fellow native of the Tennessee Valley - Bengals rookie kicker Evan McPherson, who grew up in Fort Payne, Alabama, before playing his college ball at Florida - hit a 52-yard field goal for the win, prompting this thought from Bell: "That's my guy, for sure."
So has he ever been to Fort Payne?
"I've driven through it before," Bell said.
A different kind of drive has defined the 27-year-old Bell since his time at Ridgeland.
"Midway through his junior year, Vonn became a different player, a real student of the game," said Mark Mariakis, who coached Bell at Ridgeland before moving on to Chattanooga Christian School, where he recently retired from coaching to take care of his aging mother.
"He had always been a great athlete, always making winning plays on the field, but he started watching more film, learning angles, doing everything he could to become the best he could be, as well as making all those around him better."
For that reason, if no other, Mariakis is not surprised at the natty Bell won at Ohio State, or the position the Bengals now find themselves in after Bell came over from the New Orleans Saints a season ago to join coach Zach Taylor's team.
"Vonn's a winner," Mariakis said. "Whatever team he's on, they always win. Just him being there creates a winning environment. He demands that everyone he plays with gives the best they can give. He's a natural-born leader."
He's also been a winner and leader off the field, where his annual youth camp each summer at Ridgeland - at least prior to COVID-19 the past two years - has provided a totally free experience for a lot of young people in the Chattanooga area to spend a day learning from Bell and many of his NFL buddies.
"If COVID allows it, we'd like to do it again this summer," Bell said. "We'll just have to see what the summer brings."
Mariakis believes Bell's parents, Vincent and Vanessa, have played a huge role in that area of his character and philanthropy.
"Vonn grew up in a faith-driven, disciplined home," he said. "His parents kept him grounded, maintained his humbleness. For as far back as I can remember, Vonn has had the full package. He's the kind of person coaches dream about coaching."
Until February of 2020, it had pretty much been a dream life. Then Vonn's older brother Volonte, an assistant basketball coach at Chattanooga State, was killed in a car crash. Every day since has been something of a struggle.
"I think about him every day," Bell said. "He's my guardian angel. Right before every game I stand on the white line, spread my arms, look up and say, 'Let's go, Vee."
Come Sunday afternoon, Vanessa and Vincent are expected to be in Arrowhead Stadium to see if their son can help the Bengals reach the Super Bowl for the third time in franchise history. If Cincy wins, he'll fly them to Los Angeles for the Super Bowl, which is Feb. 13 at SoFi Stadium against the NFC champion, either the Los Angeles Rams or the San Francisco 49ers.
To help that along, Mariakis said he and his family will gather around the television for the AFC title game, set for 3 p.m. on CBS, "in all our Bengals gear," to support the best player he has ever coached.
As for Bell, he said he told his teammates the past few days: "You don't have to be extraordinary. Just play your game. Just be you."
That mindset has certainly served Bell well through the years.
Contact Mark Wiedmer at mwiedmer@timesfreepress.com. Follow him on Twitter @TFPWeeds.