Spend any time under summer's blazing sun in the Chattanooga area and you'll understand how quickly hot, humid air can soak you in sweat and deplete your energy.
Enter shade to save the day.
According to an Environmental Protection Agency study cited by the Arbor Day Foundation, trees can lower surface and air temperatures by as much as 20 to 45 degrees F compared to unshaded materials at peak temperatures.
Other research even indicates that a fabricated shelter can be as beckoning as a canopy of trees when humans go in search of "outdoor thermal comfort."
In other words, when you're hot, shade is shade.
And humans are drawn to it.
"Our desire to be in the shade fulfills our most basic needs," says Betsy Bowden, lead naturalist at Reflection Riding Arboretum and Nature Center. "As primitive people, we would have found shelter, food and water in the shaded areas we found ourselves in."
It's not just humans who seek out shade, Bowden says. It's all animals.
"It's hard to think of an animal who is camouflaged to live in the sun," she explains. "Even those that live in open areas like meadows or ponds seek shelter and comfort in the plants that surround them."
As we enter the peak season for heat and humidity's one-two punch, here are five places around the area to find shade in leafy abundance.
Audubon Acres
900 N. Sanctuary Road
Longtime volunteer Robert Humble says he started helping out at the 130-acre nature sanctuary to help preserve "this really neat little corner of green" for his grandchildren and the rest of Chattanooga.
The property, which is within minutes of Hamilton Place, includes about 5 miles of walking trails, with about 2 miles of those "particularly pleasant," he says.
"The one I'd recommend for people to walk first goes down by (South Chickamauga Creek) and up to the swinging bridge," he says.
Other highlights of the property include a collection of ancient artifacts, an Indian village and Trail of Tears points of interest, a picnic area and a launch for canoes, kayaks and tubes to float on the creek's horseshoe bend through the property.
Humble says the coronavirus pandemic swelled membership among local residents, and Interstate 75 travelers often detour to Audubon Acres for a quick dose of nature before hitting the road again.
Hours are 9 a.m. to 5 p.m. Monday through Saturday, 1-5 p.m. Sundays (gates close at 4:30 p.m.). Members receive a code to access the gate at any time during daylight hours. Cost is $30 annually. Nonmembers pay $6 per visit ($5 for seniors and students).
Contact: 423-892-1499, chattanoogaaudubon.org
South Chickamauga Creek Greenway
Accessible from six trailheads: Riverpoint, 51 Lost Mound Drive; Wood Recycle Center, 3925 N. Hawthorne St.; Sterchi Farm, 3000 Harrison Pike; Brainerd Levee, 4028 Shallowford Road; Cromwell Hills Connector, 3711 Youngstown Road; and Camp Jordan Park, 323 Camp Jordan Parkway
This long-held vision, 25 years in the making, has finally come to fruition with the completion this spring of the final segment of the 12-mile trail stretching from the Tennessee Riverwalk to Camp Jordan.
(READ MORE: South Chickamauga Creek Greenway is finally complete)
The Trust for Public Land partnered with the city of Chattanooga to create the greenway, with trails suitable for walking, running or biking, along with four canoe launches for paddlers.
When it was launched in 1996, the project was considered visionary, says Bobby Davenport, the trust's first Chattanooga director.
"People thought about getting around in cars back then, and the notion you could ride a bike from Eastgate Mall to downtown was far-fetched," he has said in previous coverage in the Chattanooga Times Free Press.
Now the option exists to take commuters away from sun-baked highways and onto trails shrouded by canopies of green. Reviews at traillink.com routinely note the trails' shade and scenery.
According to Davenport, more than 30,000 people now live within a few miles of the greenway, granting quick and easy access to Mother Nature.
Contact: 423-265-5229, tpl.org/our-work/south-chickamauga-creek-greenway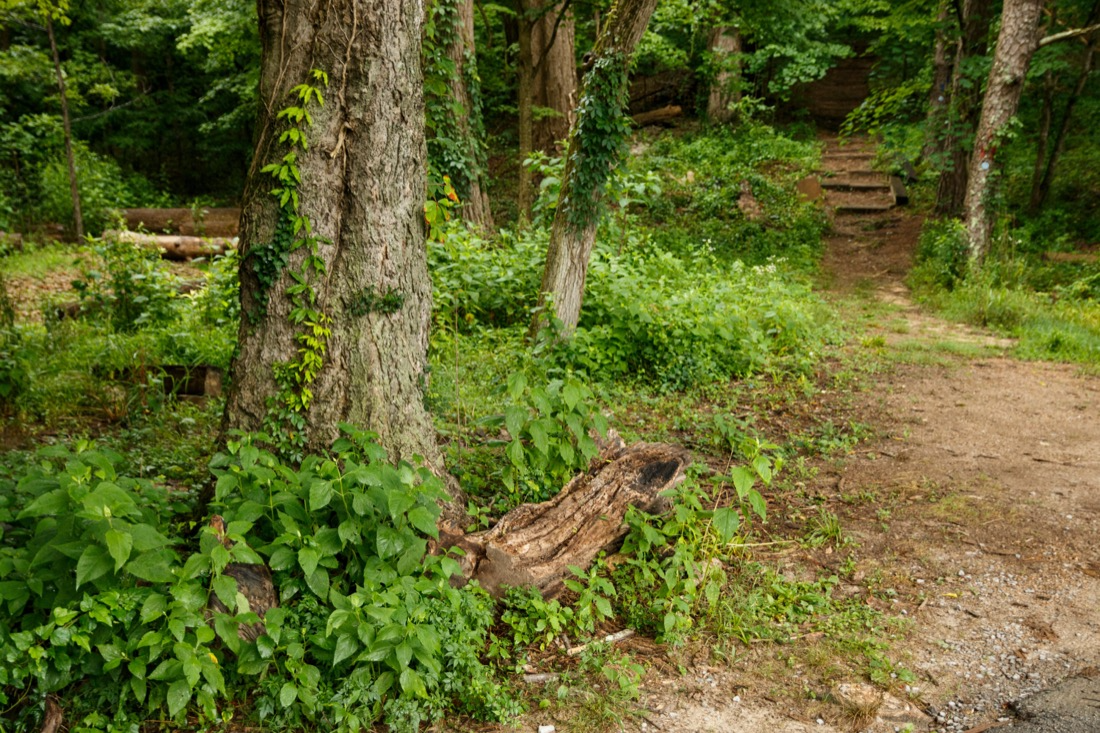 Staff file photo by Doug Strickland / Native plants flourish on the trails at Reflection Riding Arboretum and Nature Center.
Reflection Riding Arboretum and Nature Center
400 Garden Road
The more than 300-acre property was created as a public park in the 1950s with an eye toward enhancing the natural beauty of the landscape.
(READ MORE: Reflection Riding introduces its Framework for the Future)
In addition to a 3.4-mile loop drive, the property has more than 12 miles of walking trails that follow parts of Lookout Creek then rise through meadowlands up the forested slopes of Lookout Mountain.
Lead naturalist Betsy Bowden notes that the boardwalk and treehouse are under repair, so that shady walk may not be available to visitors, but "most of our trails go through the woods and are shaded."
She recommends a visit to the Siren Pool at the southern end of the property. "It has a gazebo with a little spring that runs beside it," she says.
Wildlife habitats and a native plant nursery are other draws at the property.
Gates are open the same hours as the office, 8 a.m. to 4 p.m. Tuesday through Saturday. Visitors are asked to reserve a day pass online (by donation). Members can access the property from sunup to sundown every day of the year. Fees range from $25-$70.
Contact: 423-821-1160, reflectionriding.org
Lula Lake Land Trust
5000 Lula Lake Road, Lookout Mountain, Georgia
Matthew Hubbard, director of development and communications, describes this 8,000-acre watershed forest as "an out-of-this-world experience that transports visitors into nature."
The majority of the core preserve is shaded, and the North Creek and South Creek trails lead visitors by "shady and cool groves of trees following Rock Creek," he says.
Among those trees are deep-green hemlocks, which are flourishing thanks to a donor campaign to fight hemlock woolly adelgid, an insect infestation that threatens hemlock forests throughout much of the Eastern U.S.
The property's signature features include the pristine waters of Lula Lake, the 110-foot Lula Falls and the epic views from Bluffline Trail. The easiest hike to the lake and waterfall is a 3.2-mile roundtrip. Biking and picnicking are also popular pastimes when the property is open.
Public access is limited to the first and last weekends of each month. Reservations are required. There is a $16 conservation-use fee to park. Hours are 9 a.m. to 5 p.m.; entry gates close at 2 p.m. Holders of the $150 annual pass can visit on open-gate days without reservations.
Contact: 706-820-0520, lulalake.org
Elsie A. Holmes Nature Park
88 Ben Holmes Road, Ringgold, Georgia
This North Georgia destination, which opened in June of 1997, offers a secluded getaway into nature, along with picnic tables, swing sets, restrooms and a screened pavilion that may be rented for gatherings.
The 2 miles of hiking/walking trails are surrounded by 66 acres of hardwood forest and wooded bottomland along South Chickamauga Creek.
"Most (trails) are pretty shady because it's all woods," though some trails are fairly steep, says Kim Sawyer, program specialist for Catoosa County Parks and Recreation. "It's great if you don't want to be out in the sun."
The park is open 9 a.m. to 8 p.m. daily. Admission is free.
Contact: 706-891-4199, catoosarec.com/elsie-a-holmes-nature-park.html