Hamilton County health officials are encouraging residents to get their influenza shots now as the U.S. Centers for Disease Control and Prevention ranks Tennessee among the states with the highest flu activity.
In response to the most significant flu outbreak since the pandemic, the CDC added a new level -- denoted by the color purple -- to its nationwide flu tracker map Friday.
Nineteen states, many in the Southeast, were classified as having high or very high levels of influenza-like illness. Tennessee, Alabama, South Carolina and the District of Columbia were purple, meaning they had the highest levels of influenza-like illness, while Georgia and Mississippi were among the states with the next highest levels.
(READ MORE: Chattanooga school goes remote due to high number of flu cases)
As of Friday, the CDC estimated flu was responsible for 13,000 hospitalizations and 730 deaths so far this season -- which typically runs from October through May, peaking between December and February.
The CDC website says the timing and duration of flu activity has been less predictable since the pandemic.
Michelle Heron, a spokeswoman for Parkridge Health, said via email that as of Wednesday, the health system had already treated more than 500 patients for influenza in the hospital or emergency department so far this season compared to more than 700 patients total last season.
During a flu vaccine event hosted by the Hamilton County Health Department on Wednesday, Janice Dave, a registered nurse at the health department, said it's not too late to get vaccinated because flu season is just ramping up.
Photo Gallery
Fight Flu TN event in Chattanooga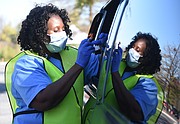 A drive thru flu vaccine clinic was held at Orchard Knob Baptist Church on Wednesday, Nov. 9, 2022. The event was held by the Hamilton County Health Department as part of the statewide "Fight Flu TN" event.
"The winter months are coming," Dave said. "People are hospitalized for flu more than the average person realizes, so prevention is the main thing that we're trying to educate and encourage."
(READ MORE: Chattanooga health officials monitoring flu amid possible 'tripledemic')
Andrew Crowe, director of pharmacy at the health department, said in an interview with the Chattanooga Times Free Press it takes about two weeks for the immune system to mount a response to the vaccine, just in time for Thanksgiving holiday travel and gatherings.
Though the vaccines won't prevent every infection, he said they help teach the body how to fight the virus when exposed. Without vaccination, people will be much more susceptible to influenza this year, because many people haven't been exposed to the flu since the pandemic began.
"If they were to come into contact in a social setting, if they were to get infected with the flu, their body can have a response that keeps them from having a severe infection," Crowe said.
In addition to vaccination, Dave said the same strategies used to prevent COVID-19 -- masking, hand washing, avoiding large crowds and social distancing -- should be followed during flu season.
Contact Elizabeth Fite at efite@timesfreepress.com or 423-757-6673. Follow her on Twitter @ecfite.