Auto Square grows leadership positions
Virgil Edwards, executive general manager of Auto Square Chattanooga, a Furrow Automotive Group Company, announced promotions and appointments of key leaders for the group of dealerships including Infiniti, Jaguar, Land Rover and Porsche of Chattanooga, according to a news release.
Rich Krukiewicz has been tapped as the new fixed operations director for Furrow Automotive Group. He will work alongside both the parts and service teams at all four dealerships, the release stated. Prior to his appointment, Krukiewicz served in management positions at numerous dealerships refining and improving parts and service operations.
Jerry Walker serves as service manager at Infiniti. With more than 32 years of industry experience, Walker has served in various roles, from parts, shop foreman and technician to management positions, the release said.
Russell Kerr is the new service manager for Jaguar and Land Rover. He recently relocated from Miami, Fla. where he was service manager for Jaguar, Land Rover and Aston Martin of Coral Gables, according to the release. He has more than 20 years of automotive industry experience and is a multi-label award winner, including the prestigious Pride of Jaguar and Service Excellence awards.
Christa Holloway has been promoted to service manager for Porsche of Chattanooga. She has 14 years of automotive experience and has served as service manager with BMW and Porsche dealerships, the release stated. She is a NASCAR Technical Institute graduate with vast knowledge of the automotive industry. Holloway is a competitive driver with races in autocross, drag racing and demolition derby events.
Jerry Casey joins the Auto Square team as parts manager for Infiniti of Chattanooga. He has 17 years of automotive experience and prior to joining Auto Square worked in parts at Nissan of Chattanooga, according to the release.
Photo Gallery
Auto Square leaders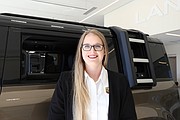 Ten honored as 2022 Women of Distinction
The Women of Distinction of Greater Chattanooga last week honored 10 local women recognized for giving of themselves through their time, energy, and talents to make a difference in the community and beyond.
A Woman of Distinction is one who volunteers her time to help improve the quality of life for others and over the past 35 years the program has honored more than 340 local women. The 2022 honorees are Rebecca Ashford, president of Chattanooga State Community College; Cynthia "Cindy" Hall Chandler, an attorney for Spears Moore Rebman & Williams; Patti Lamsey Dungan, who is retired and now works as a human resources consultant; Angeline Betty Fairchild, a community volunteer; Dr. June Hanks, an associated professor at the University of Tennessee at Chattanooga; Martina Sherese Harris, the interim Dean of Nursing & Allied Health at Chattanooga State Community College; Renee P. Nail, executive director of the Scenic City Women's Network; Janelle Reilly, CEO of CHI Memorial Hospital; Jody Bethea Riggs, a private wealth advisor for Ameriprise Financial, and Mary Anne Kaiser Williams, the development manager at Tennessee Aquarium
"We are thrilled to continue this tradition of honoring remarkable women in our community," steering committee member Lynda Minks Hood said in a statement. "This year's exceptional honorees have set themselves apart through their civic, cultural, philanthropic, and environmental commitments."
Since 1993, a Tennessee Woman of Distinction recipient has been honored for her years of distinguished leadership, volunteer activities, philanthropic work or professional accomplishments that have contributed to improving the quality of life in Tennessee. This year's Tennessee Woman of the Year is Louise Mandrell.
Dr. Molina joins CHI Memorial Family Practice Associates - Harrison
CHI Memorial Medical Group announced in a news release Alfredo Molina has joined CHI Memorial Family Practice Associates - Harrison.
Dr. Molina earned his medical degree from Universidad Nacional Autonoma de Honduras in Tegucigalpa, Honduras. He completed a family medicine residency at Mayaguez Medical Center in Mayaguez, Puerto Rico, according to the release.
Dr. Molina is a member of the American Academy of Family Physicians and is bilingual in English and Spanish.
BlueCross promotes Shimel to director of market strategy
BlueCross BlueShield of Tennessee has promoted Aaron Shimel to director of market strategy.
In his new role, Shimel leads a 15-person team handling market research and strategy, campaign analytics, and advertising, according to a news release.
"It's a real pleasure to work with Aaron; his calm and thoughtful approach to strategic recommendations makes him an exceptional leader," said Carla Raynor, vice president of consumer experience and brand management for BlueCross in the release. "I'm thrilled to see him step into his newly expanded role and look forward to seeing how he moves our business strategy forward."
A nine-year BlueCross employee, Shimel has developed and expanded his knowledge in marketing and data while holding a number of positions in the company. During his time as market research and analytics manager, Shimel trained new analysts in an online-only environment, introducing a new virtual research platform for his team to easily continue their research while working from home, the release stated.
Shimel earned a Bachelor of Business Administration degree from Emory University and received his Master of Business Administration degree from the University of Tennessee at Chattanooga.
Information about new hires, promotions and business awards should be sent to onthemove@timesfreepress.com.