Violinist Holly Mulcahy knew fairly quickly she was on to something when she conceived the idea of performing classical music in front of inmates at Walker State Prison in Rock Spring, Georgia, in 2015. She knew she wanted to do more than simply offer the more than 400 prisoners an entertaining diversion for an hour or two.
She wanted the visits to be meaningful, but even she couldn't have foreseen the long-range influence it would have, and she certainly couldn't have imagined the program would evolve to the point where more than 80 inmates, including lifers incarcerated for violent crimes such as murder, would sign up to take violin lessons.
But, beginning Sept. 19, that is exactly what will happen when Mulcahy and Mary Margaret Neel will lead a boot camp for the men. Neel will also give monthly lessons in person, and Mulcahy, concertmaster for the Chattanooga Symphony & Opera from 2013-2022 who lives in Chicago but performs with several symphonies around the country, will return a couple of times throughout the year to perform and check on the program.
In addition, virtual weekly lessons will be taught by renowned colleagues of Mulcahy's from around the country and world who have volunteered to be a part of The Violin Project.
Eight violins have been donated for the program to date from various sources.
Photo Gallery
Violin classes coming to Walker State Prison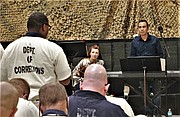 "I've got people chomping at the bit to be a part of this," she said in a telephone interview.
"I don't need to be the center of attention. This is about the men."
Which has been her focus since the conception of the idea. Mulcahy told the Chattanooga Times Free Press prior to a 2018 performance at the prison that she was only interested in what the prisoners thought and felt upon hearing the music. She was not interested in sharing the history of a piece or what others have said or written about it.
She wanted to know what the men heard and felt, and she insisted then as now "that there are no wrong answers" when it comes to how the music affects a person. She also wanted to perform new works by contemporary artists, and as the program has grown, she has even invited the composers to join her at the prison for the performance and the question-and-answer period that followed.
The programs continued to grow with more men signing up for each show, and today, the program is known as Arts Capacity. It has a board of directors committed to improving the lives of those in prison.
As a result of the recitals and the program, Mulcahy said she has witnessed firsthand as inmate after inmate talks about how the music, and the program, have opened up a part of themselves they didn't know existed or didn't know how to tap into.
Jeremy Prather was such an inmate. Now 45, Prather said by phone he became an addict at age 12 and spent most of his life in prison, including nine years at Walker State. The most recent time was for drugs and an armed robbery that resulted in the death of his best friend.
In 2011, Walker State became the testing ground for the Georgia Department of Corrections' new Faith and Character Based Program, which focuses on accountability, responsibility, integrity and faith. Inmates have to apply to be transferred there, and Prather, who found religion in 2012 and held several positions at the prison, including that of program liaison working with the prison staff and prisoners to help facilitate events like Mulcahy's concerts, was transferred there in 2013 and got out in December.
He is now the regional director of MNA Metanoia (meaning a change of heart) Prison Ministry and developer of MINTS (Miami International Seminary) Seminary-in-Prison.
"That place changed my life," Prather said of Walker.
Prather laughed at the cynical idea that prisoners at Walker sign up for the concerts and now violin lessons just to be entertained for a few minutes or to get out of some other chore, but he said it probably does happen. Most inmates at Walker are sincere about changing their lives, he said, and programs like those help.
"Of course everybody at Walker is not there for the right reason," he said.
"Some want to be closer to home and some want out of another place because of the violence there. Walker has a zero tolerance policy for violence. They are there for all kind of different reasons, but for the most part, they are there for change."
He said the other inmates tend to learn pretty quickly who is sincere and who is not, and they find music is one of the few things they all can share.
"There are very few things that all people can find in common, but music is one of them," he said.
He said many of the men he was in prison with at Walker learned through the concerts how to discover feelings they didn't know they had, and just as importantly, how to talk about them. It also introduced them to a form of music many of them would never have sought to listen to on their own.
"At Walker, you are looking for ways to fill your day, but I got to see that side of music expression and the beauty of it and the stories that it tells," Prather said. "It's music without words, so it was a whole new experience."
Prather said the programs and the interchange of thoughts and ideas also introduced inmates to the idea that someone could have a thought different from their own that was both reasonable and real. He points out that the prison is populated by men of all kinds of demographics and walks of life, and that music can be something that connects them.
He said that just as important as listening to the music was hearing what other inmates had to say about it.
"It was a monologue, but a dialogue about how the music made us feel and made us think," Prather said. "It was a great way to express yourself and it opens up a new world.
"The nature of prison is that you don't share your feelings unless it is in a way that's aggressive or violent. Walker breaks down those barriers. It affords men the opportunity to let their guard down. Music speaks to everyone, but it speaks to them differently."
Mulcahy said she and the board have gotten numerous letters and emails from former Walker inmates thanking them for the program and the recitals. She's even heard from several current and former inmates who have said the music and being able to talk about it has helped them reconnect with a child or other family member.
Mulcahy said she expects the violin lessons will be taught to men of all skill levels, and that the experience will resonate uniquely with each individual. She said it helps that the violin is such an expressive instrument able to elicit sad and happy emotions.
"A lot starting at ground zero, and part of the programs is to foster that support system," she said. "I think it's very beneficial for the men and puts the men in a vulnerable position. It fosters patience and focus. which are great tools to have."
Contact Barry Courter at bcourter@timesfreepress.com or 423-757-6354. Follow him on Twitter @BarryJC.