DALTON, Ga. -- Vice President Kamala Harris traveled to Dalton, Georgia, on Thursday to lift up the Carpet Capital as an example of how the green energy economy can help rebuild America's manufacturing strength.
A decade after the housing downturn and automation combined to create the biggest job loss of any U.S. metropolitan area, Dalton is getting 2,500 new jobs from one of the biggest new business investments ever in Northwest Georgia. The South Korean solar panel manufacturer Qcells is investing over $2.5 billion at its plant in the Carbondale Industrial Park and at another facility being built 40 miles south in Cartersville, Georgia.
"In the face of incredible challenges, you showed incredible resilience and invested in an industry of the future," Harris told a gathering of Dalton leaders at the Qcells solar plant Thursday. "You have worked around the clock to help make this solar cell facility a success, and today this city is home to one of the largest solar panel manufacturers in the United States. And the panels being produced here are some of the best in the world."
Harris flew into Chattanooga's airport at midday Thursday and was greeted by Mayor Tim Kelly, who spoke to her for about 5-10 minutes, according to Joda Thongnopnua, Kelly's chief of staff.
"We also encouraged her to take a look at the work that we're doing to build a clean energy corridor from Oak Ridge to Chattanooga to Huntsville," Thongnopnua said in a phone call.
The emerging partnership involves EPB, the Tennessee Valley Authority, the city of Huntsville and Oak Ridge National Laboratory, he said.
"He really pointed out that Chattanooga is thinking a lot about workforce development, clean energy and jobs, which is what she was visiting Dalton for -- to visit a solar company," he said. "The mayor really just tacked on how important this entire region is to national security and our clean energy goals as a community."
In Dalton, Harris spoke at what is growing into the largest U.S. solar production plant of its type. Harris said the White House hopes to replicate the rebound in Dalton by building up the green energy economy throughout the nation.
Photo Gallery
Kamala Harris visits Dalton, Georgia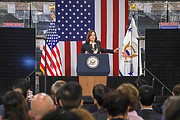 Qcells, a unit of Hanwha Solutions, announced Thursday that it has landed the biggest contract in U.S. history to build panels for more community solar projects. Aided by new federal tax credits and other incentives, a 5-year-old Virginia-based company, Summit Ridge Energy, said it plans to buy 2.5 million solar panels from Qcells over the next four years to build community solar projects in Illinois, Maryland, Maine, Virginia and Pennsylvania.
Steve Raeder, founder and CEO of Summit Ridge Energy, said new panels will be enough to supply the power demands of about 140,000 homes a year, usually at rates 10% cheaper than the power it will replace.
"We've been very well received almost everywhere we go by offering cleaner and lower cost power," Raeder told reporters after Harris' visit. "Qcells has been a reliable supplier not only for us but the entire industry, and we're delighted to see this plant continue to grow and add jobs."
Community solar is a way for renters and those without access to rooftop solar to receive the tax and rate benefits of solar power by buying into solar farms near where they live. In Chattanooga, EPB launched its community solar program five years ago with a 1.3-megawatt solar farm built near EPB's distribution center on North Holtzclaw Avenue.
Harris said solar power will be cleaner and cheaper than the power generation it will replace. Under the incentives offered in the Inflation Reduction Act and the Solar Energy Manufacturing for America Act approved last year, the vice president said more of the new solar panels capturing the energy of the sun will be built in the United States using American-made parts.
The solar panels qualify for tax credits of 7 cents per watt, and if the cells within each panel are produced in the United States, additional credits are also available.
DK Kim, vice chairman of Hanwha Solutions, said the federal incentives have helped Qcells build its 300,000-square-foot facility, which is now producing 1.7 gigawatts of solar modules and will more than triple that production with the expansions in Dalton and Cartersville.
"We've watched our dream here become a reality," Kim said during a speech to employees and community members Thursday afternoon.
China dominates most of the supply chain for the solar power industry and has objected to some of the targeted tax credits that apply only to domestic suppliers.
But Harris said the White House wants to bring back more manufacturing to the United States.
Brian Deese, director of President Joe Biden's National Economic Council, said supply-chain integration encouraged by the Inflation Reduction Act will help break China's stranglehold on solar panel components and help untie knots in overseas supply chains. Deese said in a statement the climate change and health care bill is an example of the industrial policy Biden wants to see, "to make sure that innovation is happening here, good job creation is happening here, and we are exporting products in the clean energy economy, not exporting jobs."
During Thursday's visit by the vice president to Qcells, Kim thanked the Biden administration for making the Dalton plant and the Cartersville expansion financially feasible.
"These credits were absolutely critical to this expansion by Qcells," said Michael Carr, director of Solar Energy Manufacturers for America.
By encouraging both the domestic sourcing of polysilicon and encouraging U.S. production and sales, Carr said he expects solar generation to capture a growing share of electricity generation in the future.
"The tax incentives are robust so most of the companies in our industry are ready to make these investments," he said.
Harris's visit to the Qcells plant was part of a three-week "Investing in America" tour by top Biden administration officials across the country and was the second visit by the vice president to Georgia, which has become a swing political state.
The White House estimates Georgia has received $31 billion in private sector manufacturing investments since the start of Biden's term, primarily in electric vehicle and battery manufacturing and new solar power manufacturing spurred by the infrastructure package and Inflation Reduction Act.
Staff writer David Floyd contributed to this report.
Contact Dave Flessner at dflessner@timesfreepress.com or 423-757-6340.