In August 2021, Tyner Academy students staged a walkout to protest the school's poor conditions. But a year and a half later, students walked out for a different reason: to celebrate the construction of a brand new building.
Hamilton County officials held a groundbreaking ceremony Tuesday morning at the school's football field, the site of the future Tyner Middle High Academy.
"We're excited to begin the new phase of this journey," Tyner Principal Tiffany Earvin said to a crowd of students and staff. "We are thankful to everyone who fought for this space, who fought for this space for our students, including our students themselves."
Hamilton County Mayor Weston Wamp also commended students.
"Everybody will know, as this school comes out of the ground, that it was the courage of the students who made headlines that triggered the adults into action," Wamp said.
A 2019 facilities report from MGT Consulting Group rated Tyner High School and Tyner Middle School as the second and third worst buildings in the county.
But the situation reached a tipping point when the 400 building, which houses Tyner's Freshman Academy, sustained water leaks from the roof, leading to its closure the day before the first day of school for the 2021 fall semester.
Students at Tyner walked out of school in protest, and three seniors later addressed both the Hamilton County Board of Education and the County Commission at August 2021 meetings.
Josh Jackson, a senior at Tyner, said while he won't get to experience the new building, he's glad other students will.
"I know the impact this will have on the future students," Jackson said at the ceremony. "I mentor many students, and I am grateful that they will have a new, innovative space to learn and grow. This project is an example of how our voices as students are used to improve things."
The new $95 million building, designed by MBI Companies Inc., combines the middle and high schools into one. When complete, it will accommodate up to 1,400 students and feature metal panel roofing, covered walkways and a turf football field.
"As we continue to prioritize student safety, this building is just one of the ways we ensure that our students are safe," Hamilton County school board member Karitsa Jones, D-Chattanooga, said Tuesday. "Safety comes at all levels, but it starts with a safe and dedicated space for students who are excited and ready to learn."
Though originally set to open in the fall of 2024, an unexpected increase in project costs -- $17 million more than officials anticipated -- pushed that date back to January 2025.
Photo Gallery
Tyner groundbreaking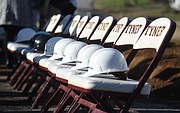 In November 2021, the project was originally estimated at $68 million. Once the scope was determined and market conditions were reassessed in February 2022, it was estimated the project had increased to nearly $78 million.
Bids in December 2022 came in much higher, the lowest being $95 million from Christman Co., a Knoxville-based construction company that was awarded the project.
Construction will begin immediately, MBI Principal Architect Jerry Isaksen said in an interview following the ceremony.
"We've got tractors on-site, excavators on-site ready to start the construction process," Isaksen said. "You're going to see a lot of different changes that are going to occur between now and January 2025."
The new two-story building will separate middle and high school students but will have shared spaces. These include the cafeteria, band room, media room and other seating areas.
Middle and high schoolers will each have their own full-court gyms and classrooms. The high school gym will also have an indoor running track and two practice courts.
The new school also includes a 400-seat theater and a weight room and gym space so students can exercise.
Once students move in, the current buildings will be demolished to make way for a new parking lot, football stadium and practice field.
Contact Carmen Nesbitt at cnesbitt@timesfreepress.com or 423-757-6327.