Note: This story was updated on Jan. 10 to correct the timing of an upcoming Holston Conference meeting.
Citing the spread of "misleading, defamatory and false" information, the North Georgia body for the United Methodists says it will temporarily stop accepting requests from member churches to leave the denomination. The move was announced by an outgoing bishop days before she departed the conference.
Church policies on homosexuality have been the flashpoints in a slow-motion breakup of one of the nation's largest Christian denominations. Many theologically conservative Methodists are frustrated after several unsuccessful efforts to resolve the rift. They feel the denomination has not held clergy accountable for violating rules prohibiting them from officiating same-sex marriages, for example, and have sought to leave the denomination entirely.
Among the disgruntled were the 70 congregations that the North Georgia Conference approved to leave this past summer. Twenty-one of those were part of the conference's North West District and included congregations based in Rome, Dalton and Summerville, among other places. There is no indication the status of those churches will be affected by the new announcement; they are already out of the denomination.
Still, in a conference where about 700 churches remain, many more congregations could be actively considering leaving the denomination in anticipation of the 2023 annual conference meeting, where the next round of disaffiliation agreements would need to be ratified.
Photo Gallery
North Georgia United Methodists halt disaffiliations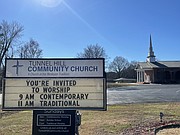 The number of churches affected by the new policy is unclear, in part because the conference announced months ago it would not process until Jan. 1, 2023, the paperwork necessary for a congregation to take an official disaffiliation vote.
On Dec. 28, however, the outgoing bishop notified North Georgia Methodists that plans had changed: Given an "astounding proliferation of misinformation in local churches," conference officials no longer saw membership votes as reliable, and thus would no longer accept requests to hold them.
Critics call the move un-Christian and a betrayal. Tunnel Hill Community Church pastor Jay Tenney, whose congregation was among those that had formally already left the conference in the summer of 2022, said by phone Friday that the conference has plainly gone back on its word and is now "holding many churches hostage."
Paragraph 2553
The church law through which Tenney's own congregation left the denomination — and crucially, got to keep its property — was established as prospects of a broader accord within the denomination of about 12 million people seemed to dim.
Codified in paragraph 2553 in the denomination's Book of Discipline, the rule sunsets at the end of 2023. The North Georgia Conference announcement said officials would revisit their new policy after the spring 2024 denominationwide meeting. But critics complain that by then it may be too late to leave.
(READ MORE: Chattanooga-area churches take steps to leave the United Methodists)
Since the law went into widespread use in the past year, different United Methodist conferences have administered paragraph 2553 in a variety of ways.
In the Holston Conference, which governs United Methodist churches in much of East Tennessee and a small part of North Georgia and Southwest Virginia, no congregations have yet been approved to leave. But at least a small group have formally initiated the process of disaffiliating. Those churches must go through a monthslong "discernment" phase before taking a vote.
Final disaffiliation agreements — which outline financial and property arrangements, among other things — must be ratified at the annual conference meeting in April. But Holston Conference officials have indicated that step would be a formality.
The North Georgia Conference's disaffiliation process has been more fraught.
This past summer, it settled a legal dispute touching on the matter with a Marietta, Georgia, megachurch. Even before the late December announcement, it maintained an uncommonly restrictive policy governing how information regarding disaffiliation could be disseminated, according to Jay Therell, the president of the Wesleyan Covenant Association, a group that has advocated for disaffiliating churches. And the new policy goes further.
No other United Methodist Church conference has outright blocked disaffiliation, Therell said by phone Thursday.
Therell said he finds outgoing Bishop Sue Haupert-Johnson's announcement — which does not name who, exactly, is spreading misinformation — to be extremely vague. He also questions the timing, just as she leaves and a new bishop is taking office.
"One begins to wonder if it's so that Bishop Haupert-Johnson could make the decision and not have to live with the ramifications and fallout from it," he said.
Haupert-Johnson, who just days ago started her new position leading the Virginia Conference, referred inquiries to North Georgia Conference spokeswoman Sybil Davidson.
Davidson referred the Chattanooga Times Free Press to the United Methodist Church's public statements and did not answer several questions such as why Haupert-Johnson announced the decision just days before her tenure ended and whether the new bishop, Robin Dease, was consulted about the decision.
Dease, who was installed as the new bishop of the North Georgia Conference on Sunday, did not respond to an interview request.
A gracious exit
In her Dec. 28 announcement, Haupert-Johnson said conference officials had tried to implement a disaffiliation plan reflecting the letter and spirit of denominational rules but that defamatory rhetoric and misinformation has undermined the integrity of the process. She said misinformation was being "intentionally deployed."
Davidson did not, upon request, offer specific evidence for those claims or identify the specific people or groups conference officials saw as culpable.
The bishop's statement did, however, list general examples of the sort of misinformation officials have observed, such as "church leaders sharing that the United Methodist Church no longer believes in the resurrection of Christ. This is untrue."
Other objections seemed to be about how disaffiliation advocates framed the debate. According to Haupert-Johnson, some church leaders told congregants that the "UMC's theological impasse is rooted in our differing beliefs regarding the authority of the Bible, the interpretation of the Bible, its impact on how we live out our faith and the Lordship of Jesus.' This is untrue and is among the most widespread misinformation we've seen."
This is a matter of opinion, Therell said, adding that many theological conservatives see the schism as being rooted in a profound disagreement over biblical interpretation.
Dan Parr, the president of the Wesleyan Covenant Association's North Georgia chapter, said conference officials have had ample opportunity to offer their perspective. Under conference rules, denomination officials had to be notified when a congregational meeting about disaffiliation was to take place.
Those officials frequently attended and spoke themselves. According to Haupert-Johnson's announcement, district superintendents in the conference have attended 200 such informational meetings in the past year.
"It's disingenuous for the conference to say that there's all this misinformation out there," Parr said by phone Friday. "How can you say that when you've been so involved in the process and when you have the bully pulpit?"
He wondered if the North Georgia conference leaders felt congregants lacked the ability to discern between different perspectives.
"Are they not intelligent enough to figure that out?" he asked. "Or does the conference have to play Big Brother and tell them what to think?"
By the end of 2022, about 2,000 U.S. churches, largely concentrated in the Southeast and the Midwest, had disaffiliated from The United Methodist Church, Therell said. As of 2019, The United Methodist Church had reported about 30,000 active U.S. churches.
Contact Andrew Schwartz at aschwartz@timesfreepress.com or 423-757-6431.