Nine years after entering the Chattanooga market with a children's pool and training facility on the North Shore, Aqua-Tots will open another studio on Lee Highway next week.
Daniel Lopera Hankins, the son of franchise owner Malena Hankins who manages the Chattanooga operations, said the newest Aqua-Tots location will be a leased 7,500-square-foot storefront in the Lee Pointe shopping center on Lee Highway near state Highway 153. The new studio will include a pool that is more than twice the size of the one in North Shore.
"It's been a little bit delayed, but we're hoping to start classes the week of Jan. 16th," Hankins said in a telephone interview. "We continue to grow and have seen a lot of parents who would prefer another location closer to where they are than our current downtown studio. This is a great new location, close to Hamilton Place and the highway with lots of parking for our members."
(READ MORE: A Chattanooga woman's rise to become one of the top open-water swimmers in the world)
Photo Gallery
Aqua-Tots opening another Chattanooga studio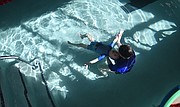 Most of the Aqua-Tots training lessons involve preschoolers ages 2 to 5 years old, but the studio does offer its services to those as young as 4 months up to age 13. The Aqua-Tots Swim Journey is comprised of eight levels of courses, each building on the next, to help orient young children to the water and swimming.
Since 1991, Aqua-Tots has grown as a franchise business with more than 120 locations across the country offering lessons in child-friendly pools with expert instructors to help create safe and confident swimmers.
(READ MORE: A guide to the Chattanooga area's 9 coolest swimming holes)
"At Aqua-Tots, our mission is to help prevent drownings by teaching children and adults water safety through consistent swim induction every class, every day," Craig Wright, the CEO of Aqua-Tots Swim Schools, said in a statement last year.
According to the Centers for Disease Control and Prevention in Atlanta, nearly 1,000 children drown in lakes, rivers and pools every year and drowning is the single leading cause of injury-related deaths among children ages 1 to 4.
Hankins said participants join under different membership options, including $112 per month for weekly group lessons and $201 per month for children getting lessons twice a week. Aqua-Tots offers a sibling discount for other children in the same family.
Hankins said the downtown location serves about 700 families and each studio typically has about 25 employees, most of whom work as part-time instructors.
The new Aqua-Tots studio will be the fourth for Malena Hankins, who was the first franchise owner for the children's swimming retail chain outside of Arizona when she opened her first storefront in Georgia 16 years ago. Hankins is a World Masters Champion swimmer who grew up in Ecuador, swam on the Georgia Tech swim team, is the mother of four children and has competed in swimming competitions around the globe. She qualified for Ecuador's Olympics team in 1996 but didn't end up competing because she was pregnant with Daniel.
(READ MORE: What states had the biggest share of childhood drownings in swimming pools?)
"My dad put me in swim lessons at 4 years old," Malena Hankins said in a release about her venture into Aqua-Tots. "And it was then that I fell in love and found my happy place. ... Naturally, I stayed in the pool and swam as much as I could. By the age of 9, I won my first swimming competition, and by the age of 14, I was swimming for our national team, representing Ecuador in swim meets throughout South America."
Hankins also operates Aqua-Tots studios in Douglasville and Kennesaw, Georgia.
The new store at 6413 Lee Highway will be open from 9 a.m. to 8 p.m. Monday through Friday and from 9 a.m. to 6 p.m. Saturday.
Contact Dave Flessner at dflessner@timesfreepress.com or 423-757-6340.