Between the Oak Grove and Ridgedale neighborhoods just off East Main Street, the playground at Chattanooga's East Side Elementary School seems like an unlikely place for a public park at first glance.
While the playground's green, grassy field is large — about four acres — there's little to no shade cover from trees and no benches or walking paths common in other public parks. And though the land is public, owned and operated by Hamilton County Schools, it would seem uncertain to residents if the general public is allowed. There's a "no trespassing" sign at the playground's entrance gate.
"Not very inviting," said Noel Durant, the Tennessee state director of the Trust for Public Land, a national nonprofit that works to connect people to the outdoors.
Durant gave a tour of South Chattanooga to the Chattanooga Times Free Press Friday, highlighting the work Trust for Public Land is doing to bring public park access to the area.
Currently, 32% of Chattanooga's residents have a public park or trail near their home, according to the city's Department of Parks and Outdoors. The city wants that figure to rise to 55% over the next 10 years. That would require filling the shortage in public park space that the city has identified at 443 acres.
And while East Side Elementary's playground isn't closing that gap right now, the Trust for Public Land, through its community schoolyards project, is working with the city and the school district to transform it into a public park by the end of 2024.
Photo Gallery
Park access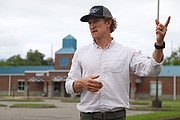 Durant said the Trust for Public Land will work with the communtiy in designing a park that has amenities that residents want. He described the initiative as a cost-effective opportunity to turn public schoolyard playgrounds, already owned by the local government, into parks suitable for people of all ages.
According to the Department of Parks and Outdoors, this year's city budget has $200,000 allocated to the project. Durant said Trust for Public Land is searching for private donations to match that amount from the city.
"There's no immediate opportunity to go out and buy vacant land and turn it into a park," Durant said. "Where you can't go and develop a new neighborhood park, schoolyards are a great alternative that are economical and benefit students as well."
(READ MORE: Chattanooga plans to add hundreds of acres of new park space in coming decades)
Scott Martin, administrator of the Department of Parks and Outdoors, said in an interview that the project came about upon the realization of the limited land available for public parks.
"It's not like they're making more land," Martin said. "So the question is then, how do you partner with different folks to make existing public lands more usable for more folks? And, obviously, schools across the nation have a heck of a lot of land, particularly tied into neighborhoods."
Martin said the project will make the public land at East Side more inviting for residents in the neighborhood.
"Not just recess yards, but make it truly a welcoming place where you'd want to hang out," Martin said.
During the design process of the new public park at East Side, Durant said that not only will residents be involved but students as well, helping design the new park through classroom activities. In other places, such as Vermont, California and Oregon, where the Trust for Public Land has converted playgrounds into public parks, attendance, behavior and test scores among students have improved, Durant said.
"When you make these kinds of community-based investments, informed by students, the school benefits academically from that," Durant said.


EQUITY
A park at East Side Elementary, along with Lynnbrook Park which is set to be completed in 2024, would give green space access to the Oak Grove and Ridgedale neighborhoods. Besides the small amount of green space at Watkins Street Park in Ridgedale, residents in those neighborhoods are not within walking distance to a public park.
"What the East Side Elementary school project is going to do is going to provide a much bigger park that's far closer for everyone to access," said Christina Sacco, president of the Ridgedale Community Association, in an interview. "It really is just kind of bridging that gap for some inequities in our neighborhood."
The census tracts that contain the Oak Grove and Ridgedale neighborhoods are predominantly Black and Latino, according to Census Reporter, a project out of Northwestern University that analyzes census data.
Mike Ross, a professor who specializes in ecology and urbanism at the University of Tennessee in Knoxville, said park access is key to promoting equity within cities such as Chattanooga.
"People with asthma, people with hypertension, other types of conditions, benefit from those sorts of things," Ross said. "For a lot of people, urban green spaces are their only opportunity to see that."
(READ MORE: Chattanooga leaders break ground on new Lynnbrook Park, plan fall 2024 completion)


GROWTH PLANNING
The schoolyard project at East Side is the pilot program for the area. Durant said he hopes it can be emulated at other schools that Trust for Public Land has identified, particularly Clifton Hills Elementary School in South Chattanooga.
It's a part of Trust for Public Land's broader effort to connect the area through green space. The organization is working with the city to connect the southern end of the Tennessee Riverwalk all the way to East Lake Park at the base of Missionary Ridge.
Durant said the park and trail access that the Trust for Publc Land is working on in South Chattanooga is vital to accommodate growth in Chattanooga, a city that has seen a population growth from just less than 165,000 in 2010 to nearly 185,000 today, according to census data.
"We're behind in terms of walkable access," Durant said. "If we're going to make headway, we need to be finding these opportunities that are efficient so that we can really scale park access to meet the growth of the city."
(READ MORE: Chattanooga is one of six U.S. cities chosen for Parks Equity Accelerator program)
Ross said developing green space is vital in making growing cities livable for everyone.
"If you can preserve green space and you can preserve connectivity and you can preserve connections where people can use the active transportation such as bicycles," Ross said, "then you're really keeping with the ethos of a democracy, a fair space and equitable space for everybody."
Contact Ben Sessoms at bsessoms@timesfreepress.com or 423-757-6354.