Moving into Chattanooga's Flatiron Building will be like living in history, says a real estate broker about the 112-year-old landmark that's undergoing a multi-million-dollar revamp into condominiums.
The 707 Georgia Avenue building downtown, patterned after the Flatiron Building in New York City, will hold 15 residential condos on the top three stories, said Pamela Fisher, who is the listing agent, in an interview.
"This was a replica," said Fisher about the 27,488-square-foot brick structure. "We love the idea of using an old building and bringing it back to its original purpose." She said the Flatiron housed apartments were constructed in 1911 by Samuel Read, who later was the namesake of the Read House hotel in Chattanooga.
Office condominiums are planned for the bottom two levels of the building, Fisher said at the historic structure where construction is well underway and headed for a December finish.
Prices for the residential condos are ranging from $399,900 to $749,900 for the one- and two-bedroom units that are from 730 square feet to 1,543 square feet in size, she said.
One condo has been reserved so far, Fisher said. She said that several traveling nurses in Birmingham are hoping to lease out the space when they're not using it.
Ali Ferger, co-listing agent, said buyers have a choice of two design options before May 1.
"There's wiggle room in the styles," she said in an interview at the building. Three of the units will feature outside decks.
Robert Fisher, a part of the group that purchased the structure, said by phone that the $12 million project when fully built out is called Flatiron Heights. The 10,000 square feet of commercial space inside the Flatiron can be divided into 1,000- or 5,000-square-foot spaces, he said.
"We're flexible in terms of the creation of that," said Fisher, who is Pamela's husband.
Photo Gallery
Chattanooga's Flatiron Building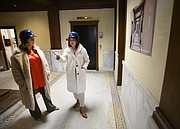 He said he expects the offices will appeal to attorneys because of the proximity to the Hamilton County Courthouse, which is across Seventh Street from the Flatiron. Or, Fisher said, some owners of the condos may want their own office space in the building.
Ferger, of Blackwell Realty, said feedback from interested parties on the residential side is that residents will like the proximity to key locations downtown such as hospitals and the courthouse.
"It's anyone living, working or playing downtown," she said.
Pamela Fisher, an agent with Keller Williams Realty, said people who don't want a lot of drive time to get where they're going are interested in the units.
"They want to be closer to work, or be close to entertainment ... or the river or the Riverwalk," she said.
Flatiron Heights has a two-level parking structure on the Seventh Street side, Fisher said. One level is for commercial while the other for residents, she said.
Inside the building, developers are saving oak wood staircases and trim along with as much of the decorated tile floors as possible, Fisher said.
She said Flatiron Heights is meeting a need for more downtown housing.
A new study of downtown for the River City Co. released in February shows there's a significant unmet demand for more rental and for-sale housing, but there's also a lot of under-utilized office space.
The study for the nonprofit redevelopment group also found a need for more downtown neighborhood-type services such as grocers, pharmacies, fitness centers and other businesses.
The area near Flatiron Heights is seeing a flurry of activity transforming historic structures.
Another Chattanooga developer is building 46 new condominiums at 117 E. Seventh Street as he renovates a nine-story former hotel built in 1915 into one of the tallest private residential towers in the central city. Developer Sean Compton said during a recent interview at the $22 million project that he's calling the renovated structure Park Tower.
Nearby, a 112-year-old building that held the Classic Coin and Jewelry store for decades is seeing a restoration. Developer Lawrence Dossche said in an interview at the 109 E. Seventh Street building that he's planning retail and office space in a $3 million project.
Contact Mike Pare at mpare@timesfreepress.com or 423-757-6318.