Sightings of the Easter Bunny are proliferating, and a 14-day egg hunt is set to begin. Students will race electric vehicles they've designed and built at the Chattanooga Green Prix, and Repticon will bring an array of exotic animals to town this weekend.
Meanwhile, the Chattanooga episode of "Samantha Brown's Places To Love" will air at 6 p.m. Sunday on local PBS station WTCI. Mini spoiler alert: She really liked the fried fish sandwiches at Uncle Larry's Restaurant.
Among the events that are sold out going into the weekend are Friday's UnBought & UnBossed awards luncheon by Girls Inc. and Saturday's Tea With Bea, a character depiction of author Beatrix Potter by Collegedale Parks and Recreation.
ARTS
-- The Salvation Army's Chattanooga Area Command will conclude a two-day "Art in Provence" exhibition Wednesday at the Mountain City Club, 729 Chestnut St. It coincides with a luncheon and artist talk with mother-and-son artists Jill Steenhuis (painter) and Sergio Ruffato (sculptor), set for noon-1:30 p.m. The exhibition is free to view. Luncheon reservations are $30. Proceeds support Salvation Army programs in Chattanooga. csarmy.org
-- Hunter Museum of American Art, 10 Bluff View Ave., will explore Knoxville-born artist Beauford Delaney's friendship with writer James Baldwin in a Vision + Verse program 6-7 p.m. Thursday. Rhyme N Chatt poets Marsha Mills, Poetess Phenomenal C and Tomodachi will take their inspiration from an exhibit of Delaney's works now on view. Local hip-hop artist Swayyvo also will perform. Admission is free. Friday is the annual Hunter Underground fundraiser, which includes a cocktail party, silent art auction, costume contest and an Art Heist Gallery. It's set for 8-11 p.m. with a $125 ticket. huntermuseum.org
COMEDY
-- The Comedy Catch, 29 Station St., has two headliners this weekend. Ron Feingold, whose act combines comedy and a cappella music, will appear at 7:30 and 9:45 p.m. Friday and Saturday. Feingold records harmony tracks and vocal percussion for backing and can impersonate voices ranging from Kermit the Frog to Joe Cocker. Tickets are $19-$22. Jermaine "FunnyMaine" Johnson will perform in a special engagement at 7 p.m. Sunday. He gained internet fame in 2016 with his "How Bama Fans" college football series. Tickets are $30-$40. thecomedycatch.com
-- Improv Chattanooga has three events coming up at the Mountain Arts Community Center, 809 Kentucky Ave., Signal Mountain. That Would Be Silly: The Improv Comedy Show for Kids starts at 3 p.m. Sunday. Skits are based on audience suggestions, and children may be called onstage to assist or tell a joke. The show is free for ages 10 and younger, $5 for all others. An open house to learn more about the comedy improvisation troupe is at 7 p.m. Monday. An end-of-class student showcase for adults studying long-form improv will begin at 8 p.m. Tuesday for $5. improvchattanooga.com
DANCE
-- The Space Between, a dance showcase designed to destigmatize mental illness, will be presented this weekend at Barking Legs Theater, 1307 Dodds Ave. Dancers from Girls Preparatory School, Scenic City Dance, Baylor School, Ballet Esprit, Center Stage Dance Company and Civic Ballet of Chattanooga will participate in the effort to raise awareness of mental health conditions and funds for the AIM Center. The showcase is a project of a GPS senior who earned a competitive fellowship to present it and said the idea came from the feelings of loneliness, grief and isolation she saw herself and others experiencing due to the COVID-19 pandemic. Shows are scheduled at 7 p.m. Friday and 1 p.m. Saturday. Tickets are $15. eventbrite.com
-- Coppelia & New Works will be presented at 6 p.m. Saturday and 3 p.m. Sunday in the UTC Fine Arts Center, 752 Roland Carter St. The Chattanooga Ballet production will offer an abridged version of the classical ballet written in 1870 and based on a short story by E.T.A. Hoffman, who also wrote the story on which "The Nutcracker" ballet is based. Several contemporary works will get their world premiere. Tickets are $15-$25. chattballet.org
-- Land of Oz and New Works, a Chattanooga Dance Theatre production, will be presented in three performances this weekend in the company's Studio Theater, 5151 Austin Road. The show will open with new works by En L'Aire Dance Company, followed by the journey through Oz that introduces a balletic Glinda, acrobatic Scarecrow and a modern-dancing Wicked Witch, among others. Performances start at 7:30 p.m. Friday, 2:30 and 7:30 p.m. Saturday, 2:30 p.m. Sunday. Tickets are $17. chattdance.com
EASTER
-- The Easter Bunny arrives Friday at two area malls. Through April 8, the bunny will be available for photos and visits during mall hours at Bradley Square Mall, 200 Paul Huff Parkway, Cleveland, Tenn., and select hours at Dalton Mall, 816 Walnut Square Blvd., Dalton, Ga. Bradley Square has a single Pet Night with the bunny 5-7 p.m. Monday. The bunny is already in residence at Hamilton Place, 2100 Hamilton Place Blvd., and Northgate Mall, 271 Northgate Mall Drive. Pet photos are scheduled each Monday. Walk-ins are welcome at all of the malls, or you can reserve an appointment online. Additionally, reservations open Saturday for photos with the Easter Bunny at Bass Pro Shops in East Ridge, available April 1-9. shopbradleysquare.com, daltonmall.com, basspro.com
-- Citywide Easter egg hunt starts at 10 a.m. Sunday, compliments of Chattanooga's two Vinterest stores. Each day, officials from the Hixson and Southside locations will hide at least one egg somewhere in the Chattanooga area with a social-media post hinting at its location. Then the hunt is on. If you find the egg, post a photo on Facebook or Instagram, then go by the specified store to pick up your vendor-provided prize. On April 8, they'll hide a golden egg to give away the biggest prize of the season. There's a limit of one prize egg per person. facebook.com/vinteresthixson
FILM
-- Chattanooga Jewish Documentary Film Series continues next week at the Jewish Cultural Center, 5461 North Terrace. "Sauvons les Enfants (Saving the Children)," the third of five films, will be available virtually March 26-31 (noon to noon). An in-person screening is set for 7 p.m. Monday, with refreshments at 6:30 p.m. Tickets are $12 per film. Virtual screenings must be paid in advance to receive the login code. jewishchattanooga.com
MUSIC
-- Barking Legs Theater, 1307 Dodds Ave., will feature the Kash Wright Trio for the weekly Jazz in the Lounge at 7 p.m. Wednesday. Cover is $5. barkinglegs.org
-- Jericho Brass Band will play a free concert with the Red Bank High School Blue Lion Band at 6 p.m. Thursday at Red Bank High School, 640 Morrison Springs Road. The concert follows a chili cook-off that begins at 5 p.m. Cost is $20 to enter the contest, $10 to try a bowl. Proceeds benefit the student musicians. jerichobrassband.org
-- Lee University Chorale will present its spring concert at 7:30 p.m. Thursday in Pangle Hall, 340 Church St. NW, Cleveland, Tenn. A portion of the evening will feature pieces about nature. The performance is free and nonticketed. Livestream: leeu.live
-- Barrelhouse Ballroom, 1501 Long St., has two shows this weekend, starting with Stairway to Zeppelin, a tribute to the English rock band Led Zeppelin, at 9 p.m. Friday. Tickets are $20-$25. On Saturday comes MedRock: Battle of the (Physician) Bands, in which bands led by local doctors perform for audience votes to raise funds for a Chattanooga Medical Alliance scholarship fund. Music starts at 7 p.m. Tickets are $40. barrelhouseballroom.com
-- The Caverns, 555 Charlie Roberts Road, Pelham, Tenn., is gearing up for a PBS television taping of "The Caverns Sessions," formerly known as "Bluegrass Underground." Twelve roots and Americana acts will perform over three days, including Peter Rowan, Sierra Ferrell and Alison Russell. At press time, tickets remained for concerts at 7 p.m. CDT Friday ($55-$65) and 4 p.m. CDT Sunday ($75). Saturday and three-day ticket packages are sold out. thecaverns.com
-- Walker Theatre, 399 McCallie Ave., will welcome two acts in coming days. Gospel singer Tye Tribbett will bring his All Things New tour to the venue at 8 p.m. Friday. Tickets are $35-$49. Rock band Blue October will perform at 8 p.m. Tuesday on the Spinning Around the Truth tour. Tickets are $39-$69. tivolichattanooga.com
-- Gem Theatre, 114 N. Wall St., Calhoun, Ga., will welcome 7 Bridges: The Ultimate Eagles Experience at 7:30 p.m. Saturday. The Nashville-based musicians have gained national acclaim for their faithful re-creations of songs by the best-selling rock band's prolific 1970s era. Tickets are $39-$45; quantities are limited. calhoungemtheatre.org
-- Chattanooga Symphony & Opera will present its next Pops concert Saturday with a visit by Mariachi Cobre, a band that regularly plays traditional Mexican folk music at Disney's EPCOT Center. The concert will start at 7:30 p.m. in Memorial Auditorium, 399 McCallie Ave. Tickets are $15-$90. Also on the schedule are two free family concerts of "Ferdinand the Bull," both Sunday. The first starts at 1 p.m. at Rise Chattanooga, 804 Central Ave.; the second at 4 p.m. at the Jewish Federation of Greater Chattanooga, 5461 North Terrace. Puppets from Playful Evolving Monsters will be used to set the story. Concertgoers should arrive early for crafts and an instrument petting zoo. At 8 p.m. Tuesday there's an open rehearsal for Mozart's "Requiem." For $10, visitors can listen as the musicians practice for the Masterworks concert two days later. The rehearsal is open to the public until a break around 9 p.m. chattanoogasymphony.org
-- Songbirds, 35 Station St., has two upcoming shows. Southern rockers Robert Jon & The Wreck will play at 8 p.m. Saturday. Tickets are $25. Blues guitarist Eric Gales will play at 7 p.m. Tuesday with support from King Solomon Hicks. Tickets are $35-$40. songbirdsfoundation.org
-- Southern Adventist University has two guests scheduled in separate concerts. Organist Patrick Rice will perform at 7:30 p.m. Sunday in Collegedale Seventh-day Adventist Church, 4829 College Drive. Admission is free. Saxophonist and composer Steven Banks will take the spotlight at 7:30 p.m. Tuesday in Ackerman Auditorium on the Collegedale campus, 4881 Taylor Circle. Tickets are $8. southern.edu/musicevents
OUT & ABOUT
-- Decluttering and downsizing expert Matt Paxton, a host of "Hoarders" on A&E and "Legacy List" on PBS, will offer his expertise 4-5:30 p.m. Thursday at the Goodwill store at 7601 East Brainerd Road. While supplies last, you can trade a donation to Goodwill for his book, "Keep the Memories, Lose the Stuff." At 6 p.m., he'll speak to downsizing professionals at the Job Connection Center next door. RSVPs are required for that talk. 423-629-2501, ext. 4041
-- Paraclimbing champion Maureen Beck, who was born with only one hand and forearm, will tell the stories behind her eight national titles in a program titled "Improbable Ascent" at 7:30 p.m. Thursday in Southern Adventist University's Iles P.E. Center, 4870 University Drive, Collegedale. Tickets are $10. southern.edu
-- Spring Porch Sale, an annual fundraiser for the Whitfield-Murray Historical Society, will take place this weekend at the historic Wright Hotel, 201 E. Market St., Chatsworth, Ga. The sale will include vintage pieces, household items, tools, antiques, collectibles and used books. Hours are 8 a.m.-2 p.m. Friday and Saturday. Admission is free. whitfield-murrayhistoricalsociety.org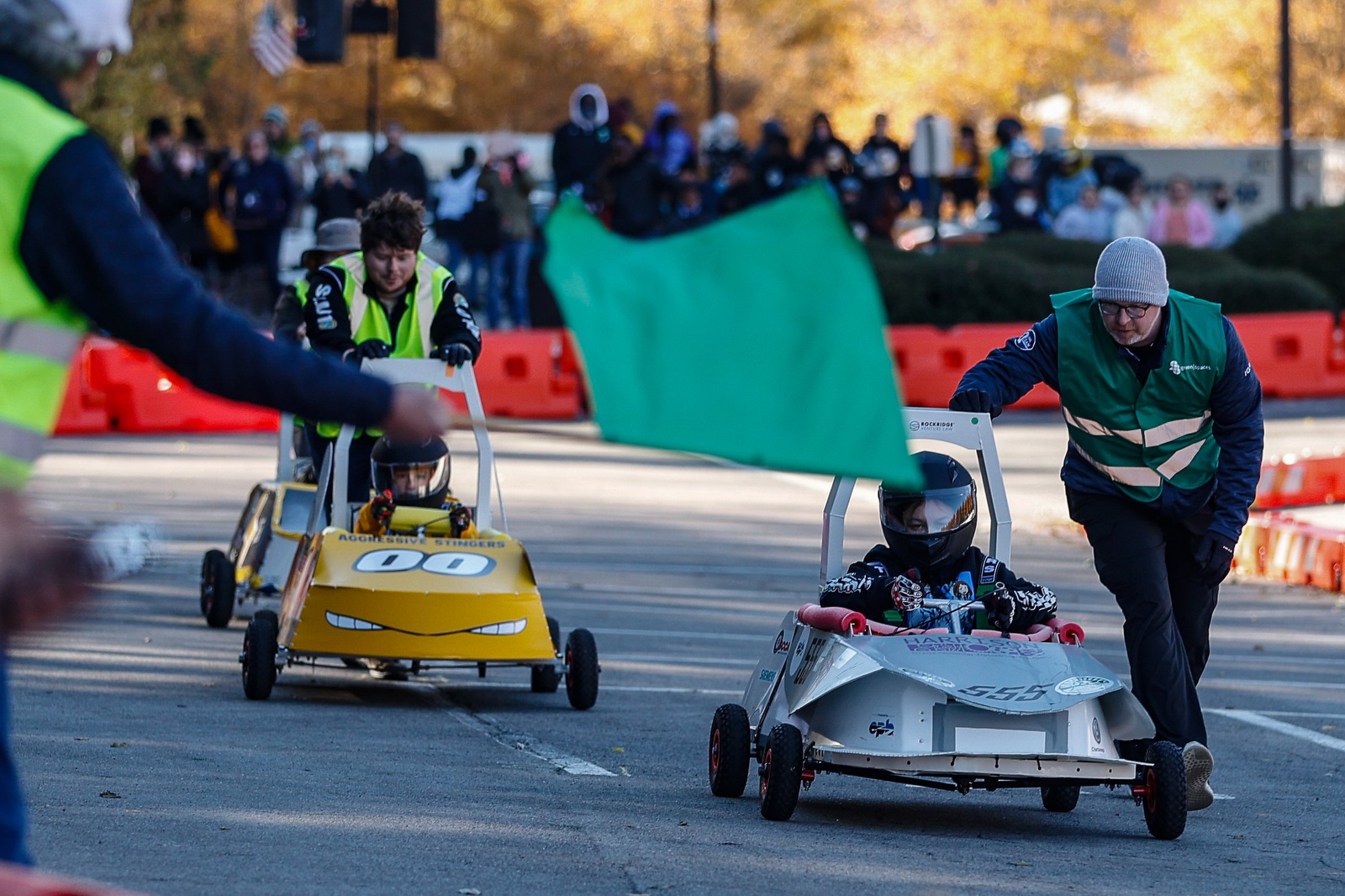 Staff file photo / Racers take off at the sight of a green flag to start the fall Chattanooga Green Prix elementary school race on Nov. 19, 2021.

-- Chattanooga Green Prix, a race of electric cars designed and built by teams from 30 area schools, will be held for the first time at VW Chattanooga, 8001 Volkswagen Drive. Friday races, for elementary school teams, start at 11 a.m., with awards at 3:45 p.m. Saturday races, for middle and high school competitors, start at 11 a.m., with awards at 5:30 p.m. greenspaceschattanooga.org
-- Spring Book Sale & Makers Market, a Chattanooga Public Library event featuring thousands of books and a dozen vendors, is this weekend at Venue 701 inside St. Marks United Methodist Church, 701 Mississippi Ave. Hours are 9 a.m.-5 p.m. Friday, 10 a.m.-6 p.m. Saturday, 11 a.m.-4 p.m. Sunday. Proceeds benefit the Chattanooga Public Library Foundation and the Chattanooga Public Library System. 423-643-7747
-- All-Star Monster Truck Tour will stop this weekend at Boyd's Speedway, 1482 Scruggs Road, Ringgold, Ga. Races start at 7 p.m., but arrive early for monster truck rides in Identity Theft, a parody of Grave Digger; and the fun zone/track party, which includes a bounce house, cornhole, wreck pit toy zone and a chance to meet the drivers. General admission either night is $15-$30. Monster truck rides are $15. The fun zone/track party pass is $10. allstarmonster.com
-- Rock the Riverfront continues at the Chattanooga Green, 140 Riverfront Parkway. The interactive art installation Los Trompos (spinning tops) is open 10 a.m.-8 p.m. daily through April 16. Live music, art vendors, family activities and food trucks are featured during select hours Friday through Sunday. Appearing this weekend are DJ Kris Kash 5-7 p.m. Friday and Get Up & Move dance and fitness organizations 11 a.m.-7:30 p.m. Saturday. Sunday is an open play day. Admission is free. rivercitycompany.com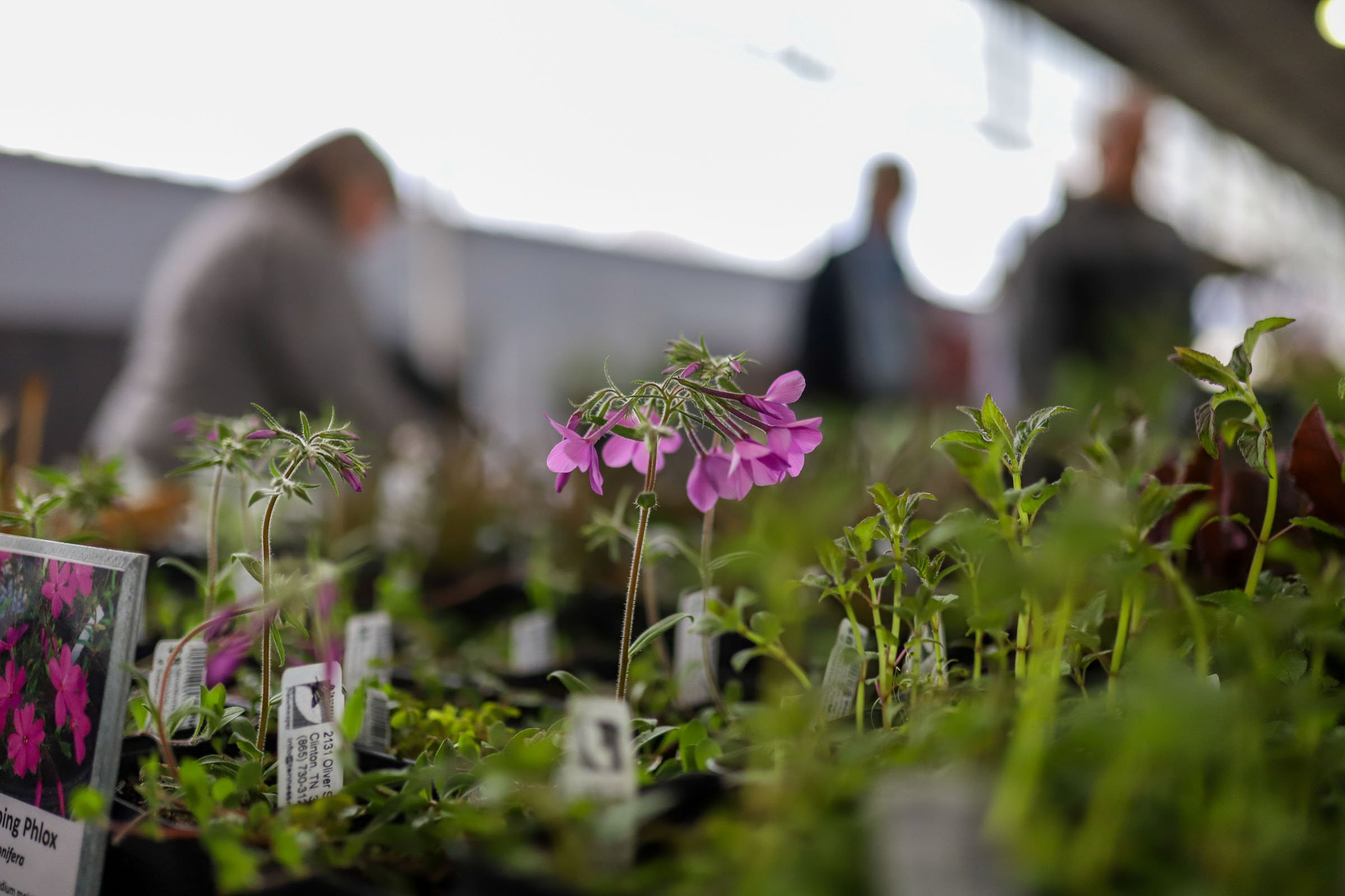 Staff file photo by Olivia Ross / Tennessee Naturescapes brought a variety of plants and art prints to the Native Plant Sale & Expo at First Horizon Pavilion on March 19, 2022. The market was presented by the Tennessee Valley Chapter of Wild Ones.

-- Native Plant Sale & Expo, the final offering of Plant Natives 2023, the signature event of the Tennessee Valley Chapter of Wild Ones, will happen 9 a.m.-3 p.m. Saturday at First Horizon Pavilion, 1826 Carter St. The expo includes 10 regional native plant nurseries and dozens of other vendors and exhibitors. Admission is free. tnvalleywildones.org
(READ MORE: It's too soon to start the garden, but these classes and events will get you ready)
-- Reflection Riding Arboretum & Nature Center, 400 Garden Road, will go in search of spring ephemerals on a wildflower walk 2-3 p.m. Saturday. Admission is $5 for members, $10 for nonmembers. These opportunities fade with the flowers, but other programs that showcase the resident animals or scenic vistas happen regularly. Registration is required. reflectionriding.org/events
-- Repticon, featuring dealers and breeders of reptiles, amphibians, invertebrates, spiders and small exotic animals, plus vendors with care and feeding supplies, returns this weekend at Camp Jordan, 323 Camp Jordan Parkway, East Ridge. Hours are 9 a.m.-4 p.m. Saturday and 10 a.m.-4 p.m. Sunday. Admission is $12 either day ($10 Saturday after 1 p.m.), $15 both days, $6 children 5-12. repticon.com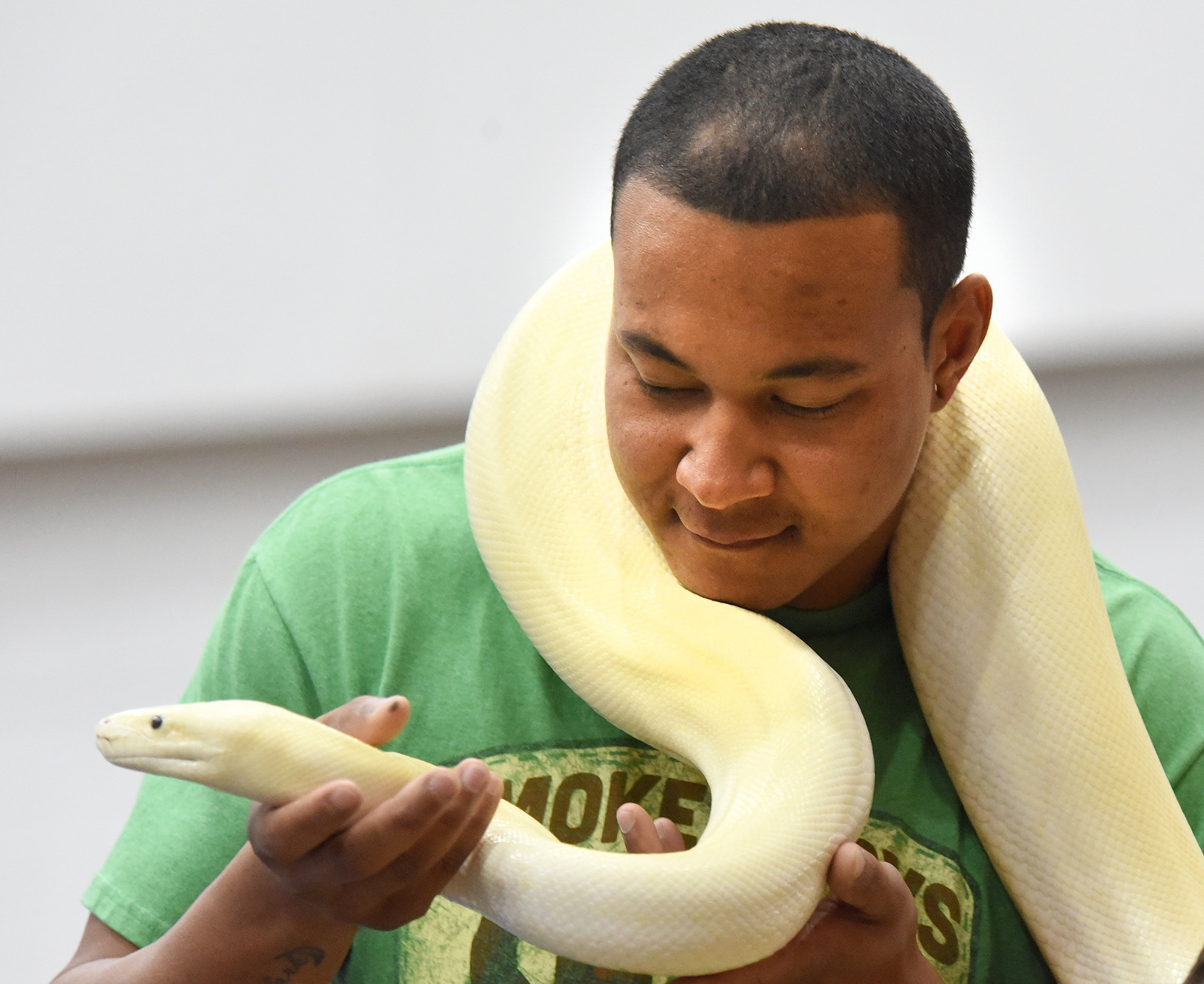 Staff file photo by Matt Hamilton / Nathan Adams of Chickamauga, Ga., holds a white Burmese python at a booth during Repticon at the Camp Jordan Arena in East Ridge on Aug. 28. Repticon features a variety of exotic reptiles to look over and purchase, as well as spiders, scorpions, exotic cats, insects and other alternative pets.

-- Chattanooga River Market, an emporium of handmade arts, crafts, artisan foods, food trucks and live music, continues this weekend on the Tennessee Aquarium plaza, 1 Broad St. Hours are 10 a.m.-5 p.m. Saturdays, 10 a.m.-4 p.m. Sundays through April 1-2, then Saturdays only through October. Admission is free. chattanoogamarket.com
SPECTATOR SPORTS
-- Chattanooga Red Wolves, a USL League One men's professional soccer team, will open their home season against the North Colorado Hailstorm at 7:30 p.m. Saturday at CHI Memorial Stadium, 1 Stadium Way. Tickets are $13-$30. chattanoogaredwolves-sc.com
THEATER
-- Chattanooga Theatre Centre, 400 River St., closes the Youth Theatre production of "Bambi: A Life in the Woods" this weekend. Final shows start at 7 p.m. Friday, 2:30 p.m. Saturday and Sunday. $10-$12. theatrecentre.com
-- Lee Theatre continues its season with "Jack's Tale" the next two weekends in the Buzz Oates Blackbox Theater in the Communication Arts Building, 345 Church St. NE, Cleveland, Tenn. The musical is inspired by the mystical tales and folk music of Appalachia. This weekend's shows start at 7:30 p.m. Friday, 3 and 7:30 p.m. Saturday. Tickets are $10-$15. eventbrite.com
-- Ocoee Theatre Company will present two weekends of "Harvey," Mary Chase's Pulitzer Prize-winning play, at Cleveland Middle School, 3635 Georgetown Road NW, Cleveland, Tenn. "Harvey" is the story of elderly gentleman Elwood P. Dowd and his best friend, a 6-foot, 3 1/2-inch invisible rabbit. Show time is 7:30 p.m. Saturday, 2 p.m. Sunday (similar schedule March 31-April 2). Tickets are $20. They'll be sold at the door as available. facebook.com/ocoeetheatre
Find more events, and add your own, at times freepress.com/cnevents.
Contact Lisa Denton at ldenton@timesfreepress.com or 423-757-6281.