Figuratively speaking, Jimmy White owned the Valleybrook Golf & Country Club course in 2000, when he won its Red Bud Invitational tournament by a whopping 10 shots.
Today, through his company and with partners Priscilla Mitts Dietterich and Byron Mitts, White literally owns the Hixson club.
Chattanooga-based Urban Story Ventures has announced Urban Dome LLC's purchase of Valleybrook from Henry Luken III for $1.7 million. Urban Dome LLC consists of the Mitts siblings' Rivermont Corp. and Urban Story Ventures, of which White is president and general partner.
Luken acquired the 60-year-old course a decade ago, bidding $950,000 at an auction for the 137-acre course.
White said the new owners plan to spend as much as $3.5 million "initially" on both the golf course and amenities.
Photo Gallery
Valleybrook Golf & Country Club in Hixson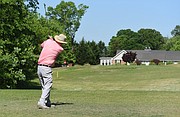 "A lot of us remember Valleybrook in its heyday," he said. "We want to get that feel again.
"A lot of stuff has to happen, but I told Priscilla and Byron that by September 2024, we'll have something we'll be proud of," he said.
White said that, in addition to "TLC" for the golf course, that means an emphasis on what can make Valleybrook a gathering place for Hixson-area families.
"The golf course is still relevant," he said. "Ponds need to be dredged, bridges need some work and we have some rebunkering to do. Landscaping and more landscaping. But we wouldn't put our names on (a course) that wasn't relevant in the golf community.
"So golf is one aspect," he added, "but having amenities for kids and families - a pool. Pickleball courts. The restaurant. Those are mission-critical.
"Valleybrook being in a prime suburban location, there are endless opportunities," White said. "This community is starving for a social aspect that can be at this club."
Pouring at least $5 million into buying and refurbishing a golf and country club in the current economic climate might give some investors pause, but White said he's bullish on the Chattanooga area generally, and Hixson in particular.
"The banking industry is having issues, like it did in 2007 and 2008, but Chattanooga still had growth back then and I think we're going to see that again," he said.
Mitts said that, in a Valleybrook-specific context, it might already be happening. He said that once the club officially changed hands, he heard from "a dozen" friends who wanted to sign on as members.
"There've been a lot of people waiting for this to come true," Mitts said. "Now that it's a fact, I think we're going to see an influx of members in the next month or so."
When it comes to the golf business, Mitts and Dietterich know what they're talking about. Mitts said their late father, Russell, leased what was then Rivermont Golf and Country Club in 1953, bought it a decade later and paid it off in 1983.
"We had a big mortgage-burning party," Mitts recalled.
The Mitts family sold Rivermont, now the site of The Enclave at Riverview, in 1997 for slightly more than $6 million. But while Byron Mitts and Dietterich had been out of the golf business for more than 25 years, White said they've partnered with him in several Chattanooga-area real-estate deals in the past 11 years, including the Dome and James buildings downtown.
White added that the Valleybrook deal wasn't the first they've done with Luken.
"We've bought several assets from Henry," White said. "We've had a great business relationship."
According to White, Luken first broached the subject of selling Valleybrook at the beginning of 2023. White said he called Dietterich, president of Rivermont Corp., right away.
"I told her, 'You may think I'm crazy, but hear me out,'" he said. Dietterich said he didn't have to sell the deal.
"It's funny," she said. "Jimmy usually scouts, then we meet and I'll say something like, 'Well, let's look at that.' But when he said 'Valleybrook,' I immediately said yes. I've never jumped on anything so fast.
"This is a heart thing," Dietterich said. "I've missed (golf) a lot. Friends say I light up when I talk about Rivermont - they can see I love the business I have now, but it's nothing like the golf business."
Valleybrook hosted the PGA Tour's Provident Classic from 1984 through 1991. Sponsored by what was then Provident Life & Accident Insurance Co., the Classic brought to Chattanooga players including Brad Faxon, the 1986 champion; Phil Blackmar, who defeated Payne Stewart in a playoff for the 1988 title; Rocco Mediate and John Daly, who would go on to win the 1991 PGA Championship and the 1995 Open Championship at St. Andrews, Scotland.
Contact Bob Gary at bgary@timesfreepress.com.