When she steps into the starting blocks Tuesday evening for the first of her four events, Danielle Dunning's focus will stretch beyond the seven other competitors in neighboring lanes.
As she raises her head to survey the 100-meter stretch to be covered, a singular figure — the shadow cast by former Howard star Laquisha Jackson, Chattanooga's most decorated sprinter — will be the primary measure for Dunning's performance.
Since Jackson broke 30-year old state records in both the 100- and 200-meter dashes as a sophomore in 2010, every female high school sprinter who has followed from across Tennessee has made those marks her target. And while Shelbyville's Kethlin Campbell broke Jackson's record in the 200 with a time of 23.71 seconds in 2017, no one has come close to matching Jackson's blistering 11.46 in the 100.
That is until Dunning, Brainerd High School's sensational sophomore who grew up idolizing both Jackson and former Signal Mountain star McKenzie Ethridge, broke onto the sprint scene by winning a state title in the 100 last year.
Steadily improving her times throughout this spring, Dunning matched Jackson's record during a region meet this past week and is poised to break the mark during the Class A state meet at the Spring Fling in Murfreesboro.
"Some of my first memories of being at the track were watching Laquisha train," said Dunning, who began competing at the age of 4, qualified for a national event when she was 5 and has been an All-American (top-eight finisher at nationals) since she was 7.
"By the time McKenzie was competing, I was a little older, so I used to try to catch up to her," Dunning said. "I always thought if I could catch her, then I would know that I'm fast.
"I learned a lot just by watching how dedicated both of them were to training and getting better. It would be emotional for me if I broke Laquisha's record. I looked up to her so much. I would be proud, and it would mean a lot to me, but it would be emotional because she has always been a hero for a lot of us."
The heroes of her younger days, and the records she's chasing, are now Dunning's only peers on the track.
Provided she remains healthy and doesn't stumble out of the starting blocks, Dunning will be the overwhelming favorite to cruise to state titles in both the 100 — where she has by far the fastest qualifying time, regardless of classification — and the 200, where her qualifying time is a ridiculous 1.67 seconds faster than anyone else entered.
She also anchors Brainerd's relay teams for the 4x100 — which qualified with the state's fastest time — and the 4x400.
Photo Gallery
Brainerd sprinter Danielle Dunning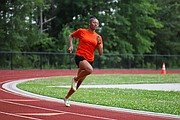 RACING RECORDS
Such rare talent has left Dunning to find alternative motivation besides the seven other competitors in each event, most notably rewriting the state's record books. Her time of 7.48 in the 60 at February's indoor state championship meet already eclipsed Jackson's record of 7.51, and although Dunning's 11.46 at the region meet equaled Jackson's record run, that time could not be registered as tying the mark because meet officials did not have a wind gauge to factor into her time.
There won't be any such issues at the Spring Fling, which returns to Middle Tennessee State University's Dean Hayes Stadium, prohibiting her time from being officially registered.
"I know people expect a show in the sprint events, and I like putting on a show for the crowd," said Dunning, who at 5-foot-10 towers over most other female sprinters and has a much longer natural stride than her competitors. "I know all eyes are on the sprint events; you can just feel the crowd buzzing before and during a sprint race."
Dunning is the latest in what has become a long line of dominant female sprinters from Chattanooga. That list began with Jackson, who burst onto the scene as a freshman in 2009, snapping a five-year dry spell in which no Chattanooga runner took first in either the 100 or 200 by sweeping those events.
By the time her prep career ended, Jackson had won nine state titles and never lost an event she entered in four seasons. She was immediately followed by Signal Mountain's Ethridge, who could never quite reach Jackson's record times but did match her nine state titles.
In the 13 years since Jackson's debut, Chattanooga has had seven different sprinters win a total of 18 state titles in the 100 (12 times) or 200 (six times). That includes Dunning winning the 100 last year with the only time faster than 12 seconds (11.97) at the state meet.
"I've kept up with her, and she is amazing," said Jackson, who now lives and continues to train in Charlotte, North Carolina. "I felt like I set a standard for others to go after, and it warms my heart that it's someone from Chattanooga who is challenging my record, especially since I've known her for so long and watched her grow into an amazing athlete.
"I know the amount of work she puts in, so I believe she will be the one to get the record. That will be like I'm passing the baton to my little sister, and she's going to set records that will be a lot harder for anyone else to reach. She's the future, and I'm so excited to see what she can do."
FATHER KNOWS BEST
The common thread tying Chattanooga's female sprint champions is that each was trained by Donelle Dunning, a former University of Tennessee sprinter who later signed an Adidas sponsorship to run globally. After a brief college coaching career, he returned home to look after his ailing mother and began training local high school sprinters before being officially named Brainerd's track coach.
As he trained other sprinters, Dunning's daughter would tag along and began picking up training tips that, combined with a genetic advantage, began helping to shrink her race times.
Prior to the region meet, Dunning had the second-fastest time in the 100 among all current Brainerd sprinters — boys and girls.
"I challenged our boys," Coach Dunning said. "I told them before the region meet that there's no way my daughter should be the second-fastest runner on our whole team. I guess that message got through, because three of them went out and ran faster times than her that day.
"I don't just say this because she's my daughter, I say it because I've seen what the elite of the elite looks like: She's going to be able to do things nobody else has ever done around here. By the time she's a senior, if she stays healthy, she's going to be the fastest high school sprinter in the nation. She's got that type talent, and she works at it every day, so that's what her real potential is."
Having seen both of her childhood idols slowed by injuries during their high school and college careers, Dunning knows there are no certainties.
That's why her central focus in Murfreesboro will be putting her name at the top of the state's sprint records. The next step will be taken in mid-June at the Adidas Nationals, where she can measure herself against the country's top sprinters.
"Chattanooga has been known for girl sprinters for a while, and it's special being a part of that group," Dunning said. "I definitely want to set state records, but my mentality is not just about competing against anyone in Tennessee. I'm constantly looking at times of other runners around the nation to see where I'm at.
"That's who I'm competing against, too, because that's my competition to get where I want to be eventually."
Contact Stephen Hargis at shargis@timesfreepress.com.