Montrell Besley runs a small business renting out a video game trailer. On May 3, he was renting it to a school in Red Bank when he got a notification on his phone. The message said there was a lockdown at Brainerd High School. Then he got another. It said there was an active shooter.
"My stomach hit the floor," he said.
His son, Jabari, was a senior there, just weeks from graduation. Jabari's phone was broken, so Besley knew he couldn't get in touch. He didn't know what to do. Though there was just about another hour left on the rental, he considered telling the children to leave his trailer. But that didn't seem like it would do any good.
He kept checking his phone.
The active shooter? It was a hoax that affected several other area schools that day, the Tennessee Bureau of Investigation said.
As Besley monitored from afar, terrified parents converged on the school. They mustered at nearby Greater Tucker Missionary Baptist Church and looked at police cars crammed irregularly together on the school lawn and cops moving around with big guns.
It was a familiar scene. In the last year alone, ordinary spaces — schools, grocery stores, malls, bank lobbies, dance studios — have transformed at regular intervals into scenes of terror: A person, desperate, angry and armed, enters and begins to attack.
The resulting mass homicides, only a small fraction of overall gun deaths in the U.S., leave deep scars for the relatively small group of people whose lives and loved ones they directly impact. But for many Chattanoogans, mass shootings, and their potential, have come to exist mainly as an ambient specter, eroding trust, inviting jumpy imaginations down dark paths.
NEON SIGN
Zirkops is busy. Tammy Zirk's company in Harrison, Tennessee, offers de-escalation, as well as basic, intermediate, advanced and tactical handgun training. Instructors also go on location to schools, churches and businesses, show people how to lock down, work as a team, get information, clear their building, prep safe rooms.
People without plans don't know where to run; they're like trapped mice, Zirk said.
The essential principle Zirk tries to impart is situational awareness. People are on their phones. They're not looking around or paying attention.
Overcoats in summer? "Neon sign," she said. When someone comes in the door, are they happy? Do they look like they're here for business?
"A lot of times, when you see someone being nervous and fidgeting, that means they're trying to get up the courage to do something they're not supposed to be doing," she said.
Watch out for people licking their lips nervously, she said. And watch people's eyes. Mouths lie; eyes tell the truth.
Photo Gallery
Shooting effects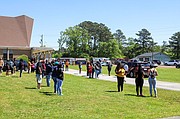 Zirkops' business boom partly reflects Dallas' Law, named for a man who in 2021 died following an altercation with security guards at a Nashville honky tonk. The law requires all security guards working in alcohol-serving establishments in the state complete periodic training on de-escalation, restraint and first aid — producing a steady flow of clientele, Zirk said.
But fear drives people, too.
"Every time we start ramping up for an election," she said, "our classes get maxed out."
(READ MORE: Voters think crime is getting worse in Chattanooga, but data says otherwise)
Crime rates — or people's perception of them — can drive sign-ups, too. And then there's mass shootings.
"People are very concerned. An active shooter is something you used to think was going to happen to someone else, somewhere else. But now we know it came right here at home for us. I think that was a huge eye opener for a lot of people," she said, referring to the 2015 attack in Chattanooga that left four Marines dead, which she said has motivated people to take Zirkops classes ever since.
Zirk said she doesn't want to instill paranoia.
"I always want to see the best in someone," she said. "I always want to see the good first."
But she wants clients to be attuned to the world around them — and to themselves.
"You know when you get that little feeling, that little voice that says, 'Something's not right,' or 'This isn't a good idea?'" she asked. "That's your biggest defense. Listen to that little voice and get out of there or move away or change what you're doing, because that little voice keeps you alive."
WHY?
Why do mass shooters do it? No one knows for sure, but the University of Arizona psychologist Joel Dvoskin has a theory.
"The best way for us to think about mass shootings is as acts of suicide," he said by phone. "With very few exceptions — in fact, almost no exceptions — anybody who does that has given up on their life. They're going to kill themselves, they're going to get the police to kill them, or they're going to go away pretty much forever."
On a certain level, this should represent a building block for a solution: We know how to prevent suicide, he said, though we don't do nearly enough of it.
Suicide is among the leading causes of death among nonelderly Americans. It's an exit strategy, Dvoskin said, a way to stop pain.
"People think there's no other way to stop that pain besides dying," he said. "But when there are other options on offer, sometimes people will choose not to take their own life."
Accessible, timely and competent responses to emotional crises can make those other options clear, he said, adding most places in the U.S. do not do this well.
In the few American places where crisis workers — sometimes social workers, or psychologists, or something else altogether — get funded, the pay is insufficient, Dvoskin said. When people finally get good at it, often they have to find another job because they want to raise a family or make a good living.
Relatively few people with serious mental illnesses — schizophrenia, bipolar disorder, extreme cases of depression — commit acts of mass homicide, he said.
Yet mass shootings frequently correspond with an emotional crisis, which anybody can have, he said. And if an emotionally distressed person is also enraged, they may decide to take other people's lives with their own, he said. Who they target may reflect the way they've made sense of their anger. Mass shootings can seem senseless. Yet everything makes sense — to somebody, Dvoskin said.
"It made sense to the person who did it," he said. "Who it doesn't make sense to is us."
This makes the events difficult to understand and productively discuss as a society or explain to children. It's a good idea to keep them from the TV, but they're probably going to find out about shootings anyway, said Dvoskin, whose core suggestion is: Do not lie.
"When kids are terrified, it's the time when they most need to believe what you say," he said. "And they're smarter than you think they are. And if you lie to them, they'll figure it out and now they won't believe anything that you say."
Answer the questions they ask, he said. Don't say more than is needed. A child might, for example, ask, "Am I safe?" There's a lot of answers to that, Dvoskin said. One potential answer is that nothing bad can happen to you, but that's probably not true. He said another potential, probably better answer is: "I'm doing everything that there is I can think of to make sure you're safe. And I always will."
Then the key, he said, is to do these things.
LOCKED DOORS
The Jewish tradition has a concept — hachnasat orchim — centered on welcoming strangers.
"You should always have your door open," Mizpah Congregation Rabbi Craig Lewis said in an interview at his office.
But the overriding Jewish value is pikuach nefesh — preservation of life.
You can do virtually anything to save a person's life, Lewis said.
"The value of preservation of life in our building is the one that's highest above all," he said.
The tension between these values is no secret, and certainly not to Jews. But it was made horrifyingly apparent to the U.S. Jewish community in 2018 when a man entered Pittsburgh's Tree of Life Synagogue during morning Shabbat service and killed 11 people.
By video call Thursday, Jewish Federation of Greater Chattanooga Executive Director Michael Dzik remembered informing other Jewish leaders — sometimes by driving to their houses because it was the Sabbath and some didn't drive or use technology — of what had just transpired.
The next morning, they met with the Chattanooga chief of police and other security experts and made a plan for the next day's vigil — and an uncertain future.
"Pittsburgh was a turning point for the Chattanooga Jewish community," Lewis said.
Security has not just been beefed up in synagogues. Leaders all over, feeling responsible for the safety of their congregation, are wary.
Greater Tucker Missionary Baptist Church pastor Gary Hathaway said by phone that his congregation has recently started locking all but the front door when the service begins. When, in April, a white Chattanooga Times Free Press reporter entered a predominantly Black church for a midday appointment, the pastor there looked on with suspicion. Shortly after, the pastor confided he had fixated on the reporter's bag, fearing it contained guns or a bomb.
Today, Mizpah Congregation is seeking grant money for things like bollards to regulate the flow of cars into its parking lot. It's held active shooter trainings; Dzik, of the Jewish Federation, has attended several drills around town and said he's left them feeling empowered. The congregation added security cameras, consulted with law enforcement experts and, like many other institutions, tried to implement a culture of keeping doors locked.
Sometimes staff will step outside for a second or prop a door to invite a draft of air. When Lewis walks by and sees a door ajar, his heart skips a beat. It only takes a second, he knows, for the wrong person to get in. He said he sometimes feels like the door-locking police.
It wasn't uncommon for synagogues to contract armed guards during high holy days prior to the Pittsburgh attack. But it immediately became clear that the security was necessary for every event that would attract even a moderately sized group of people, which meant every service, and many other gatherings, too. At first, Lewis said, the city provided this service, but eventually the congregation had to pay for the protection itself — a significant expense, though Lewis said the guard has become like a part of the temple family.
The idea, Lewis said, is to take every possible precaution so that when people walk in the door, they know they can be there in safety and securely as they fulfill the obligations and the joys of Jewish life.
Still, links to the outside world provide a certain sense of security, too. Dzik remembers the vigil at the Jewish Federation building in Brainerd shortly after the Tree of Life shooting — and his sense of feeling embraced by the city. Mourners' cars overflowed the Jewish Federation's parking lot into that of a nearby church. Dzik remembers watching those people approaching, walking across the grass.
FATIGUE
The Jewish tradition, Lewis said, says if you see something in the world that's wrong, you're supposed to work to fix it. He has, from the pulpit, offered his views on what he calls sensible gun control, which he feel derives from the textual and rabbinic tradition. He said he also tries to appeal to the community's collective intellect to say, "Well, here's what we perceive, and here's how we can respond."
(READ MORE: Tennessee Gov. Lee says 'order of protection' proposal on guns is the 'right thing' to do)
Gov. Bill Lee has vowed to take action to protect Tennesseans. He has called an August special legislative session to focus on gun policy and public safety. But his signature proposal, which would try to keep guns out of the hands of those deemed by a judge to be a danger to themselves or others, has garnered little support among Republicans in the General Assembly.
Lee this month signed a $230 million bill for enhanced school safety. More than half of this will go toward funding law enforcement officers in all public schools. Also, $8 million was allocated for behavioral health.
One way people make sense of seemingly senseless tragedy is to try to make things better in the victims' honor, Duke University psychologist Robin Gurwitch said by phone Thursday.
"What becomes challenging is when I think, 'okay, this is going to be the time, this is going to be the time,' and then nothing changes, and another event occurs," she said.
The U.S. in 2023 is on pace to have more mass shootings than ever, and the persistent threat of gun violence is on the public mind. A recent Axios/Ipsos American Health Index survey released Thursday found 26% of Americans described access to guns as the "No. 1 threat to public health at this moment," more than any other answer, and up from 17% in February.
A search for the phrase "mass shooting" in a database of global news coverage shows, predictably, a massive spike in articles with the language after a mass shooting has occurred, The data, amassed by the Google-funded GDELT Project, begins in 2017 and spikes regularly over the years before calming during the pandemic, at the height of which relatively few mass shootings occurred.
In the past year, the frequent spikes began anew, ramping up around the time of the mass shooting in a Buffalo, New York, supermarket. Yet, while the patterns largely resemble those of pre-COVID-19 media coverage, the intensity of the coverage appears to reflect the increasingly routine nature of the events.
In the days following a 2017 massacre at a music festival in Las Vegas and a 2019 massacre at a Walmart in El Paso, Texas, U.S.-based English language articles with the phrase "mass shooting" accounted for about 3% of all worldwide news coverage.
By contrast, the spike immediately after a gunman fatally shot 19 schoolchildren and two teachers in Uvalde, Texas, last May — an event that occurred shortly after the Buffalo shooting — was about half the size.
"I don't know how you give less coverage to a shooting that kills a bunch of school kids in Texas than any of the others," said Ken Blake, a Middle Tennessee State University professor, upon reviewing the data. "It seems kind of astonishing that we're not just as appalled. But the coverage would suggest that our attention is, you know, not fully elsewhere, but certainly less focused than it was."
Meanwhile, the March 27 slaying of three 9-year-old children and three adults at the Nashville school brought only a modest spike in U.S. news coverage of mass shootings.
"The Covenant School shooting seems to have been kind of just another part of the story, rather than a story in itself," Blake said by phone Thursday.
There are many potential explanations
"Maybe that means we're getting a little bit desensitized," he said. "Maybe it means there's a lot of other stuff going on."
REUNITING
Hamilton County Schools has implemented several additional security measures in recent years, spokesman Steve Doremus said by email. Entrances have been "hardened" — visitors must bypass multiple layers to get inside. Active shooter drills are routine.
(READ MORE: What are schools doing to protect Hamilton County students from mass shootings?)
But Besley said he realizes no security measures are fail-safe.
"The reality is, it can happen," he said by phone.
All the way in Red Bank, Besley knew he wouldn't be able to get near Brainerd High School given the police presence, so he waited at the video game trailer, monitoring for more information. He considered what he would do if someone started shooting nearby. He'd shut all the doors, he thought, keep the kids inside, and pray the shooter couldn't get in.
Hours later, when the two finally reunited, his son, Jabari, who had heard no gunshots, seemed unperturbed. But Besley said they exchanged a big hug. It felt no different than any other.
"Our family always gives tight hugs," he said. "Our family always hugs each other like it's the last time."
Contact Andrew Schwartz at aschwartz@timesfreepress.com or 423-757-6431.