Hennen's Steakhouse has been a fixture on Chestnut Street since opening in 2005 and has earned a reputation for serving some of the best steaks in the city. Eighteen years ago, there weren't too many places serving prime steaks in town. Since then, competition has become fierce, but Hennen's retains its place for serving some of the best beef in town. But there's more to Hennen's than a good steak.
(READ MORE: Chattanooga restaurateurs, retailers give unique character to downtown)
THE MENU
The appetizer menu is all about seafood, from tuna poke and crab cakes to ceviche, shrimp cocktail and sweet chili calamari. Salad offerings include a Caesar, BLT wedge and spinach versions. But Hennen's advertises itself as a steakhouse and offers just about any kind of steak you might want. On the weekends, prime rib is on the menu, too.
— The order: Caesar salad with blackened salmon.
(READ MORE: Chattanooga Seafood closing in Red Bank)
On this particular fall evening, the temperature was in the low 80s. Sometimes there's no meal better to cool things down than a salad.
While Hennen's has several offerings in the salad section of the menu, there's just one in the entree category: the Caesar. Since it was dinnertime, I needed something more than a house salad or wedge. So the entree Caesar was it. It's offered naked with nothing but croutons and dressing. Or you can add blackened salmon or blackened chicken. I went with the salmon, and here's my take:
If this salmon was an example of the seafood served at this restaurant known for its seafood and steaks, Hennen's should stick with the latter. I was expecting a thick filet, and our server said the chef cooks the salmon to medium doneness.
"Is that OK?" he asked.
My exact reply: "More on the rare side of medium."
"No problem. I'll let them know," he said as he walked off to the kitchen.
What I got was a thin filet so overdone it bordered on mushy. Its only saving grace was the spicy blackening seasoning that gave it a nice flavor. Too bad the texture was off.
And the croutons? They were described as herb croutons on the menu, but mine were stale and flavorless. For $23 ($12 for the salad; $11 for the salmon), I expected a better salad.
The wine was good, however — a nice French Bordeaux.
Salmon wasn't the only fish/seafood dish on the menu, though. There's always a market fish as well as mahi-mahi and scallops, all three offered with different sauces and sides to give diners a choice. And then there's the Low Country shrimp and grits, prepared in true South Carolina style, which is a bit different from those served in other areas of the South. Instead of cheesy, the Low Country does things a bit differently, adding a savory gravy to the mix. That's how it's done at Hennen's.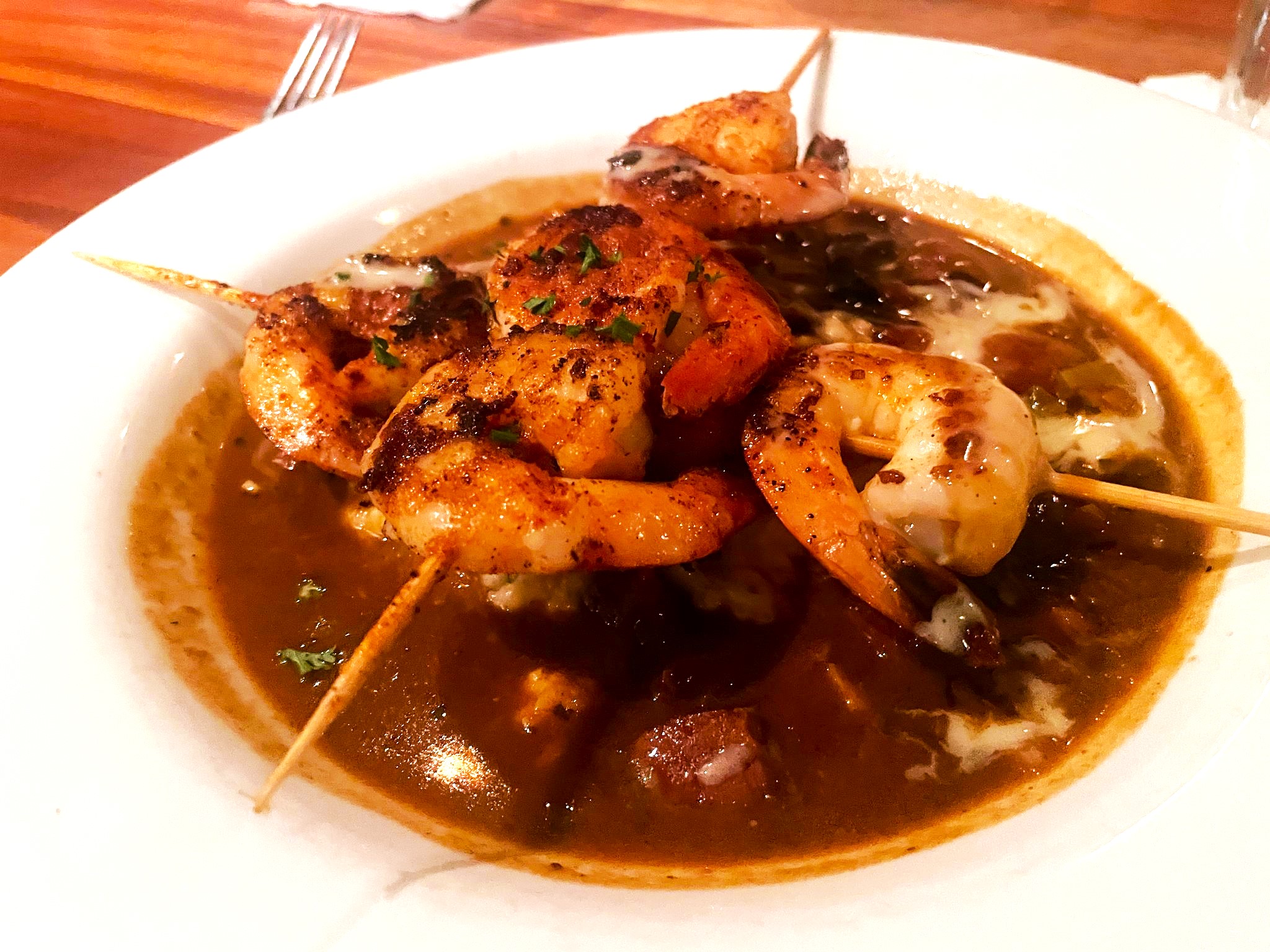 Hennen's serves its Shrimp & Grits with a savory, Low Country-style gravy. The dish includes aged cheddar grits, smoked kielbasa, Creole gumbo and New Orleans-style barbecue shrimp.

My dining partner, who's from Alabama but has lived in the New York area for decades, couldn't wait to put a spoonful in her mouth, taking her back to her time spent in the South. She was somewhat surprised when the bowlful was placed in front of her. It wasn't exactly what she expected, but after a hesitant bite, she dug in and finished the bowl, pronouncing Hennen's shrimp and grits among the best she'd tried. Kudos to you, Hennen's!
The other two in my party, who went with steak — a filet and a rib-eye — were more than happy too, commenting on how their steaks were cooked just right with enough pink so they weren't overdone. Nice.
The Dish on Dining
— Where: Hennen's, 193 Chestnut St.
— Hours: 4-10 p.m. Monday-Saturday, 4-9 p.m. Sunday
— Alcohol: Full bar
— Entree price range: $12-$39
— Phone: 423-634-5160
— Online: hennens.net
THE SPACE
Hennen's is a large restaurant with several seating areas. There's a large bar with ample seating, plus a nice-size dining area with a raised area for more tables, all nicely arranged to maximize seating capacity while keeping tables far enough apart for a modicum of privacy.
There's also an area in front for dining al fresco, a pleasant place to dine on a nice fall day.
THE VERDICT
Every town needs at least one good steakhouse. Chattanooga is fortunate to have several, and Hennen's can count itself among them. It's the place for steaks, but, at least on this night, not salmon.
Contact Anne Braly at abraly@timesfreepress.com or annebraly.com.