In an impressive season for himself and the Chattanooga Football Club, Jean Antoine has only strengthened his reputation as the top goalkeeper in the National Independent Soccer Association.
No matter the opponent, the 6-foot-3 Antoine has proven to be a virtual wall.
But even when playing in front of a big crowd, it's one little set of eyes he hopes to catch.
"The thing that drives me the most is my 2-year old daughter," Antoine said. "Every time we step on the field, we put our body at risk. So whenever I get a chance to step on the field and she comes to the games, I am trying to make her proud. My main goal is to make her happy. If she is happy, I am happy."
Chattanooga FC fans should be pretty happy, too.
Last year, Antoine was awarded NISA's Golden Glove, given annually to the league's top keeper, after allowing only five goals and posting 12 shutouts in 16 matches for the California United Strikers FC. That high rate of success has carried over from the West Coast since Antoine signed with CFC in January, one of five players from Cal United's 2022 roster who have joined coach Rod Underwood's club, along with Leonel "Beto" Alvarenga, Aydan Bowers, Luis Garcia-Sosa and Joseph Perez.
CFC has allowed only five goals in NISA regular-season matches this year, and Antoine's dominance has helped it currently stand as the only undefeated professional club in the United States at 11-0-5 with eight league dates left on the schedule before the playoffs. That record includes a 7-0-3 showing at Finley Stadium, and the undefeated mark will be put on the line when CFC hosts the Los Angeles Force (6-4-4) at 7:30 p.m. Sunday.
"I am not an individual guy," said Antoine, who has 11 clean sheets this year and has allowed only two goals in 10 matches at Finley. "The team comes first. At the end of the day, we are here for each other and the city. We keep a high standard and push each other to keep making the city proud."
Photo Gallery
Chattanooga FC keeper Jean Antoine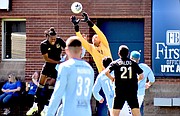 Antoine, 29, was born in Haiti and did not move to the United States until he was 14. Surprisingly, he was still a year or two from picking up the sport that would eventual become his professional pursuit.
"I didn't start playing soccer until I was 16 or 17," said Antoine, although he did "grow up watching a Brazilian goalkeeper named Dida. Now, I like to watch Alisson (Becker) and Manuel Neuer. Watching them play has helped me get better with my game, too."
Of the five goals allowed this season, two have come off corner kicks and three have been off penalty kicks. Antoine showed off cat-like reflexes as he made a memorable diving save on a PK to propel CFC to a 2-0 win over the Michigan Stars on July 8 at Finley.
With 38 points in the standings, CFC is firmly in first place, but after earning the No. 2 seed for the postseason last year only to lose 1-0 to Michigan in a semifinal at home, there are more steps to take. Antoine has already been down that path, helping Detroit City FC win the NISA title in 2021, and now he's trying to do his part to push CFC forward.
"We treat every game like it is a cup final," Antoine said. "Everything so far has been good, but it's not where we want to be at. We are going to keep working toward the end product, and hopefully we get there at the end of the season."
Meshing so well so quickly with new faces in Chattanooga has made a difference, too.
"I have only been playing with Tole (Anatolie Prepelita) just this season, but I feel like I have been playing with him forever, and Colin (Stripling), too," Antoine said. "At times it's the off-the-field chemistry that helps you work that much better on the field. When you know what each other is thinking and their tendencies, it makes things easier."
Coach Underwood and Antoine's teammates certainly are grateful for their fortified wall of defense that has been backed by the rock-solid keeper.
"Jean is a leader both vocally and by his actions on and off the field," Underwood said. "He is a big part of our club, and we are lucky to have him."
Contact Patrick MacCoon at pmaccoon@timesfreepress.com.