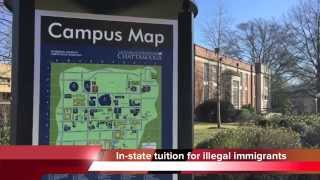 NASHVILLE -- A Chattanooga lawmaker was on a roll Wednesday night as the state Senate Education Committee Wednesday approved three of his four bills, including one that would let some undocumented students pay in-state tuition rates to attend Tennessee public colleges.
That bill, by Republican Sen. Todd Gardenhire, won approval on a 6-2 vote with one lawmaker abstaining. It now goes to the Senate Finance Committee due to its cost. A fiscal analysis was unavailable on the Legislature's website. The bill has yet to move in the House.
Education Committee members also approved Gardenhire's proposed school voucher bill. His "Tennessee Choice & Opportunity Scholarship Act" would let low-income parents with students in failing public schools use taxpayer dollars to send their children to private schools.
The bill, which initially would apply to 5,000 students in Hamilton, Davidson, Shelby and Madison counties but later grow to as many as 20,000, passed on a 9-0 vote. The committee's lone Democrat, Sen. Reggie Tate of Memphis, voted for it.
It now also goes to the Finance Committee, with an estimated $70 million price tag that would come out of the local schools' budgets because the state dollars would follow the students to private schools. A House Education subcommittee approved the bill Tuesday.
Meanwhile, yet another Gardenhire bill was approved by the panel. It would require the Tennessee STEM (science, technology, engineering and math) Innovation Network to establish STEM "innovation hubs" in rural areas of the state and require the program to provide a curriculum to middle schools.
It passed unanimously and also goes to the Finance panel since it would cost $1.5 million.
Gardenhire's one loss was a controversial measure that in four years would have forced local school districts to reimburse public colleges for their costs in providing remedial course work to recent high school graduates. It went over like a lead balloon and failed in a 7-2 vote.
Last year, Gardenhire had a bill similar to the one pertaining to undocumented students, but knowing the votes weren't there, never put it up for a vote.
The approved bill would apply to some children illegally brought to the U.S. As amended, they would have to have graduated from a Tennessee high school after four years, have a 3.0 GPA or at least a 21 ACT score and have applied for U.S. citizenship.
The lawmaker says he has a large Hispanic population in his district and leaders told him a college education for their children was a top issue. Gardenhire says his bill makes sense for economic conservatives: The undocumented students were brought here by their parents, they aren't leaving Tennessee anytime soon and a college degree or certificate will make better jobs available and make them far more productive and less of a burden to taxpayers.
"I know this is somewhat politically charged," said Sen. Ferrell Haile, R-Gallatin, a committee member. "But we also have to keep in mind these are students who've spent a lot of time here. I think it's inappropriate and wrong for us to penalize children for the sins of their parents."
Following the meeting, Diana Montero of Nashville, whose parents brought her to the U.S. illegally when she was 3, said the bill "means a lot to us" and represents an "incredible step." Montero is attending Fisk University, a private college in Nashville, on a scholarship after graduating high school with a 3.8 GPA.
She said she would have considered a public college or university except she was ineligible for a scholarship. Several other undocumented students also watched the hearing but declined to speak with a reporter.
The Tennessee Immigrant and Refugee Rights Coalition, which supports the bill, said that "while we are disappointed by the inclusion of the academic requirements, which will leave higher education out of reach for so many undocumented students in Tennessee, we are encouraged by the movement on the issue and the Senate committee taking the first step to increasing access and equity for immigrant students in Tennessee."
Contact staff writer Andy Sher at asher@timesfreepress.comor 615-255-0550.