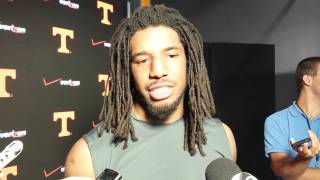 KNOXVILLE -- Justin Martin returned to Tennessee's football practices this week, but the talented cornerback is just getting started on his road back to a role with the Volunteers' defense.
Martin had a solid first week of preseason practices earlier this month, but he suffered a knee sprain when he was bent awkwardly under a pile of players that rolled up on him during a play.
After resuming some running and cutting last week, Martin is back this week, albeit in a non-contact jersey.
"He was coming along very well," cornerback Emmanuel Moseley said after Tuesday's practice. "After a few practices went by, he understood the concepts a little bit more. He was doing a good job of making plays on the ball.
"He's done good. He's being better in leverage, he's doing a good job in his backpedal and I can really see tremendous efforts. He wants it, and we like that about him."
The questions Martin, the player Tennessee edged LSU and Ole Miss to sign, now must answer is if he can make up two weeks of falling behind by missing practice time in time for Tennessee's season opener in 11 days.
If Martin can show enough that the Vols can trust him, it may afford them the chance to slide Cameron Sutton inside to solidify the nickel corner position, where Tennessee must replace Rashaan Gaulden after the sophomore was lost for the season with a foot injury.
As it stands Malik Foreman likely will slide in for Gaulden, but the 6-foot-1, 183-pound Martin, whose long arms and quickness make him an ideal SEC cornerback, may make Tennessee's decision more difficult.
Either way the next week or so will be key for the junior college transfer.
"You try to give him as much as he can handle," Vols coach Butch Jones said. "You don't want to overload him. First of all, it's getting back in shape and working the fundamentals and the details. It's still going to be a long process for him. It's still going to be a long road, then you throw schematics in.
"But you have to make sure that you don't put too much on them at one time. You have to be patient. It does take time. Justin's done a very good job in terms of getting himself back healthy, but it's going to be a step-by-step process."
Contact Patrick Brown at pbrown@timesfreepress.com.