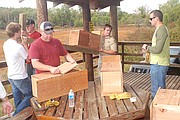 A local mom and dad have nine children who formed two musical groups gaining national attention.
The oldest group, the Hemphill Kids, appeared on NBC's "America's Got Talent," won the Riverbend Talent Search several times and is scheduled to release its first CD for Interscope Records in November.
"They've been ready. I'm excited to see what people think about it," said Shenita Smith Hemphill, who with her husband, Anthony, is raising the nine in their Bonny Oaks home.
While the Hemphill Kids sing R&B and include the family's oldest siblings, age 14 to 19, the family's younger siblings, called the 4JZ, perform hip hop, including a gig at New York's Apollo Theater in August.
"They were excellent," said Jane Harley, Apollo Theater's talent coordinator, who booked performers such as singer Dru Hill and comedian Dave Chappelle before they were famous. "People should know you have such great talent coming from Chattanooga."
For their CD, the Hemphill Kids are working with producer Polow da Doncq, who also has produced "Not Myself Tonight" by Christina Aguilera and "Love in this Club" by Usher, who also grew up in Chattanooga.
The Hemphill Kids won the Riverbend Talent Show each year from 2000 to 2005 and appeared on "America's Got Talent" in 2006, performing "The Coloring Book," a musical take on their lives.
In Chattanooga, the Hemphill teenagers attended Central High School and Tyner Academy. Now they are homeschooled in Atlanta, where they live with their manager while working on performances.
The 4JZ, who attend Lakeside Academy and Brown Middle School, are so well-known that they are asked to open school talent shows instead of competing in them, said Shenita Hemphill.
Javon Hemphill, 11, a member of 4JZ, said he loves what he does.
"I love singing and I love dancing and it's very fun to be in a great band," he said.
In 1997, two years after he formed his own musical group called Focus, Anthony Hemphill began noticing his children's talent more.
The kids went with him to rehearsals and sang in the microphone when his group took breaks. Seeing their talent, the parents started entering them in contests, he said.
"I used to say to myself, 'If I couldn't do it, hopefully, it's the Lord's will that my kids will be able to do it,'" said Anthony Hemphill.
He said he was shocked the first time his 15-year-old daughter, Jacoby, performed in public. She was 5 when she sang a song by herself at the former Mary Ann Garber Elementary School.
"I couldn't do anything but cry," he said. "You're just sitting there looking and you can't believe it and you're wondering how far are they going to go."