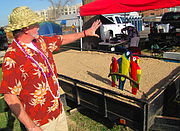 Follow @SportsChatt
Map
3330 Hixson Pike
3330 Hixson Pike
The dark, crowded library at Rivermont Elementary School previously earned the not-so-affectionate nickname of "the cave."
Not any more.
Bright walls, new furniture and updated technology adorn the space, thanks to a $100,000 grant from the Leonore Annenberg School Fund for Children, which provides funding to the nation's schools that have at least 90 percent of students living in poverty. The updated library now features new furniture, carpeting, paint, books and technology.
"We went from the ground up," said library media specialist Sam Martin.
Officials from the school and the Public Education Foundation, which was active in the grant process, attended a ribbon-cutting ceremony Tuesday afternoon.
Students showed off the library's new extensive technology stock, which includes Apple computers, flip cameras, voice recorders, movie-making software and an interactive whiteboard. A highlight of the new equipment is a cart filled with 30 iPad2s, which students use in the library and in classrooms.
Martin said the school spent about $40,000 on new technology equipment and about another $20,000 to purchase updated fiction, nonfiction and reference books.
More than half of Rivermont students don't have Internet access at home, according to a home survey completed by the school last year. Martin said that makes the new computers and iPads even more important to students.
"Our library needed some updating," he said. "But more than that, we needed to create some opportunities for our students."
Students say they're taking a liking to the new library -- and the new electronics.
A fourth-grade class on Monday already seemed to have mastered using the small flip cameras, which look more like cellphones. They took turns interviewing each other by asking questions about a book they read for class.
Martin then plugged the cameras into a computer so the class was able to instantly critique the videos on the projector screen, both on their technique and content.
Fourth-grader Chloe Revis said she enjoys videotaping classmates, especially when they're able to watch the videos on the big screen.
"It's kind of exciting," 10-year-old Chloe said. "It makes you a little nervous."
But the real fun is on the iPads, she said.
"They're really neat," she said.
Principal Marthel Young said the buzz surrounding the high-tech gear has reached Rivermont's teachers, too. While some already own personal tablets, she said many teachers are just getting used to the iPads, Young said.
"They're learning as the children are learning," she said. "The teachers are just as excited and intrigued as the students."
Many adults at Tuesday's event were surprised and impressed by the new room.
Clara Sale-Davis, with the Public Education Foundation, said the dramatic transformation of the library reminded her of a television makeover show.
"Walking into this library was like walking back into the 1950s," she said. "This is better than any HGTV show I've seen in a while."