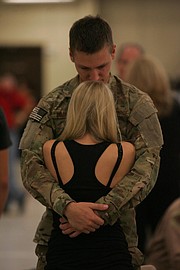 Republican state Senate candidate Todd Gardenhire accused his primary opponent, Greg Vital, of anonymously mailing to voters a 15-year-old request from Gardenhire's ex-wife, asking for a protective order against him, but not telling "the rest of the story" -- that a judge dismissed the entire matter nine days later.
"The other thing missing from this [letter] was a disclaimer," Gardenhire said Tuesday. "The disclaimer should have read, 'This letter was authorized by the Pinocchio for State Senate Campaign, Greg Vital, chairman.'"
Both men are running in Senate District 10's Republican primary to replace Sen. Andy Berke, a Democrat who's declined a re-election bid in order to run for mayor of Chattanooga.
Gardenhire launched the accusations at Vital during a dramatic lunchtime meeting of the Hamilton County Republican Women's Club at county GOP headquarters in Chattanooga. While both candidates verbally sparred, Vital never addressed whether his campaign mailed the petition.
Pressed about the mailer after the meeting, Vital initially refused to answer questions.
"You're badgering," he told a reporter. "I got one in the mail, too. That's all I'm saying."
Moments later, he threw up his hands and said, "I have no idea" when asked directly whether he or his campaign had any involvement in sending the mailer.
Gardenhire's "Pinocchio" accusation came a week after the Chattanooga Times Free Press reported occasions in which Vital's websites or Vital himself said he was a college graduate despite his never graduating.
Last week, an unknown number of Hamilton County homes received a handwritten envelope containing a petition for an order of protection. There was no return address.
Written June 27, 1997, by Gardenhire's ex-wife, Kathy Gardenhire, the petition says she and their young son were "afraid for our lives" after Gardenhire "started raging," "losing control" and "[throwing] things as hard as he can."
"He raves through the house threatening me bodily harm," she wrote in the petition.
But court records show that, nine days later, Hamilton County Criminal Court Judge Rebecca Stern signed an order dismissing the petition, noting that Kathy Gardenhire "asked that this action be dismissed."
"[The] Court has determined that both parties have come to an agreement and a dismissal is in the best interest of the parties," the order reads.
That information wasn't included in the mailer. The Gardenhires remained married until "irreconcilable differences" led to a divorce that was finalized in 2008, court records show.
Gardenhire declined to discuss his ex-wife's 1997 allegations.
"When the judge heard the facts and interviewed everybody," he said, "she decided to dismiss it."
Kathy Gardenhire did not return several calls requesting comment.
Steve Ray, an Ooltewah resident who lives outside Senate District 10, said he received one of the mailers Monday. Ray said he knows Vital and "can't imagine Greg OK'ing that," but noted that "anything's possible."
"Whoever it was, it's tacky politics," Ray said.
Patsy Henry, president of the Hamilton County Republican Women's Club, said most club members felt "Todd explained what happened."
"I don't think he's a bad person," she said. "You know, we've had them scheduled to speak for two months. We normally get into what [candidates] stand for. Nothing like [the petition] should be brought up."
She said she'd like to know the mailer's identity.
"I don't think Greg did it," she said. "I would like to believe he didn't do that."
Democrats in the District 10 race are Quenston Coleman, Andraé McGary and David Testerman. The newly redrawn district includes downtown Chattanooga, East Ridge and southern Bradley County.
Primaries are Aug. 2.