Photo Gallery
A field of dreams and miracles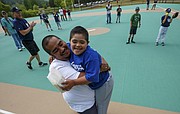 An hour after Danny Jenner had tucked a last nibble of hay in his charges' stalls Thursday night, he was back at the barn, staring at billows of ominous dark smoke.
Jenner, a five-year trainer at Happy Valley Farms in Rossville, charged into the barn, frantic to get world champion American Saddlebred stallion Merchant Prince out of the burning building. The only sounds were crackling flames.
As the smoke and heat intensified, Jenner had to turn away.
Near the front of the barn, he and three other farm employees found Merchant Prince's son, Merchant Heir. They pulled and tugged, but the horse froze. They found another horse. He wouldn't budge. The smoke got thicker.