Now it's time to move the eyesore away."
Update
The barge's exit has been delayed until Thursday, sources have confirmed.
Update: the barge's exit has been delayed. Read more here:
PREVIOUS STORY FOLLOWS:
Six years after developer Allen Casey brought a barge to Chattanooga with dreams of creating a floating restaurant, the rundown vessel may finally make a watery exit from its downtown mooring today.
Photo Gallery
Brian and Emily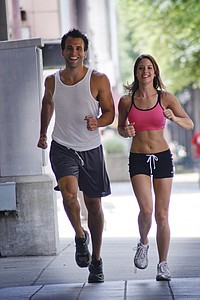 What do you do when there are too many choices for a cover? Post 'em here!
Timeline
* 2009 -- Businessman Allen Casey floats barge to downtown Chattanooga for a restaurant, but nothing happens. * 2011 -- Barge partly sinks. * 2012 -- Vessel raised after weeks in the water. * 2013 -- U.S. Army Corps of Engineers says barge isn't complying with its permit. * 2014 -- Casey and a Casey company file bankruptcy. * January 2015 -- Bankruptcy court holds emergency hearing over concerns barge may sink after power is cut to vessel, stopping pumping of water. * February -- Southern Community Bank agrees to loan money to help remove barge. * March -- Barge partially sinks for second time, called apparent act of sabotage. * April -- Barge refloated; court approves plan to sell vessel to Gulfstream Enterprises, which agrees to float it away.
Barring weather problems or another unexpected delay, the barge that has drawn the attention of mayors, along with the wrath of city boosters, will head toward the Gulf of Mexico.
"It's time," said Harry Phillips, a Chattanoogan who has coordinated the effort to ready the derelict barge for transport. "Now it's time to move the eyesore away."
Gulfstream Enterprises of Biloxi, Miss., is overseeing the towing of the vessel down the Tennessee River to the Tennessee-Tombigbee Waterway and then to Mobile Bay, Phillips said.
He said Gulfstream has a facility in nearby Biloxi that hosted BP Oil during the cleanup of the Deepwater Horizon spill five years ago in the gulf.
Gulfstream, which was given ownership of the barge along with $195,000 to move it in a U.S. Bankruptcy Court-approved deal, has a small shipyard where its officials may scrap it, Phillips said.
A diver from Underwater Construction Specialists of Harrison was working late Tuesday making final preparations.
"We're plugging [leaks] down to the last minute," said Cooper Jones, the company's owner and a master diver, while aboard the barge. "It's been a long month."
Brock Sparks, project manager on the job, said he is "ecstatic" to see the vessel leave the spot across the river from Ross's Landing where it has been docked since 2009. "I'm tired of looking at it," Sparks said.
Sparks helped raise the barge, which partially sank about a month ago. In fact, he helped refloat it in 2012 when it was partly swamped then.
This time, Sparks said, he agrees it was sabotaged. Nine valves that manage the water internally for ballast were turned on to sink it, he said. Also, a hole was punched in one side, Sparks said.
Phillips said the city had a "whatever it takes" attitude to bring the barge back to the surface. A couple of city workers, Keith Templin and Eddie Keith, were assigned to the project, noting Mayor Andy Berke early on summoned a meeting of the parties needed for the work.
TVA also adjusted the flow of the river from its management office in Knoxville, Phillips said.
He said the barge will meander slowly downriver, likely at 5 miles per hour or so, until it reaches its destination.
Jerrold Farinash, trustee in Casey's U.S. Bankruptcy Court case, said earlier this month that the Coast Guard determined the dilapidated barge could safely travel on the river.
Casey envisioned an eatery and bar on the barge moored to a 10-acre tract of riverfront property holding condominiums and a hotel. But, nothing was built and the barge fell into disrepair.
In February 2014, Casey and one of his companies filed for bankruptcy after he was to go to trial in a lawsuit brought by a group of former investors.
A bank loan from Southern Community Bank is paying Gulfstream. The loan is to be paid back from proceeds of the land sale, attorneys have said.
Robert Stahl, the bank's Chattanooga president, said his institution stepped forward when others didn't. "We seized the opportunity," he said.
Even Casey believes it's time for the barge to go.
"I'm all in favor of it," Casey said at a bankruptcy court hearing last month.
Contact Mike Pare at [email protected] or 423-757-6318.