Photo Gallery
Girls Inc. hosts farmers market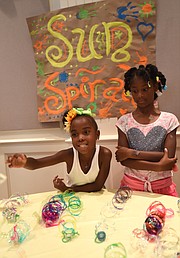 The candle with the clear wax in the middle was Journey Ellen's favorite.
Journey, 9, was selling candles made from crayons at the Girls Inc. farmers market Friday night.
"This one," Journey said, pointing at the candle she ultimately sold for $2, "it just has a certain spark."
Girls Inc. has an event at the end of camp every year. The camp this year was more Earth-centric and focused on sustainability and growing your own food. The end-of-the-year event is usually based on what the girls learned during camp, said Toccora Johnson, senior director of program operations.
"They decided, as a collective group, to create a farmers market," she said.
The night at Brainerd United Methodist Church began with several girls adjusting the microphone stand lower to speak about what they learned in camp.
And some also made a sales pitch.
"How many times does your little brother break your crayons?" one girl read from a piece of paper. "Or your mom is in a rush cleaning and steps on them?"
Her booth, the same as Journey's, melted broken crayons down in separate cups, and poured the hot wax into a jar forming striped, colorful patterns. The smaller candles were $2, and the big ones $4.
"Shop till you drop," the last girl to speak said. "The market is open."
With the sun replaced by chandeliers and grass by carpet, 50 girls opened up for business. An array of items were on sale - produce, lemonade, sweet lemon body scrub, canned applesauce, cookies in a can, homemade peanut butter bird feeders and reusable grocery bags were among the items.
"Make a straight line please," a frustrated girl running the lemonade stand said to a group of adults surrounding her.
Bea Lurie, president and CEO of Girls Inc. of Chattanooga, said she hopes the girls have a greater understanding of where food comes from.
"And a real appreciation of why the protection of the environment is so critical," she said.
Journey said she enjoyed the farmers market experience and coming up with items to sell. How much did she enjoy it?
"If I were to put it into numbers," she said, stroking her little chin, "I'd say 70 percent."
Contact staff writer Evan Hoopfer at ehoopfer @timesfreepress.com or 423-757-6731 or twitter.com/EvanHoopfer.