We hope it will save time, but there will be a learning curve.
Staff at the Hamilton County Jail have used whiteboards to keep track of inmates for years, dutifully erasing and rewriting to note when an inmate moves from a cell to the courthouse, to the kitchen or to other locations.
But today, the jail is rolling out a new radio-frequency identification system to begin digitally tracking inmates, how often jail staff check on them and what inmates are doing during those checks.
The system, called Guardian RFID, will not only streamline formerly paperwork-heavy processes, but will make it essentially impossible for jail staff to fudge logs that show when and where they performed state-required checks.
State standards require jail staff to look in on most inmates twice every hour, with no more than 40 minutes between two checks, Chief of Corrections Joe Fowler said. Some inmates, like those on suicide watch, are checked on more frequently.
Before today, officers at the jail logged those checks with pen and paper - filling in by hand what time they performed the check and what they observed: the inmates were sleeping, calm, rowdy. Now, officers will log each by using a handheld device to scan a chip mounted near the door of the cell.
That scan will automatically record the time, date and location of the check. The officer can then tap through a short series of options to describe the inmates' behavior, instead of writing by hand.
Photo Gallery
Jail deploys digital tracking system today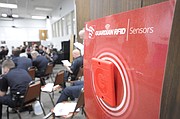 "It validates our checks," Fowler said. "We are striving for accreditation that [is] standard-based, and this helps capture the data that shows we are meeting those standards."
The Guardian system will be rolled out in phases, and it should be fully up and running by the end of November, Sheriff Jim Hammond said. At that point, in addition to the chips on the doors - which show who is in what cell - inmates will also wear wristbands to be scanned in and out of various parts of the jail.
Before the wristbands are deployed, jail staff will use the Guardian system to manually - but digitally - check inmates in and out. If only 10 of 15 inmates in a cell choose to go to recreation, for example, jail staff will input who stays and who goes into Guardian.
Eventually, the jail could use the system to track medications and dosages for each inmate, and whether the inmate took his daily dose.
Hammond said the Guardian system has been in the works for about four years. The system cost about $80,000 to get up and running, and the jail will pay annual maintenance fees.
An earlier version of the Guardian system was operational at the jail for a short time several years ago, but it was plagued with problems and eventually abandoned, Fowler said. The handheld devices that are central to the system broke often, and the jail did not have enough WiFi access points to handle the system. Updating was a painfully slow process, he said.
Those problems should be fixed this time around, Fowler said. Hammond said he expects the system to improve efficiency at the jail.
"Time saving is certainly important, but the efficiency is what we're really looking for here," Hammond said. "Reliability and safety. We hope it will save time, but there will be a learning curve."
Contact staff writer Shelly Bradbury at 423-757-6525 or sbradbury@timesfreepress.com with tips or story ideas.