Photo Gallery
Highlands, North Carolina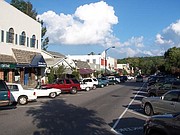 First time visiting Highlands? It likely won't be your last. Ever since the resort town was developed in the 1870s, it has become a treasured summer getaway for Southerners trying to escape the heat.
Whether you're looking for outdoor adventures, a thriving arts scene, good food, or just a porch swing to sit and soak in the misty mountain views - Highlands offers it all. While you're booking your first stay, you may want to go ahead and book next year's, too.
More Info
Settle inAfter you're worn out from your full day in Highlands, it's time to get cozy. Highlands has a range of accommodations for the weary traveler.The Old Edwards Inn and Spa bills itself is a luxurious mountain oasis. The European-style resort includes plush rooms or cottages; a full spa with private rooms and suites; a range of inn-based eateries; and a golf course with mountain views. Located at 445 Main St., find out more at oldedwardsinn.com.If you'd rather go rustic, book a stay with Whiteside Cove Cabins. Each secluded cabin offers a spacious interior that can sleep six, including a full kitchen and a gas fireplace. River views and trailheads are just a walk away. Located at 5078 Whiteside Cove Road, find out more at whitesidecovecabins.com.The Park on Main is located located in the heart of Highlands, but the 24-suite luxury hotel still feels away from it all with spacious suites that include window views of the hotel's garden terrace. The hotel is pet friendly, and is home to a beloved Scottish terrier mascot named Mr. Pickles. Located at 205 Main St., find out more at theparkonmain.com.
More Info
Sip and savorAppetite whetted with that fresh mountain air? Luckily, Highlands has become a magnet for some top-tier chefs, with at least five restaurants in town being awarded the Wine Spectator Award of Excellence.The decor at Wolfgang's Restaurant & Wine Bistro may be rustic-themed, but the dining at this upscale restaurant is nothing short of sophisticated. Both German and Cajun influences make for an adventurous menu. Start with a caprese salad and a basil martini, followed by the lavender-crusted salmon or the crawfish etoufee. Top it off with some apple strudel. Located at 474 Main Street, find out more at wolfgangs.net.Paoletti's, an upscale Italian restaurant, has been a Highlands favorite since the mid-1980s. Next door to the Highlands Inn and across the street from the Old Edwards Inn, the ambient atmosphere is the perfect way to end your day. The bar boasts a large wine list, and the menu is full of delicious pastas and mouth-watering meats — from filet mignon to spiced Cervena elk rib chop. Be sure to save room for tiramisu or the double-chocolate chunk gelato. Located at 440 Main St., find out more at paolettis.com.Go casual at the Ugly Dog Pub, which boasts a friendly atmosphere along with its burgers, beer and live music. Don't forget to get a slice of the peanut butter pie. Find out more at theuglydogpub.com.Kick back with a flight of locally crafted beer from Satulah Mountain Brewing Co., located at 454 Carolina Way. Find out more at satulahmountainbrewing.com.
More Info
Get culturedHighlands may be off the beaten path, but it has gained a reputation as a vibrant place for the arts and for unique shopping.> The Highlands Playhouse has kicked off its 77th season and offers a variety of musicals and plays each year in an intimate setting. Located at 362 Oak St., find out more at highlandsplayhouse.org.> The Bascom Center for the Visual Arts offers a wide range of art exhibits and classes at its 6-acre, park-like campus that includes walking paths, a studio barn, and a three-story central building that showcases works by regional artists. Located at 323 Franklin Road, find out more at thebascom.org.> Be serenaded during concerts at the annual Highlands Cashiers Chamber Music Festival, now in its 34th season. The festival is located at 507 Chestnut St.; find out more at h-cmusicfestival.org.> Stroll down Main Street and browse a range of antique shops, art galleries and upscale boutiques offering everything from unique gifts to handcrafted apparel to classic toys.
More Info
Alpine adventuresWhether you're looking for a nail-biting adventure or a leisurely stroll through the forest, Highlands offers outdoor fun for every pace.> Get a birds-eye view of the mountains at Highlands Aerial Park, touted as the highest zipline course in the Southeast at 3,420 feet. There are different courses available for family members of all ages. Find out more at highlandscanopytour.com.> The Nantahala Outdoors Co. offers guided whitewater rafting and kayaking on seven rivers, including the nearby Chattooga and the Nantahala. Find out more at noc.com.> Whiteside Mountain is a popular hike, with the top offering magnificent vistas from 700-foot-high granite cliff walls. The hike, which is just 2.5 miles, offers plenty of bang for your buck. To get there, follow U.S. 64 East from Highlands for 5.4 miles. Turn right onto Whiteside Mountain Road. Follow for 1 mile to the signed parking area on the left. There is a $2/day area use fee at Whiteside Mountain Recreation Area.> Bust Your Butt Falls in Gorges State Park is a favorite swimming hole and is also home to a boulder that makes the perfect launch pad into the Cullasaja River. On U.S. 64 West from Highlands, it's 6.5 miles from Highlands.> Drive under Bridal Veil Falls, which spills over old 64 West, located off U.S. 64, 2.5 miles west of Highlands. Or visit the majestic Cullasaja Falls, located off a small roadside pull-off along U.S. 64, 9 miles from Highlands; or head to Glen Falls, where a triad of waterfalls cascade 640 feet, located off Highway 106 South about 2 miles from downtown Highlands.> Spend a few hours at the Highlands Botanical Gardens & Nature Center to explore a wide variety of almost 500 native species of wildflowers, shrubs and trees in natural forest and wetland environments. It is free and open to the public year-round from sunrise to sunset. Located at 265 N. Sixth St., admission is free, but program fees may apply.> Go fishing or plan at family picnic at the kid-friendly Cliffside Lake Recreation Area, which has a beach area and a swimming dock. The lake is also regularly stocked with trout. From Highlands, take U.S. Hwy 64 West/N.C. Hwy-28 North (Franklin Road) for 4.2 miles to the entrance on your right. Parking fee is $4.
More Info
X marks the spot> Highlands was born when two Kansas developers, Samuel Truman Kelsey and Clinton Carter Hutchinson, took a map of the United States and drew a large X reaching from Chicago to Savannah and from New Orleans to Baltimore. They predicted that the spot where the lines intersected would one day become a great commercial crossroads, and developed a resort town there in the 1870s.> Population: Year-round population on the Highlands Plateau is a little over 900, but it more than doubles in the summertime.> Best things to do: Highlands' crown jewels are its waterfalls. Drive your car under Bridal Veil Falls, or walk behind Dry Falls. The area is also home to some world-class golf courses with spectacular mountain views. In town, there is plenty of boutique shopping, fine dining and cultural events. See an exhibition at The Bascom, the town's new fine arts center, or catch a show at the Highlands Playhouse.> Geographic features: The town is bordered by the Nantahala National Forest and Pisgah National Forest. Nearby rivers include the Cullasaja and the Chattooga.> Famous resident: Bobby Jones, successful amateur golfer in the 1920s and '30s who also co-founded the Masters Tournament, helped make the Highlands Country Club a golf mecca.> Unique traditions: Come hungry for the town's annual Culinary Weekend, a four-day festival for the tastebuds held in November. Relish wine tastings and gourmet cooking demonstrations by the area's top chefs. Prices vary.> Fun fact: Highlands is located in a temperate rain forest — meaning that in the summer it rains every afternoon. Because of this, it's become a hub of biological research, and dubbed both the "Lichen Capital of the World" and "Salamander Capital of the World." The forest is about 20 degrees cooler during the summer months than anywhere in the Southeast. The cool climate has fostered a lush fairyland of tall pines, laurels, rhododendrons, mosses and ferns.Source: highlandschamber.org