Photo Gallery
Dalton, Ga.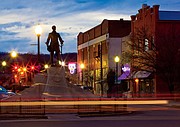 For many, industry - one in particular - is the first thing that comes to mind when thinking of Dalton. But the North Georgia town known to so many as the "carpet capital of the world" does a pretty good job of playing when it's not busy working. In the same regard, while Dalton has an intriguing history in which the railroad, Civil War and bedspreads all played a part, it's also proud of a present that has an ever-increasing focus on tourism as part of its future. All of those things figure into its appeal to visitors as a destination for day trips and beyond, whether it's during a festival weekend or when you're simply looking to get away for a while.
More Info
Shop Well, Eat WellThe downtown area is a good launching point for a shop-and-eat excursion, although there are options beyond, including the Market Street Shops (outlets) and Walnut Square Mall. Head to Rocky Face, just outside of town on Highway 41, or up Cleveland Highway for good "junking" opportunities. Hit the stores> Downtown shopping options include Bugs & Kisses (children's clothing), The Cherry Tree (monogrammed items and gifts), Grace (Christian-themed art, clothing and decor), The Grove and Vine (flavored olive oils and vinegars), Paper Princess (custom cards and invitations, stationery and gifts), Raspberry Row (candles, lamps, picture frames, college team items), Sweet Cheeks Denim Boutique and The Yellow Bird (birdhouses, bird feeders and garden items).> Near downtown, Sassy Flea Boutique and Consignment offers books, clothing, decor and gifts from several vendors.> Each November, downtown merchants help host Holiday Open House, with special sales, Christmas caroling, pictures with Santa Claus and horse-and-carriage rides.Hungry?Here are some places to get a bite downtown (or nearby).> Chelsea's on Thornton serves lunch Monday-Friday with salads, sandwiches and soups making up the bulk of the menu, but traditional tea service is available with a reservation of at least 24 hours' notice.> The Filling Station offers a delicious buffet featuring Southern favorites with a drink, dessert and coffee for $10.> Hamilton's Food and Spirits offers fine dining, beer, cocktails and wine Monday-Saturday. Next door, The American Market and Pizzeria at Hamilton's offers a more casual option from the same folks.> Lisa's Cafe offers sandwiches, soups and daily meat-and-three options for lunch Monday-Friday, as well as catfish and shrimp on Friday nights, and Sunday brunch.> The Perfect Cup is a popular lunch spot with coffee, flavored teas, smoothies, soups and sandwiches.> Owing in part to a significant Hispanic population, Dalton has considerable choices when it comes to Mexican and Latin American cuisine. You'll find one of the simplest (and tastiest) menus at El Pollo Alegre, where the star is their perfectly seasoned grilled chicken.> Willie's offers a variety of super-sized sandwiches as well as big burgers, jumbo hot dogs and catfish and shrimp platters.Source: Dalton Convention and Visitors Bureau
More Info
Get Festive> Fall is festival time in many places, and the Dalton area is no exception. Just north of town, the annual Prater's Mill Country Fair fills Columbus Day weekend with arts, crafts, music and food at the historic Prater's Mill, which was built in 1855 and powered by Coahulla Creek. For those interested in history and how tufting helped put Dalton on the map, this festival weekend is a great time to get a demonstration of the handcrafted version of the technique. Plus, there are fried pies. Who doesn't like fried pies?> In September, the Downtown Dalton Beer Tasting Festival combines brew sampling with food from local restaurants, live music, college football games on big screens, and cornhole. The same month, the Creative Arts Guild hosts a weekend festival that's very family friendly.In October, the Liberty Tree Festival is held in conjunction with the annual Red Carpet Half Marathon, showcasing the downtown area along with music, food vendors and arts and crafts displays.> The city is home to two weekly markets for portions of the year — the Downtown Dalton Saturday Market from 8 a.m. to noon each Saturday from May to August at the Dalton Green near the courthouse, and the Farm to Table Market downtown on Thursday evenings in September. In addition to produce and animal products from area farmers, handcrafted items and baked and canned goods are also available.Sources: Dalton Convention and Visitors Bureau, pratersmill.org, downtowndalton.com.
More Info
A Little Culture> Dalton is home to two regularly performing theater groups, Artistic Civic Theatre and Dalton Little Theatre, which began hosting performances as early as 1869. Visit actdalton.org and daltonlittletheatre.com to see what's playing next.> The Creative Arts Guild, which was founded in 1963, hosts gallery exhibits as well as concerts, festivals and other cultural events, including its popular "First Fridays" during the summer months. Visit creativeartsguild.org to learn more.> Dalton State College hosts lectures, concerts and performances that are open to the public. Check daltonstate.edu to see what's going on.Sources: Dalton Convention and Visitors Bureau
More Info
*History Lesson*Cross Plains became the city of Dalton in 1847, a year in which the railroad's connection to the town began to help spur its growth. Less than two decades later, the Civil War took pivotal turns in the region and left its imprint. In the early 20th century, Dalton's tufting industry started with bedspreads before expanding to carpet, and many of those businesses have since expanded to include other varieties of floor covering.Dalton's involvement with the Civil War included having the famed "Great Locomotive Chase" pass through town. One way to learn more about the area's role in the conflict is to take a driving tour — hopefully at a more enjoyable pace than the railroad raiders. CDs and guide maps are available for purchase downtown at the restored Dalton Freight Depot or in nearby Tunnel Hill at the Heritage Center Museum at the historic Western & Atlantic Railroad tunnel. Each September, this site hosts the Battle of Tunnel Hill re-enactment.The railroad was important in Dalton's growth before the Civil War, and it helped the town get going again after the fighting ended. The Dalton Freight Depot remains a popular sight for trainspotters and fans of railroad history as Norfolk Southern and CSX both have lines running by just outside its doors. The depot includes a monitor displaying rail activity as well as railroad radio feeds that play in its platform viewing area.In addition, the depot regularly houses exhibitions from the Bandy Heritage Center for Northwest Georgia at Dalton State, which "celebrates the history and culture of the historic highlands of Georgia," according to bandyheritagecenter.org, including the role of the carpet industry. It's a great launching point for a historical tour of Dalton.Other notable sites include Blunt House, Crown Gardens and Archives, Dug Gap Battle Park, Hamilton House, Huff House and West Hill Cemetery (which includes Confederate graves). For more information or to schedule site tours, visit whitfield-murrayhistoricalsociety.org.*Sources: Dalton Convention and Visitors Bureau, cityofdalton-ga.gov, tunnelhillheritagecenter.com
More Info
*Don't Just Sit There*Cyclists, hikers and runners should all feel at home during a visit to Dalton, and the outdoor opportunities are so good, even couch potatoes will be tempted to get moving.Dalton sports a thriving running scene, with road and trail races throughout the year at distances ranging from 1-mile fun runs to the Georgia Jewel, an "ultra" event that includes 35-, 50- and 100-mile options. Some of the most popular races include the Run for God-Run at the Mill (April), Bill Gregory Healthcare Classic (May), Red Carpet Half Marathon (October) and Silver Bell Sprint (December). A great starting point is the local running club's website, carpetcapitalrunningclub.com, which includes a race calendar and registration links.The aforementioned Georgia Jewel is run on a local portion of the Pinhoti National Recreation Trail, which stretches hundreds of miles from inside Alabama to near the start of the Appalachian Trail in Georgia. Hikers of the day and thru variety hit this trail, as do mountain bikers. The annual Snake Creek Gap Time Trial Series brings in riders from across the country for 17- and 34-mile contests. These races are hosted by the Northwest Georgia chapter of the Southern Off-Road Bicycle Association, whose website, nwgasorba.org, is a valuable resource for mountain bikers visiting the area at any time.Another great option for day hikers, runners and mountain bikers is the Dalton Parks and Recreation Department's Raisin Woods, which has seven trails on the north end of town. Closer to the center of town is the Mount Rachel Trail for hikers and bikers, a recently developed 1.6-mile layout. And in the nearby community of Rocky Face, the relatively short (2.4 miles) but extremely steep George Disney Trail offers the reward of views stretching west, north and east toward the mountains in neighboring Murray County.The disc golf course at Heritage Point Park offers a chance to pair a test of skills with a walk in the woods. Competitions are held regularly. Visit the Heritage Park Disc Golf Course page on Facebook to find out more.*Sources: Dalton Parks and Recreation Department, georgiajewel.com, georgiatrails.com, purebound.com, visitdaltonga.com