Photo Gallery
Rome, Ga.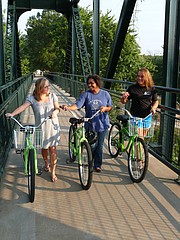 In a time and place where the interstate is king of travel, Rome might be considered by some to be off the beaten path.
But the city and surrounding Floyd County, of which Rome is the seat, are still just a short journey (less than 80 miles) from Chattanooga - and worth taking the highway if you're looking for a place with plenty of opportunities to fill a day (or longer) trip. In fact, according to the Greater Rome Convention and Visitors Bureau, the city, founded in 1834, has the second-largest population of any town in the triangle formed by the interstates between Atlanta, Birmingham and Chattanooga.
Like the Italian capital after which it's named, Rome has seven hills, three rivers (the Etowah and Oostanaula meet to form the Coosa) and plenty of culture, entertainment and sights to keep you busy. Whether you go during one of the many activities that fill the city's events calendar or during a quieter time, you'll discover there's plenty to see.
More Info
Why Don't You Stay?If you're interested in turning a day trip into a "days" trip, Floyd County's got you covered. In addition to a number of hotels and motels whose names you know, here are some other places to lay your head.Tumlin House, a Victorian home in Cave Spring that dates to the 1800s but is now a bed and breakfast with modern amenities like complimentary wireless Internet, television with DVD player and VCR in each room and a swimming pool.Rome's Claremont House, a Victorian Gothic built in 1882, offers four rooms in its bed and breakfast, as well as a cottage for rental. All rooms have coffee makers and cable TV, and guests have access to a refrigerator and freezer stocked with complimentary snacks and drinks.The Hearn Inn in Cave Spring, operated by the town's historical society, has seven bedrooms. Bringing a crowd with you? You can book the entire inn at a discounted rate.Looking for more rustic accommodations? Cedar Creek Park offers RV and tent camping, as well as lodge rental options.
More Info
Eat, Drink and Be Merry> Doing as the Romans do means enjoying an active downtown and festival scene that includes good food, drinks and fun in abundance. From May to September, Bridgepoint Plaza (near where the city's three rivers meet downtown) hosts First Friday, a series of free concerts on — you guessed it — the first Friday of each month. To find out who's playing and when, visit downtownromega.com.> Set for Oct. 3-4 this year, Wings Over North Georgia is an annual air show that brings in some of the very best performance teams to demonstrate their aviation skills at Richard B. Russell Regional Airport. In addition, there are many aircraft on display on the grounds, and the weekend also includes the Smoke-N-Thunder Barbeque Classic (sanctioned by the famed Kansas City Barbeque Society), live music and fireworks. Visit wingsovernorthgeorgia.com for details.> Looking for nightlife? Entertainment options include live music at venues like the Moon Roof Bar, Johnny's, the 400 Block Bar and Brewhouse Music and Grill. Other offerings in the area of entertainment and culture include the Rome Symphony Orchestra (romesymphony.org) and the Rome Little Theatre, an amateur thespian group that presents plays at the Historic DeSoto Theatre. That venue also hosts the annual Rome International Film Festival. For other arts scene happenings, check out the Rome Area Council for the Arts listings at romearts.org.> It's OK to come to town hungry. And Rome's culinary offerings might be enough to bring you back for repeat visits, because even a trip of a few days could leave you wishing for more mealtimes — and the chance to try more restaurants. Want a casual stop that's a longtime hit with locals? Schroeder's New Deli. Family dining? Try the Landmark Restaurant — dare you to walk past the dessert case without indulging — or the Partridge Restaurant. Sunday brunch with Southern flair? Harvest Moon Cafe. A hometown bakery with gourmet sandwiches and pastries? Great Harvest Bread Co. A hometown bakery with cupcakes worth cheating on your diet, as well as a breakfast menu to help you start a busy day downtown? Honeymoon Bakery. A cozy setting with savory, spicy curries and more? Yummy Thai. And what would a trip to Rome be without a plate with Old World influences? Try Bella Roma Grill, La Scala Mediterranean Bistro or Roma Mia Ristorante Italiano.
More Info
Venture Outdoors> Rome's rivers provide a chance to float the day away, but there are other ways to take advantage of the area's abundant outdoors scene. The city of Cave Spring, a short drive from Rome, is scenic and features the 29-acre Rolater Park anchored to its town square. You can swim/wade in Rolater Lake or Little Cedar Creek to cool off — or head into the natural refreshment provided by the park's limestone cave. The cave is open daily from May-September, from 11 a.m. to 5 p.m. Monday-Friday and 10 a.m. to 5 p.m. Sunday, although appointments can be made to visit at other times by calling 706-777-0202. The city also has a welcome center and museum.> Take yourself out to the ballgame and see future major leaguers in action when you watch the Rome Braves — Atlanta's Class A minor league affiliate in the South Atlantic League — play at State Mutual Stadium. Rome has been home to the team since 2003, when it moved from Macon, and the stadium is still impressive, with a concourse that features a variety of dining options, plus games for kids (and kids at heart), as well as a picnic area. The season runs from May to early September. Visit romebraves.com for a schedule and ticket information.> Combine history and a healthy hike at historic Jackson Hill, which was the site of Fort Norton during the Civil War. In addition to its trail system, you can check out the Labyrinth of Rome (formerly an amphitheater), rock bridges, a cotton gin, replicas of Civil War cannons and a steam engine. Historic markers also share details about the Civil War's impact on the area.> The Rome-Floyd E.C.O. River Education Center, located in Ridge Ferry Park, highlights Northwest Georgia ecology, with aquariums inside the center and indigenous plants outside. Ridge Ferry, which covers 60 acres, hosts several community events throughout the year, including a farmers market held each Wednesday and Saturday morning June-October.> Cedar Creek Park offers canoe and kayak rentals for a four-hour trip, as well as inner tube rentals. Not interested in paddling? Take it easy and let someone else steer as you roll on down the Coosa River via the Sulzbacher Roman Holiday, a 40-passenger excursion boat that departs from Heritage Park and is available for private excursions. It also hosts public voyages, typically on the first Sunday of each month May-October.Sources: Greater Rome Convention and Visitors Bureau, romebraves.com
More Info
A Lot to Learn> With four colleges in Floyd County — Berry College, Georgia Highlands College, Georgia Northwestern Technical College and Shorter University — it's no surprise a visit to the area provides a chance to combine education and fun.A good launching point is downtown at the Rome Area History Museum, which has free admission and is open from 10 a.m. to 4 p.m. Wednesday-Friday and 11 a.m. to 2 p.m. Saturday. On the third Tuesday of each month, the museum hosts "Snapshot in Time," a program highlighting a historic topic and time period.Group tours can be scheduled by calling 706-235-8051.Rome's Chieftains Museum is housed in the former home of Cherokee leader Major Ridge, who played a prominent role in the Trail of Tears, the forced removal of Native Americans from the Deep South. The museum spotlights Cherokee history up to their exodus from Georgia.Admission to the museum, which is open from 10 a.m. to 5 p.m. Wednesday-Saturday, is $5 for adults, $3 for seniors and $2 for students.Stretch your legs by taking the 107 steps to the top of the Rome City Clocktower, which houses a 250,000-gallon-capacity water tank that formerly supplied the city. Since 1995, the tower has housed a small museum that includes historical murals.Admission is free, but the tower is only open from noon to 1:15 p.m. on the first Saturday of each month from May-October, although special appointments to tour the tower can be made by calling 706-236-4416.Just outside the campus of the college she founded, Oak Hill was the home of Martha Berry and now houses a museum which tells the story of Berry — the woman and the school. It also includes an art gallery and temporary exhibitions. Tours, given by Berry College students, start every 30 minutes. Also open to visitors are the property's outbuildings and the ground's gardens.The entry fee is $8 for adults, $7 for seniors and $5 for students, with children age 5 and younger admitted free. Regular hours are 10 a.m. to 5 p.m. Monday-Saturday, but visit berry.edu for seasonal hours.Berry College — which has the world's largest college campus by area — is also worth a visit for its natural scenery (including lots of deer) and impressive architecture. Split into the Main Campus and more secluded Mountain Campus, Berry has several trails for cyclists, hikers, horseback riders and runners. One hike definitely worth making is up to the House o' Dreams, which was built as a mountain retreat for Martha Berry.Appointments are required to tour the site; call 706-368-6777.The gates of Myrtle Hill Cemetery are open daily from 9 a.m. to 6 p.m. In addition to hundreds of Civil War graves, Myrtle Hill is also the burial site for First Lady Ellen Axlon Wilson, the wife of Woodrow Wilson, 28th president of the United States.Also buried here is Rome native and University of Georgia football player Von Gammon, who died from injuries suffered in a game against the University of Virginia in 1897. His death heightened the day's debate about the sport's safety and might have led to it being banned — had his mother not stepped in to say the games should go on, albeit with changes to make them safer.Sources: Greater Rome Convention and Visitors Bureau, exploregeorgia.org, berry.edu