Photo Gallery
City begins issuing warnings over bike lanes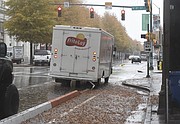 A new wrinkle has been added to the Broad Street bike lane saga.
The Chattanooga Parking Authority began issuing warning citations Tuesday to those who block the relatively new lanes that stretch six-tenths of a mile along Broad Street downtown.
Real tickets will start coming in January.
Parking authority director Brent Matthews described this month as "educational" for motorists and delivery truck drivers who are still acclimating to the bike lanes, which have been controversial since their implementation this fall.
"It's a learning process for everybody," Matthews said. "It's something new to the city. Our employees are getting used to it, and I think the rest of the city is, too."
Delivery truck drivers might have the toughest adjustment, but regular drivers should take note they are still required to use the parking meters on Broad Street.
The bike lanes - which are closest to the sidewalk - have created a large gap between on-street parking spaces and their corresponding parking meters that remain on the sidewalk. To help deal with parking confusion, the city is installing signs aimed at clarifying that motorists should pay the meters, even though they are now located a few yards away from the spaces.
As for delivery truck drivers, they will continue to be asked to park in designated loading zones now marked with a red curb. The loading zones fall on the ends of most blocks, which is where most of them were before. Workers at Broad Street businesses say the bike lanes and their curbs have altered the way delivery people do their jobs, though.
In most places, they can no longer shirk the delivery zones, park with their flashers on in front of a business and quickly run a load inside because the bike lane curb is so high.
"If it's a big delivery, they've got to get their carts out and go all the way to the end [of the bike lane]," said the manager of one Broad Street business who asked not to be named. "It's real hard for them, especially if they've got a whole cart full of those big boxes, and especially if it's raining."
A UPS driver parked Monday in a way that partially blocked one of the bike lanes. He said company policy prohibited him from talking to reporters.
The curb separating the bike lanes from the street is taller than a regular curb and features occasional gaps, allowing pedestrians to walk through, rather than stepping over it.
The curb's purpose is safety: to keep vehicles out of the bike lanes and bikes out of the vehicle lanes. But it has caused some problems for a third group - pedestrians.
Dee McDaniel, a 72-year-old customer at Yacoubian Tailors, tripped on the bike curb in late October. She took a tumble that gave her a black eye, loose teeth and required her to get three stitches in her lip.
"I had pretty substantial injuries," McDaniel said, adding that city Transportation Director Blythe Bailey apologized to her.
McDaniel said she's heard of other pedestrians who have tripped over the curb, including one who broke her wrist.
"They just didn't prepare for this," McDaniel said.
Ani Yacoubian said the bike lane itself is OK.
"It's just the curb is the biggest challenge," she said. "Other than that, it'd be fine."
A loading zone is situated near the entrance to Yacoubian's, so delivery drivers there do not face as much of an adjustment there as they do at other stores.
Elsewhere along Broad Street, the adjustment to bike lanes - and their curbs - will continue.
"They're used to unloading wherever," Matthews said of delivery drivers. "It's going to be educational getting people to understand they need to do their unloading in the zones."
Contact staff writer David Cobb at dcobb@timesfreepress.com or 423-757-6249.