Photo Gallery
Don't put away your umbrella, more rain is on the way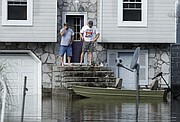 Forecast
Monday: High near 72, chance of rain 80 percent.Tuesday: High near 61, chance of rain 50 percent.Wednesday: High near 58, chance of rain 80 percentSource: National Weather Service
Rain, rain, won't go away.
Meteorologists say the record-setting rainfall that drenched the region last week is not over, as more is predicted to fall today and Tuesday.
Chattanooga needs only a little more rain to exceed its all-time rainfall record in a year, which is 73.7 inches during 1994. The annual average rainfall is 52.48 inches, according to the National Weather Service.
"We have more rain coming," said David Hotz, a meteorologist for the weather service in Morristown, Tenn. "This rain could bring more issues."
Hotz said the Tennessee Valley can expect at least another inch of rain this afternoon and evening, and additional rainfall is expected late Tuesday. Severe weather is also possible, he added.
Since the ground is already saturated, Hotz said, the additional water could become a problem. He advised people to stay abreast of the latest weather and be cautious while driving.
Along with the moisture comes warmth.
Thermostats in Chattanooga hit another record high Sunday at 76 degrees, 4 degrees higher than the previous record from 1982, according to Hotz.
"Chattanooga had record high [temperatures] almost every day last week," he said.
Hotz said these high temperatures are creating a "Catch-22," as warmer air helps water evaporate more quickly, but also fuels heavier rainfall.
The break in the rainfall allowed waters that had covered low-lying areas in the region to begin receding from roads, yards and cropland. No severe flooding was reported across the Chattanooga region Sunday night, according to the National Weather Service's website. But both the South and West Chickamauga creeks were listed as experiencing moderate and minor flooding respectively.
East Ridge Mayor Brent Lambert said both creeks influence the municipality, and officials have been monitoring them.
"We are having some flooding issues for sure," Lambert said. "But, typically the folks [affected] have seen this kind of flooding before."
Lambert, who lives near Camp Jordan, said portions of his own backyard are flooded and that Camp Jordan will remain closed through at least today because of high water.
Lambert said he does not know of anyone being evacuated.
"At this point everybody is just weathering the storm," he said. "I hope the additional predicted rain will move through quickly and not add to the overall rainfall total."
In South Pittsburg, Tenn., authorities were still searching Sunday for a woman who is believed to have fallen into a drainage ditch.
Alice "Tiny" Reynolds, who is in her 40s, has not been seen since Friday, said South Pittsburg Police Chief Bobby Simpson.
After Reynolds was reported missing officers checked her house and found food cooking in the oven and on the stove, Simpson said. Reynolds' phone has not made or received any calls since Christmas, and her shoes were found by the bank of the drainage ditch, he continued.
"We've heard many stories about why she went into the water," Simpson said. "To be honest, that is not important to us. What matters is finding her."
Steve Lamb, director of Marion County EMA, said people have been searching the drainage ditch - which empties into the Tennessee River - without result.
"There is so much debris [in the drainage ditch] that we don't think her body made it to the river," Lamb said. "We keep looking for her."
Contact staff writer Kendi Anderson at kendi.anderson@ timesfreepress.com or 423-757-6592. Follow on twitter @kendi_and