Photo Gallery
Fractured wall at Publix called cosmetic problem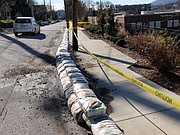 Also read
* Heavy rains cause shortage of drinking water in towns * OSHA warns Tennessee residents about storm clean-up hazards * Flood warnings in effect for area * More rain in store for Georgia as Lake Lanier nears record * Police jump into lake to rescue woman in overturned car * Cold, dry weather in store for Chattanooga area after another bout of rain * TVA: Dams stop Tennessee River from flooding Chattanooga * Sohn: This crazy weather is not just crazy * Flood watches and warnings in effect for area * State of emergency declared for Gordon County; two deaths reported * Alabama hit with more rain as storms push through state* Stay out of flooded areas, don't drink well water, officials warn* TVA shuts down barge traffic, opens flood gates as water rises * TVA says its dams are saving Chattanooga $130 million in flood damages* Twisters, floods, snow and ice have killed dozens across the South * Don't put away your umbrella, more rain is on the way * 4.14 inches of rainfall doubles prior record; region begins to dry out, assess damage * Thunderstorms, torrential rains pummel metro area
Shoppers making their grocery run to the Northshore Publix will be greeted by an unsettling sight: a split directly up the middle of a 25-foot retaining wall encircling the store's parking lot.
After record rainfall in Chattanooga, several of the stone blocks have separated along a seam, leaving some of the large stones perched precariously over a now-vacant portion of the lot. Publix employees used upended shopping carts to hold up a temporary plastic fence and cordon off a couple dozen parking spaces immediately next to the damage.
But according to employees, customers have little to fear because a steel barrier is hidden behind the stone wall.
Brenda Reid, a spokeswoman for Publix, said the visible damage is primarily cosmetic rather than structural and that there is no time frame laid out for completing repairs.
A team of engineers, developers and a construction company are consulting to find a fix, but Reid said holiday schedules and continued rain have hampered progress.
Though the damaged portion of the wall is just a facade, Reid said the repair team is "evaluating it now" in order to fully address the issue.
"We want to make sure we're doing it right and not just put a Band-Aid on it," she said.
Anthony Cavalucci, a forecaster for the National Weather Service in Morristown, Tenn., said that although Tuesday was sunny in Chattanooga, today "rainfall is expected to start moving in around seven in the morning, and it's probably going to last all day."
He said Chattanooga residents probably can expect up to a quarter of an inch of rainfall.
Matt Sena, a National Weather Service forecaster in Peachtree, Ga., said residents further south can expect more rainy weather today.
"We are looking at rain likely at least through the day," he said. "[There is] potential for another inch to two inches throughout the area of central Georgia, but the farther north you get the more it tapers off."
Contact staff writer Emmett Gienapp at egienapp@timesfreepress.com or 423-757-6731.