Photo Gallery
Markham St. Pub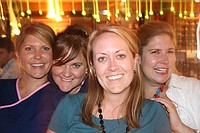 Report closings
Please report all closings to webeditor@timesfreepress.com
Read more
* Greater Chattanooga area parents scramble after early dismissal * Signal Mountain cut off again as snow turns roads to slip-n-slides * Schools shut doors throughout region amid snowy onslaught * Snow begins to strangle Chattanooga roads; Jackson County declared "impassible * 70-vehicle pileup in snowy Maine leaves at least 17 injured * Tennessee's winter storm death toll hits 30 * Tennessee Gov. Bill Haslam urges people to check on neighbors as storm moves in * Red Cross: Prepare as winter weather rebounds in Metro Atlanta, North Georgia * Alabama governor declares state of emergency ahead of winter storm * Gov. Deal declares state of emergency ahead of winter storm
CLOSINGS AND DELAYS:
Baylor School - closed Thursday Berry College - closed Thursday Boyd Buchanan - closed Thursday Bradley County Schools - closed Thursday Catoosa County Schools - closed Thursday Chattanooga Girls Leadership Academy - closed Thursday Chickamauga City Schools - closed Thursday Cleveland City Schools - closed Thursday Cleveland State - closed Thursday Dade County Schools - closed Thursday Dalton Public Schools - closed Thursday DeKalb County Schools - closed Thursday Fort Payne City Schools - closed Thursday Georgia Northwestern Technical College - closed Thursday Grace Baptist Academy - closed Thursday Hamilton County Schools - closed Thursday Marion County Schools - closed Thursday Meigs County Schools - closed Thursday McMinn County Schools - closed Thursday Murray County Schools - closed Thursday Notre Dame - closed Thursday Polk County Schools - closed Thursday Richard Hardy Memorial School - closed Thursday Rhea County Schools - closed Thursday Rome City Schools - closed Thursday Sequatchie County Schools - closed Thursday Silverdale Baptist Academy - closed Thursday Southern Adventist University - closed Thursday until 11 a.m. Sweetwater City Schools - closed Thursday UTC - closed Thursday Walker County Schools - closed Thursday Whitfield County Schools - closed Thursday Other cancellations: All City of Chattanooga government offices will be closed Thursday, February 26, 2015. This includes the Downtown Public Library and branches. Public Works road clearing crews, public safety personnel, 311 operators, and other essential personnel will work as scheduled tomorrow. Nonessential personnel should not report to work.The City of Chattanooga will push garbage collection back one day - Thursday collection will move to Friday and Friday collection will move to Saturday.Bowater Employees Credit Union is opening all locations at 11am Thursday, February 26Summerville city office - closed Thursday Catoosa County board of education - work session canceled ThursdayHealth departments in Catoosa, Dade and Walker counties will be closed ThursdayWalker County Transit - closed Thursday Walker County Government Offices - closed Thursday North Georgia Health District and Cherokee, Fannin, Gilmer, Murray, Pickens and Whitfield County Health Departments closed Thursday City of Rome, Floyd County and The Rome-Floyd Parks and Recreation Authority announces administrative offices - closed Thursday The North Georgia Health District office in Dalton and Public Health Departments in Cherokee, Fannin, Gilmer, Murray, Pickens and Whitfield Counties are closed Thursday, February 26. CHI Memorial Medical Group Closings and Delays Chattanooga, TN Due to inclement weather CHI Memorial Medical Group has closed the following physician practices. Effective for Thursday, February 26, 2015. Delayed: 10 a.m. * MaryEllen Locher Breast Center * CHI Memorial Arthritis & Rheumatology * CHI Memorial Primary Care Associates * Harrison Medical Center * Hixson Pike Medical Center * Memorial Convenient Care * Memorial GYN Plus * Memorial Metabolic Surgery * Memorial North Park Family Practice * Memorial Robotics and Urologic Cancer * Professional Park Associates * Signal Mountain Health and Wellness * Spring City Medical Clinic * TCFPA Family Medical Center * Mountain Management Offices 12 p.m. open * Buz Standefer Lung Center * Memorial Family Medicine Ooltewah * CHI Women's Health Associates * Cardiac Rehab 12:30 p.m. Drs. Jurgens, Parker and Jolley 1:30 p.m. Renee' Harless, M.D. Cancelled: Mobile Coaches. Closed: Radiation Cancer Care Closed: Soddy Daisy Medical Center
Under the imminent threat of snow, Chattanoogans took to the streets - to get to the grocery stores.
Traffic jams and crowded aisles couldn't stop the influx of snow-savvy shoppers from stocking up on bread, milk, diapers, pet food and all manner of storm survival necessities.
Hardware stores ran out of ice melt. Several stores sold out of sleds, one selling more than 200.
"Ever since we opened, it's been chaos," \Tanner Brown, assistant bookkeeper at a Hixson Bi-Lo said Wednesday.
The preparation was not in vain, as snow blanketed the Scenic City and surrounding counties on Wednesday - just as meteorologists predicted.
By 7 p.m., more than 2 inches of snow had accumulated in Chattanooga, according to Andrew Pritchett, a meteorologist with the National Weather Service in Morristown, Tenn.
"The rate of snowfall will be pretty heavy until midnight," Pritchett said. "Up to 2 inches falling an hour."
By this morning, Pritchett predicted, more than 6 inches of snow would coat the metro-Chattanooga area, with even more accumulation in the higher elevations.
The region was under a winter storm warning from early Wednesday afternoon through this morning, as the snowy system moved in from the southwest, said Jessica Fieux, a meteorologist at the National Weather Service in Morristown. A low-pressure system that swept across the Gulf and into Florida brought moisture that actually cooled temperatures farther north, she explained.
"We've been seeing snow even at places reporting temperatures of 34 degrees," she said.
While local temperatures were expected to reach a low of 27 degrees this morning, the thermometer should hit 41 degrees by this afternoon, said Derek Eisentrout, a meteorologist at the National Weather Service in Morristown.
"The snow will be short- lived," he said.
Friday will stay cool with highs in the mid-30s, but no snow is expected over the weekend and by Sunday temperatures will climb into the 50s, Eisentrout said. By Tuesday, highs will reach the low 60s, he added.
But on Wednesday, officials and forecasters repeatedly urged citizens to prepare for the worst.
In preparation for Wenesday's snowfall, everyone from mothers to medics took precautions. The Tennessee Department of Transportation had its 20 salt trucks and plows ready to go Wednesday afternoon. Locally TDOT is responsible for keeping 700 lane miles clear, said spokeswoman Jennifer Flynn.
"Our main priority, as always, is the interstate," she said. "And then the big state routes."
No major accidents or problems had occurred due to the weather as of 6:30 p.m., according to Hamilton County Emergency Medical Services spokeswoman Amy Maxwell.
"The [Hamilton] County Highway Department and TDOT have done an amazing job of keeping the roads brined and treated," she said, though snow did start to collect on side roads Wednesday evening.
Maxwell said a skeleton crew was scheduled to work through the night Wednesday to monitor road conditions. Extra ambulance crews were also on standby.
Nearby in Jackson County, Ala., EMA Director Mike Ashburn said crews there had been gearing up for the winter weather the past two days.
"We think we've got all the bases covered," Ashburn said Wednesday.
But by 5:30 p.m., EMA announced that all Jackson roads were impassable, citing several car accidents throughout the county.
Employees at EPB, which provides electricity to about 175,000 people in and around Hamilton County, didn't expect widespread problems but were ready to respond if the snow hit hard, said spokesman John Pless.
"They're prepared to stay through the night and into tomorrow if problems develop," he said on Wednesday.
At least 30 people have died in Tennessee due to weather-related causes since Feb. 16, according to the Tennessee Emergency Management Agency. Schools have been closed for days on end, with the majority, including Hamilton County, taking another snow day today.
Georgia Gov. Nathan Deal on Tuesday declared a state of emergency more than 24 hours in advance of the most recent weather system's arrival. Fifty of Georgia's northern counties were in the warning area, including all the Peach State counties in the Chattanooga region.
In Dalton and Whitfield County, all non-emergency city and county offices closed at noon Wednesday, as the Whitfield County Emergency Operations Center urged citizens to stay off the roads.
In DeKalb County, Ala., Emergency Management Director Anthony Clifton said the county's four warming center/shelters would be open for anyone needing a place to stay.
"We're as ready as we can be and preparations are going well. We've issued a local state of emergency," Clifton said Wednesday. DeKalb's Emergency Operations Center had been activated, he said.
Local and state highway officials have had trucks out pretreating roads for snow and ice, he added.
Jackson County officials got dialysis patients to their treatment appointments early on Wednesday and scheduled afternoon visits for today - before Wednesday evening's road conditions set in. If the bad weather persisted until this afternoon, backup plans were in place, Ashburn said.
He added that he's weary of the winter weather.
"It's been a tough February," he said.
Contact staff writer Ben Benton at bbenton@timesfreepress.com or twitter.com/BenBenton or www.facebook.com/ben.benton1 or 423-757-6569. Contact staff writer Shelly Bradbury at 423-757-6525 or sbradbury@timesfreepress.com with tips or story ideas. Contact staff writer Kendi Anderson at kendi.anderson@timesfreepress.com or 423-757-6592.
BE PREPARED
The American Red Cross offers some potentially life-saving tips for sheltering in winter weather. Don't drive unless absolutely necessary. Pack winter-specific supply kits for both home and car that include a flashlight, first aid supplies, warm coat, hat, mittens or gloves, and water-resistant boots, along with blankets and extra warm clothing. Your home kit should have essential medications, canned food and can opener, bottled water, and a battery-powered radio with extra batteries in the event of a power outage. Running water, even at a trickle, helps to prevent pipes from freezing. When the temperature is very cold outside, open cabinet doors to let warm air circulate around water pipes. Do not use candles for lighting if the power goes out. Use flashlights only. Inspect fireplaces and wood stoves. Use a sturdy fire screen with lit fires. Burn only wood; never burn paper or pine boughs. If you plan on using an alternative heating source, never use a stove or oven to heat your home. Keep a glass or metal fire screen around the fireplace and never leave a fire unattended. If using a space heater, follow the manufacturer's instructions on how to safely use the heater. Place it on a level, hard, nonflammable surface. Turn the space heater off when you leave the room or go to sleep. Keep children and pets away from space heater and do not use to dry wet clothing. Never operate a generator inside your home, including the basement or garage. Do not hook up a generator to your home's wiring. The safest way is to connect the equipment you want to power directly to the outlets on the generator. Remember your pets. Bring them indoors or provide adequate shelter to keep them warm, and make sure they can get to unfrozen water. Keep the gas tank in your vehicle full, which helps prevent the fuel line from freezing. Sand or non-clumping kitty litter is good to have on hand in case your car is stuck and to help make walkways or steps less slippery. For additional advice on preparing for severe winter weather, visit redcross.org. Source: American Red Cross ALABAMA CALL CENTER The Alabama Department of Transportation opened its Emergency Call Center at 9 a.m. CST Wednesday to provide road conditions and travel-related information relating to Alabama's state, U.S. and interstate highways during the winter storm. The call center phone number is 888-588-2848. More information is also available at www.dot.state.al.us.