Photo Gallery
The perfect fitFarrier is shoemaker for the equine crowd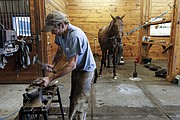 PHILADELPHIA, Tenn. - In the barn of Dry Ridge Farm here, a man wearing a thick brown apron strikes a bright-hot horseshoe with a hammer against an anvil. He shapes it, the heat helping to make the metal pliable, before raising it to eye level.
Apparently pleased that it will fit the corresponding hoof, he walks to a horse tied in a nearby stall and firmly grasps the animal's front leg to press the heated shoe in place. Smoke rises, and an acrid smell akin to burning hair briefly fills the space as the shoe is fitted in place. The horse waits patiently, unfazed, as farrier Greg Dortch finishes the process of ensuring that the shoe is shaped to be seated perfectly on the hoof.
The process is as routine and painless for horses as nail trimming is for humans, and it is just as important. For clients like this, where horses are ridden and shown every day, Dortch said he typically returns to re-set the horses' shoes every five weeks.
Dortch, who is based in Ooltewah but serves clients up to 90 minutes away, said, farriers are more than simply shoemakers - they are equine foot-care specialists.
A routine reshoeing involves removing the old shoes, trimming away new-grown hoof and evening the bottom, fitting the new shoes and nailing them in place. The fitting is finished by smoothing and filing the hoof around the shoe to make sure the fit is perfect.
"In the wild, ideally, the hoof would wear and the horse would stay sound," which means without problems, says Dortch, but things aren't so simple for domesticated horses. "We have these lush pastures where the hoofs won't wear like they should in the wild," he says, so shoeing is important for the animals' health.
A sound fit is important, he said, because even a small problem could lead to discomfort. A skilled rider could tell something was wrong by the change in gait. "They're not going to let me do anything to hurt them," he joked.
He sometimes has unruly horses, but Dortch said that typically doesn't last long. "For the most part, when we get started on these horses, I'll shoe them two or three times and usually they settle in and get to know you."
Though he isn't sure all horses understand that what he's doing is for their benefit, Dortch says one of his favorite things about the job is bringing relief to horses who are having problems with their hooves or shoes.
They will walk into the stable with something that is off, and he will get to work.
When the new shoes are in place, the animals walk away sound.
"Those horses, I think they appreciate it," Dortch said.