Photo Gallery
'Nightmare for our city'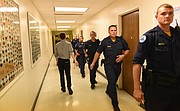 Mohammad Youssuf Abdulazeez, the suspect in the shooting of four U.S. Marines in Chattanooga on Thursday morning, grew up in an abusive home, court documents allege.
In a divorce complaint filed in Hamilton County Chancery Court, Rasmia Ibrahim Abdulazeez alleged that Abdulazeez's father, her husband, beat and verbally abused his wife in front of his children.
She also said that her husband sexually assaulted her while the children were in the home.
Rasmia Abdulazeez filed for the divorce in February 2009, though she withdrew the complaint 22 days later.
Mohammad Abdulazeez's father, Youssuf Saed Abdulazeez, is a soil engineering specialist for the Chattanooga Department of Public Works.
According to the complaint for divorce, the elder Abdulazeez also beat his children, striking them and yelling at them "without provocation or justification."
He also was accused of telling Rasmia Abdulazeez that he was going to take a second wife, "as permitted under certain circumstances under Islamic law."
At one point, according to the complaint, Rasmia Abdulazeez's brothers visited Chattanooga from Washington, D.C., and Kuwait to help resolve the marital issues.
"Since that discussion with the Defendant, and their return to their homes, Defendant has become more abusive towards the Plaintiff by refusing to talk with her," Rasmia Abdulazeez's attorney, John Meldorf, wrote in the complaint. "However, Defendant did sexually abuse Plaintiff a second time after the brother from Washington, D.C. came to discuss the marriage with him."
In the complaint, Rasmia Abdulazeez said her husband also kept all the money, giving her no chance to find her own home. She asked for custody of the couple's five children. They had been married for 28 years at that point.
"She is in fear for her safety at the hands of the Defendant," Meldorf wrote. "She avers that unless a Restraining Order is entered removing him from the marital home and preventing him from coming around her, she will be irrevocably injured."
The lawsuit was dismissed later that month, after Youssuf Abdulazeez agreed to sign a postnuptial agreement. He promised to attend counseling, both by himself and with his wife.
He also agreed to give Rasmia Abdulazeez $200 on the fourth day of every month. And if they got divorced, he said he would give her $100,000, plus legal fees.
He also agreed to spend an hour every night with her to discuss family issues, like when a child was disrespectful to his or her parent.
Read more
DesJarlais plans bill allowing qualified military personnel to carry sidearms at military installations Two of four Marines killed in Chattanooga identified Chattanooga shooting FAQ Who was Mohammad Youssef Abdulazeez? UTC students, local community mourn at prayer vigil Minute-by-minute coverage of the Chattanooga shooting that killed four Marines Chattanoogans reach out on Instagram after tragic shooting Timeline of terror in Chattanooga shootings Community grieves, gathers for prayers in wake of tragedy Nightmare for city: Federal investigation vowed after four Marines killed in shooting Sympathy for victims pours in following Chattanooga shootings Eyewitnesses recount moments of violent tragedy Latest national news on Chattanooga shootings: authorities searching gunman's computer Cook: On a normal Thursday morning, everything changed Tragedy will not define us, our city will heal Shooting shatter's city's sense of innocence