Photo Gallery
Puzzling out answers, pouring out grief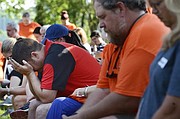 When Mohammad Youssef Abdulazeez drove to a military recruitment center Thursday morning, ammunition sat snug in his vest, three guns within reach. Maybe more.
Ed Reinhold, special agent in charge of the FBI's Knoxville Division, said Abdulazeez carried at least two long guns and one handgun when he opened fire at the recruitment center on Lee Highway and the U.S. Naval and Marine Reserve Center on Amnicola Highway. He killed four Marines during the attack. Three others were wounded.
U.S. Rep. Michael McCaul, chairman of the House Homeland Security Committee, added during a Friday news conference that at least one of those guns was an AK-47.