Photo Gallery
Puzzling out answers, pouring out grief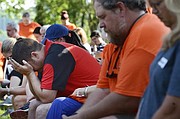 Randall Smith, the Navy petty officer who died Saturday from wounds in Thursday's attack on the Navy and Marine operations center on Amnicola Highway, will be buried in Chattanooga National Cemetery.
Sue Humble with Heritage Funeral Home in Fort Oglethorpe confirmed that the family has asked Heritage to handle arrangements.
The service for Smith will take place Tuesday, a member of the Heritage Funeral Home and Crematory, Battlefield Parkway confirmed.
Visitation will take place at First Baptist Church of Fort Oglethorpe from 10 a.m. to 2 p.m. The funeral will take place right after in the same location.
Smith will then be buried at the Chattanooga National Cemetery.
Sgt. David Wyatt, one of the four Marines who died in the attack,