Alexis Tubbs was making a casserole when she looked out her kitchen window and saw half a dozen FBI agents pointing guns at her 14-year-old son.
Tubbs' son was playing with his Airsoft gun Monday when FBI agents raided a nearby residence at Mountain Creek Apartments.
The raid - at the home of a widowed woman and her six children, Tubbs said - was carried out to investigate a lead about an associate of Mohammad Youssef Abdulazeez. Tubbs said one of the widow's sons knew Abdulazeez.
Photo Gallery
A day of tribute, remembrance for the fallen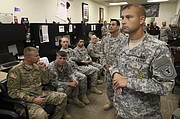 Photo Gallery
Puzzling out answers, pouring out grief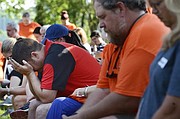 An FBI official in the Knoxville field office said Tuesday he couldn't discuss the ongoing investigation.