Photo Gallery
Haunted House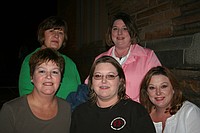 The annual EMOBA Haunted House is busy scaring people for 2 weeks out of the year...
FRANKFORT, Ky. (AP) - Kentucky Gov. Steve Beshear has issued an executive order authorizing Adjutant Gen. Edward Tonini to enhance security at state National Guard facilities and recruiting stations following the shooting death of five servicemen in Tennessee last week.
The order tells Tonini to immediately implement additional policies consistent with state law. Department of Military Affairs spokesman David Altom said these policies include things like rehearsing active shooter drills and ensuring doors are locked.
Beshear noted in the order that Kentucky already has policies in place allowing active duty servicemen to carry concealed weapons at state facilities as long as they have a valid concealed weapons permit.