This week, the FBI brought in 30 more agents to look into possible connections between international terrorists and a 24-year-old Chattanooga-raised gunman who killed five American troops here.
The New York Times and NBC News, with decades of sources in Washington, D.C., and internationally, are now reporting that the uncle who Mohammed Youssef Abdulazeez visited in Jordan has been detained for questioning as investigators continue to seek the motive in last Thursday's attack.
Photo Gallery
Puzzling out answers, pouring out grief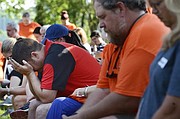 Unnamed officials also have told national news organizations that federal experts looking at Abdulazeez's computer histories have found that in 2013 he had downloaded audio recordings of Anwar al-Awlaki, the American-Yemeni cleric who was a recruiter for al Qaeda. Abdulazeez also had CDs of al-Awlaki's sermons.