NASHVILLE - President Barack Obama on Tuesday honored four Marines and a Navy petty officer killed in Chattanooga last week during a gunman's rampage, telling the nation, "God bless these American heroes."
Photo Gallery
A day of tribute, remembrance for the fallen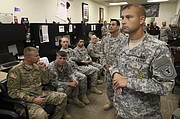 Flying the flag at half-staff
According the U.S. Flag Code, the president will order the flag flown at half-staff "upon the death of principal figures of the United States government and the governor of a state, territory or possession." After the deaths of other officials or foreign dignitaries, the flag may be flown at half-staff at the president's discretion.