MARIETTA, Ga. -- As the motorcade of uniforms, blue lights and tinted windows drove away, the crowd paused, holding small American flags in their hands.
Among the crowd, a couple of women whispered. They heard that inside one of those SUVs sat Cathy Wells, mother of fallen U.S. Marine Lance Cpl. Squire "Skip" Wells. And inside that car, Cathy wore a white T-shirt with her son's face on it. The shirt read, "My Hero."
Photo Gallery
A day of tribute, remembrance for the fallen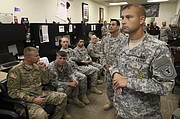 That face has been all over the national news since Wells and four other military servicemen died last week in an attack on the U.S. Naval and Marine Reserve Center on Amnicola Highway. For some, Wells' face, like those of the other four men, has come to represent gun laws too strict, or not strict enough.