Photo Gallery
Haunted House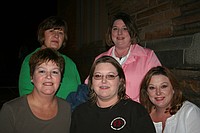 The annual EMOBA Haunted House is busy scaring people for 2 weeks out of the year...
A lawyer says an uncle of the attacker who killed five U.S. servicemen in Tennessee last week has been released from custody in Jordan without charges.
The uncle, Asaad Ibrahim Asaad Haj Ali, had been questioned for nearly a week by Jordanian intelligence about the time his nephew Muhammad Youssef Abdulazeez spent with him in Jordan last year. The 24-year-old Abdulazeez carried out attacks on two military sites last week that killed four Marines and a sailor in Chattanooga, Tennessee.
Haj Ali's lawyer, Abed al-Kader al-Khateeb, says his client was released Thursday.